Organic Almonds - Non-GMO, Kosher, No Shell, Whole, Unpasteurized, Unsalted, Raw, Vegan - by Food to Live
Regular price
$240.99 USD
Regular price
$0.00 USD
Sale price
$240.99 USD
Unit price
per
Sale
Sold out
Organic almonds are the same kind that has been used by people since ancient times. They are still present now in existing ancient medical techniques such as Ayurveda. All almonds as well as products made from them - almond oil, butter, and milk - are highly appreciated as being powerhouses of energy and quality nutrients. In organic almonds, these features are more noticeable.

Health Benefits

The health benefits of organic almonds are extensive, which is easily explained by their high content of nutrients, minerals, and vitamins. Their consumption promotes overall health, strengthens the immune system, and protects against some major diseases, such as:

1. Cardiovascular diseases.
Organic almonds have the highest concentration of monounsaturated fats among nuts. It makes them very helpful in promoting heart and vessel health. Regular consumption of them results in increasing the level of high-density lipoproteins (good cholesterol) and lowering some low-density lipoproteins (bad cholesterol). It prevents a formation of blood clots in the vessels and reduces the risk of stroke. Vitamin E, folic acid, potassium, and magnesium are acknowledged to be instrumental in maintaining cardiovascular health.
2. Diabetes.
Due to the high content of dietary fiber, organic almonds have a low glycemic index, which helps regulate the pace of absorption and processing of glucose when it enters the blood. They also help prevent the rising of glucose and insulin levels after meals. Being rich in fats, they curb the appetite, thus regulating sugar levels in the blood.
3. Cancer.
Organic almonds, especially the skin, are a rich source of antioxidants - phenols, flavonoids, and phenolic acids. It makes these nuts invaluable for supporting the immune system and protecting cells against damage by free radicals, which is thought to be one of the causes of cancer. Additionally, they contain alpha-tocopherol, a form of vitamin E, which improves red cells concentration in the blood and inhibits cell growth in cancerous tumors.
4. Osteoporosis.
Phosphorus is one of the minerals that are responsible for the density and strength of the bones. One ounce of organic almonds provides 15% of the daily requirement of this mineral.

 
Shipping & Returns

Shipping Time: Most orders received before 3:00 PM EST will ship not later than the next business day, provided the product ordered is in stock. Most orders received after 3:00 PM EST will ship not later than the second business day. Orders are not processed or dispatched on Sunday. For more information check our Shipping & Return Policy
Storage

Store in a cool,dry place away from Moisture, Light, Oxygen
Share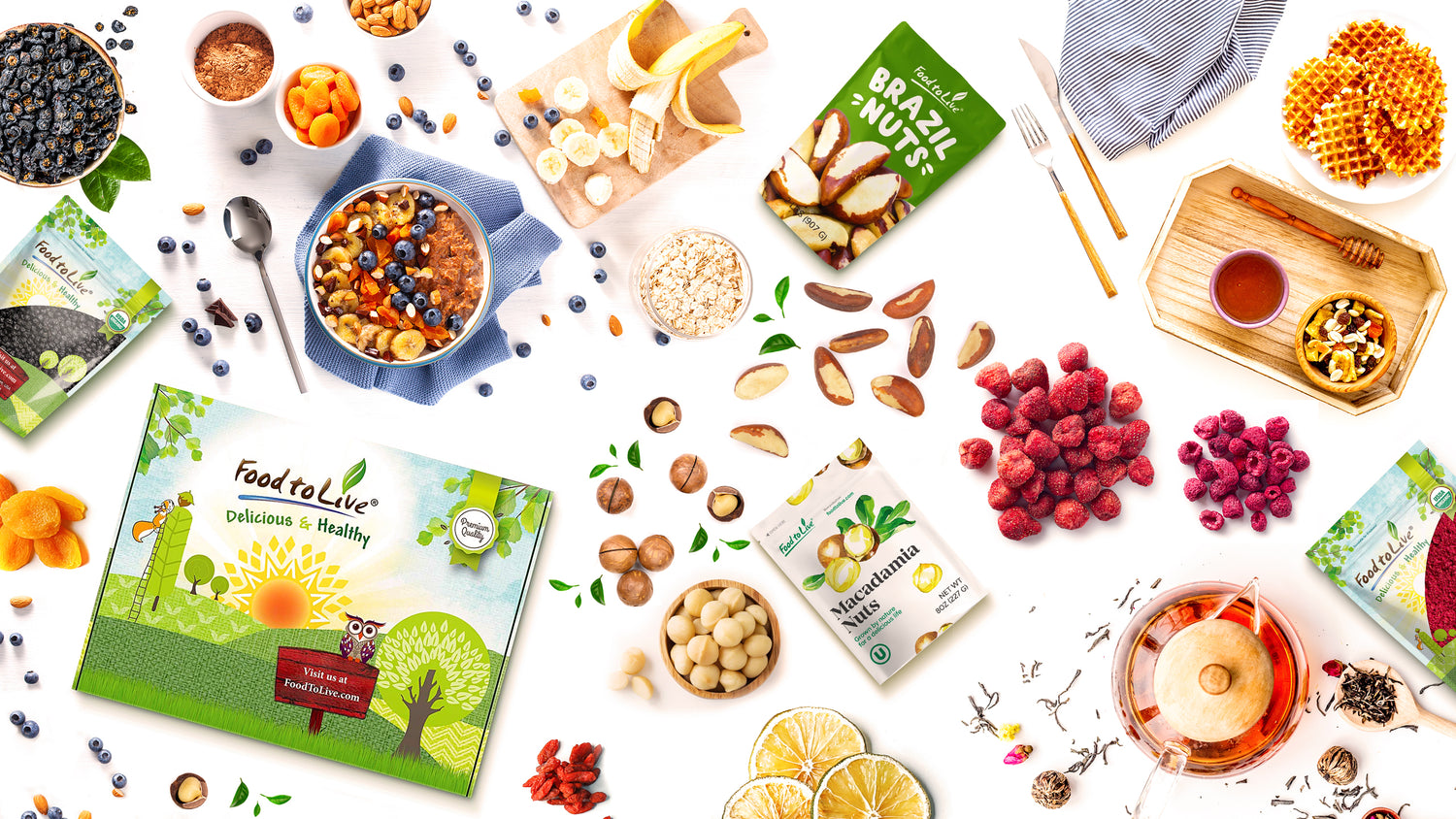 Food to Live was created to give people easy access to delicious and wholesome foods.
We offer a wide range of organic and raw foods that would be a great addition to any diet.
We choose products that can positively impact the body, such as dried fruits, nuts, seeds, grains, powders, flours, spices, and legumes.
Shop more products