Brazil Nuts — Non-GMO Verified, Raw, Whole, No Shell, Unsalted, Kosher, Vegan, Keto, Paleo Friendly, Bulk, Good Source of Selenium, Low Sodium and Low Carb Food, Great Trail Mix Snack
Regular price
$132.49 USD
Regular price
$0.00 USD
Sale price
$132.49 USD
Unit price
per
Sale
Sold out
Brazil nuts only grow naturally in one place on our planet - the Amazon rainforests. Since ancient times, these nuts have provided the natives with protein, fats and other essential nutrients. Nowadays, they are available in any part of the world and are highly appreciated for their pleasant creamy taste and the multiple benefits that they provide for our health.

Health benefits

1. Protection against cancer
Brazil nuts are considered to be the most abundant natural source of selenium, a trace mineral that plays a vital role in the activity of antioxidant enzymes. Recently, it has attracted the attention of scientists who are searching for medication against cancer. Several studies have enlightened scientists to the role of some selenoproteins in DNA synthesis, cell reproduction, and protection against oxidative damage. One of them is sodium selenite, which, according to the studies, has revealed itself as a cancer cell killer. Additionally, it helps protect healthy cells, repair damaged DNA, and support the immune system. Scientists link the consumption of selenium with a reduced risk of many types of cancer. The high content of vitamin E, which is also an antioxidant responsible for maintaining the integrity of cell membranes, reinforces the anti-cancer properties of Brazil nuts.
2. Cardiovascular support
Although Brazil nuts are high in calories due to plenty of fats they contain, these are mainly monosaturated fatty acids, such as palmitoleic acid, oleic acid, and Omega 6 acids. Their distinguishing feature is that they help lower bad cholesterol and raise good cholesterol levels in the blood. It protects the heart from coronary artery disease and strokes.
Another heart supporting factor is potassium, one of the essential minerals for the proper functioning of the body. It`s vitally important for transmitting nervous impulses through the heart and regulating the metabolism of carbohydrates.
3. Adding to bone and tissue integrity
Brazil nuts not only have all the primary minerals that are essential for healthy and dense bones, but contain them in high quantities. These are magnesium (27% of RDA per 1 oz); which promotes the functioning of muscles and the absorption of energy from food, copper (25% of RDA per 1 oz); which facilitates iron absorption and supports bone and connective tissue health, and phosphorus (20% of RDA per 1 oz), which has the capability to maintain the health of bones and teeth.
Shipping & Returns

Shipping Time: Most orders received before 3:00 PM EST will ship not later than the next business day, provided the product ordered is in stock. Most orders received after 3:00 PM EST will ship not later than the second business day. Orders are not processed or dispatched on Sunday. For more information check our Shipping & Return Policy
Storage

Store in a cool,dry place away from Moisture, Light, Oxygen
Share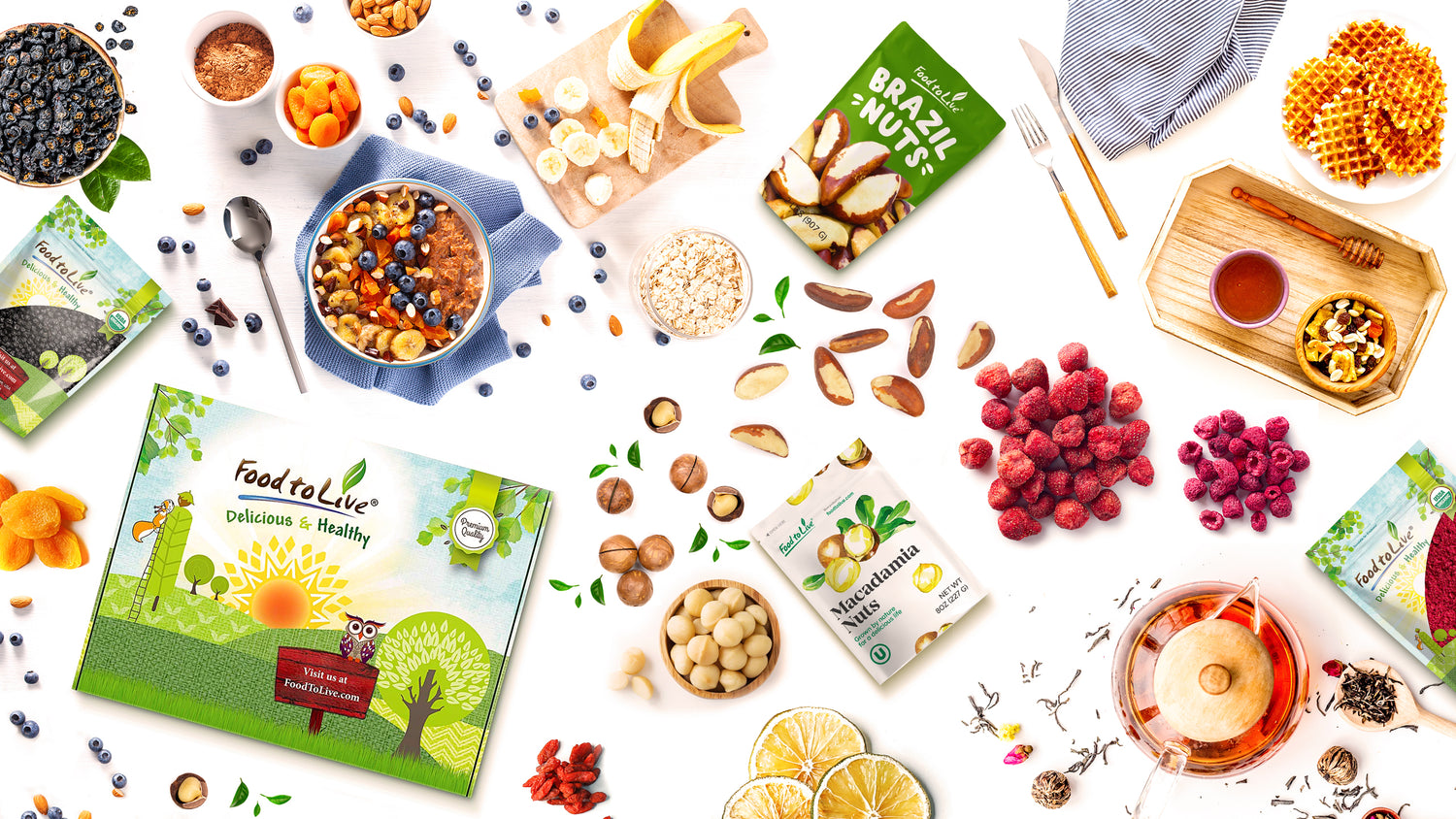 Food to Live was created to give people easy access to delicious and wholesome foods.
We offer a wide range of organic and raw foods that would be a great addition to any diet.
We choose products that can positively impact the body, such as dried fruits, nuts, seeds, grains, powders, flours, spices, and legumes.
Shop more products