California Almonds — Supreme, Whole, Raw, Unsalted, Unroasted Nuts, Natural. Kosher, Vegan. Keto, Paleo, Low Sodium, Bulk. Great for Making Milk, Butter and Flour.
Regular price
$285.49 USD
Regular price
$0.00 USD
Sale price
$285.49 USD
Unit price
per
Sale
Sold out
Almonds are incredibly delicious, which is why they are so famous all over the world. They originate from West Asia, but today they are cultivated in many countries. At the moment, California is considered the best producer of almonds.
They are often used in desserts and confectionaries. However, they can be added to a great variety of other dishes. The one thing you can be sure of is that they will make any food taste better. They are also very delicious on their own, so you can eat them raw as a snack. However, note that there is no such thing as 100% raw almonds in California as the law requires all of them to be pasteurized.

Health Benefits

Apart from being incredibly tasty, almonds also make you healthier. The most significant benefits they offer to your health are:

* They provide you with all the essential nutrients.
The reason that makes almonds such an excellent snack is that they give you everything you need to support your body and provide you with a boost of energy that will last for quite a while. The nutrients in them affect a significant number of processes inside your body and maintain your overall well-being as well as increase your resistance to diseases.
* Almonds lower the levels of "bad" cholesterol.
Almonds are rich in oleic acid. Therefore, they can reduce the levels of LDL cholesterol and strengthen your arteries reducing the risk of heart disease, stroke, and similar conditions.
* They make you beautiful.
An extremely high content of vitamin E makes almonds a useful beauty tool. This element is essential for maintaining the strength and integrity of cell membranes. Therefore, it can make our skin more elastic and smooth, and your hair and nails - stronger.
* They strengthen your bones.
Almonds are packed with calcium and manganese, two minerals essential for bone density. Therefore, eating them on a regular basis can protect you from developing osteoporosis.

Nutritional Value

Almonds are delicious, so eating 100 grams of them won't be difficult in the least. This amount of the tasty treat will provide you with:

* Dietary fiber - 12.20 g (30% RDA)
* Protein - 21.22 g (38% RDA)
* Niacin - 3.385 mg (21% RDA)
* Pyridoxine - 0.143 mg (11% RDA)
* Riboflavin - 1.014 mg (78% RDA)
* Vitamin E - 26 mg (173% RDA)
* Copper - 0.996 mg (110% RDA)
* Calcium - 264 mg (26% RDA)
* Manganese - 2.285 mg (99% RDA)

RDA = Required Daily Amount
Shipping & Returns

Shipping Time: Most orders received before 3:00 PM EST will ship not later than the next business day, provided the product ordered is in stock. Most orders received after 3:00 PM EST will ship not later than the second business day. Orders are not processed or dispatched on Sunday. For more information check our Shipping & Return Policy
Storage

Store in a cool,dry place away from Moisture, Light, Oxygen
Share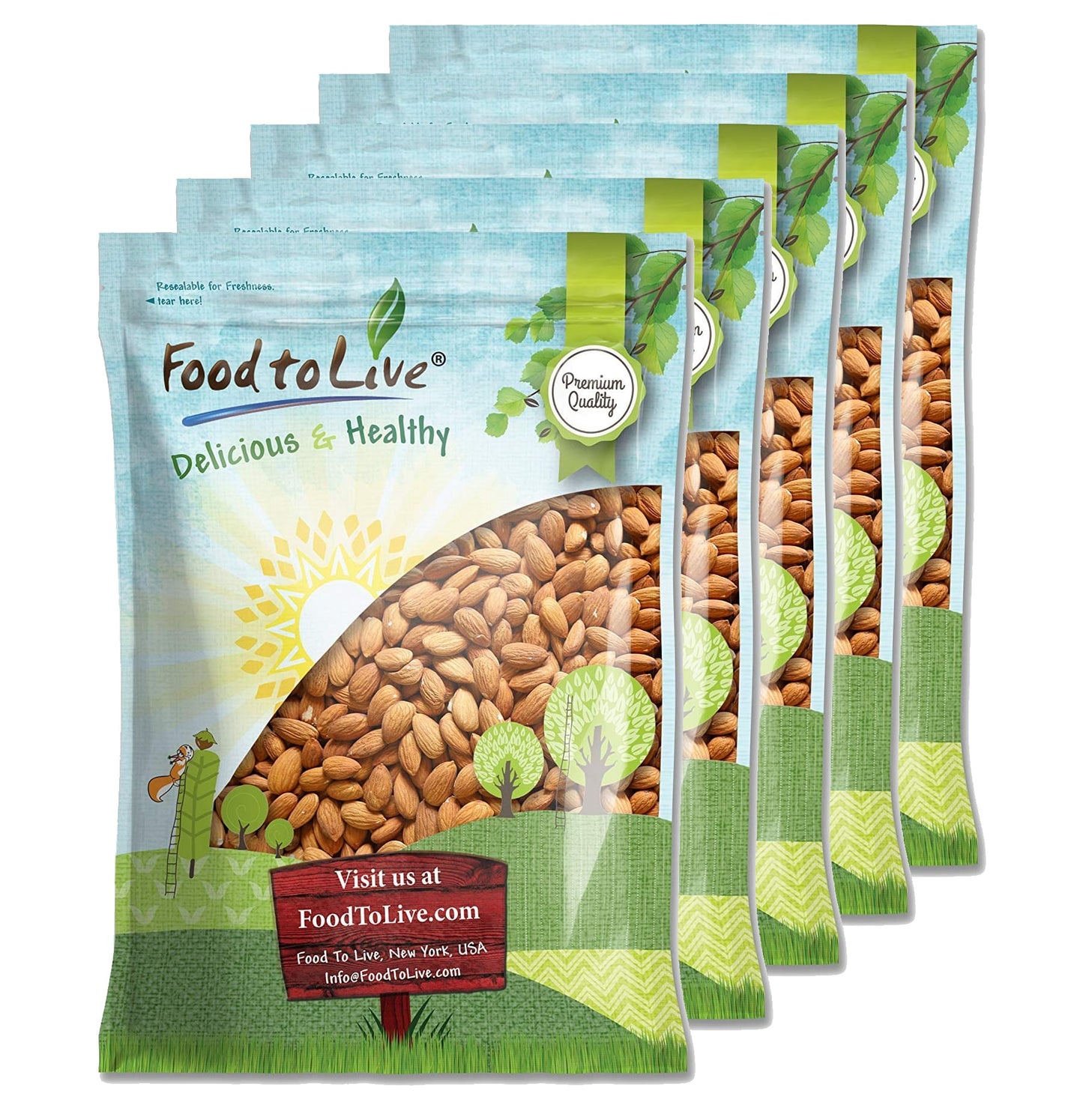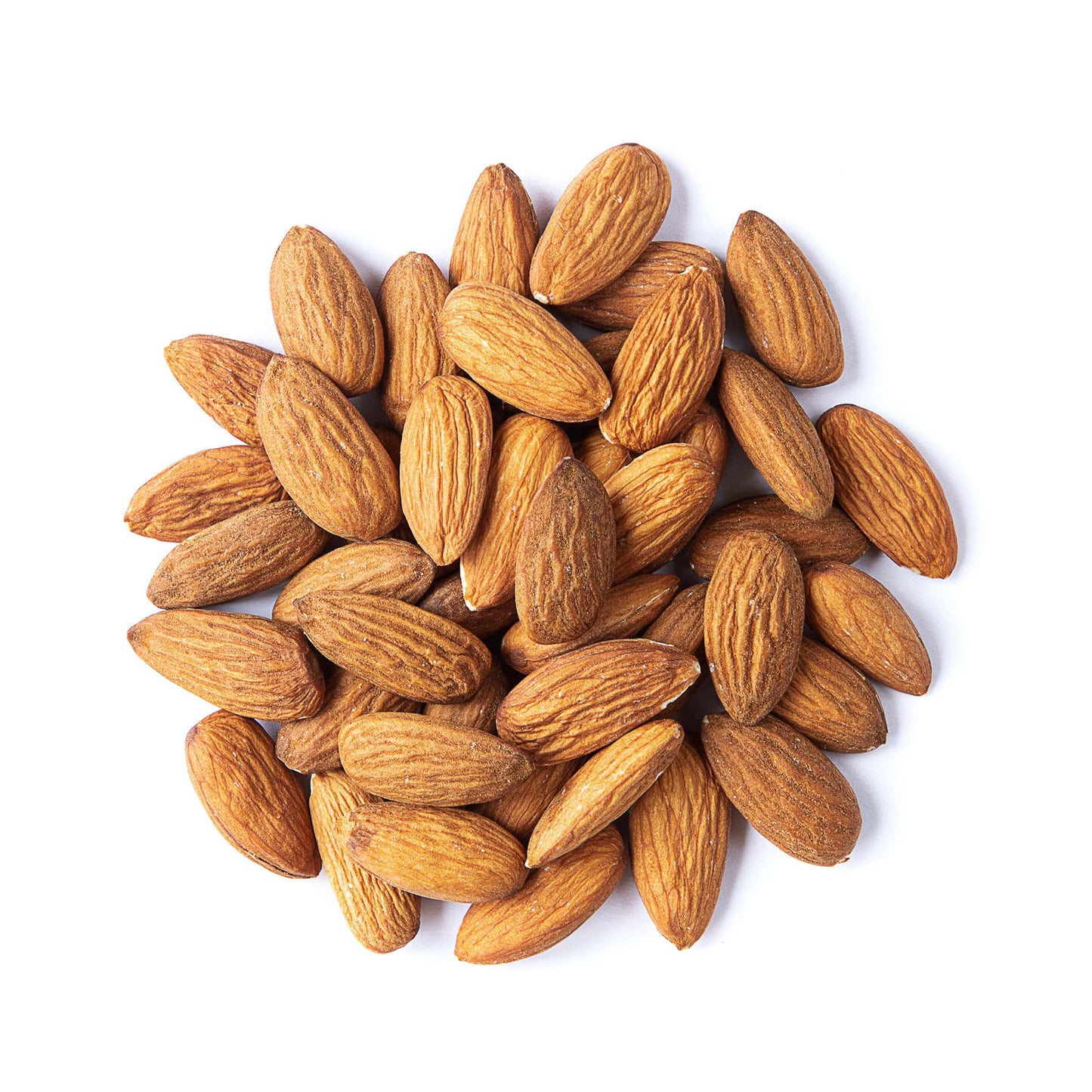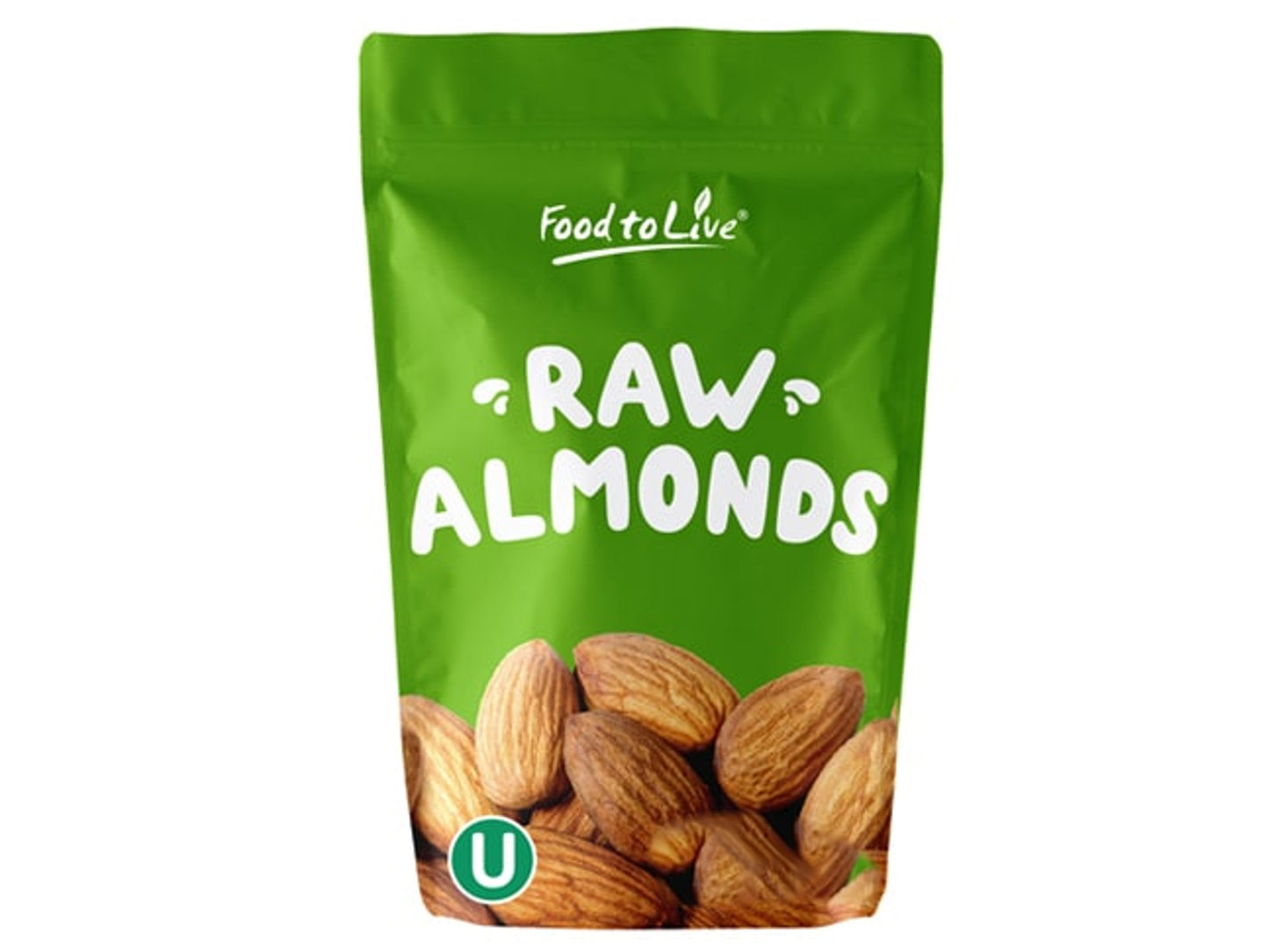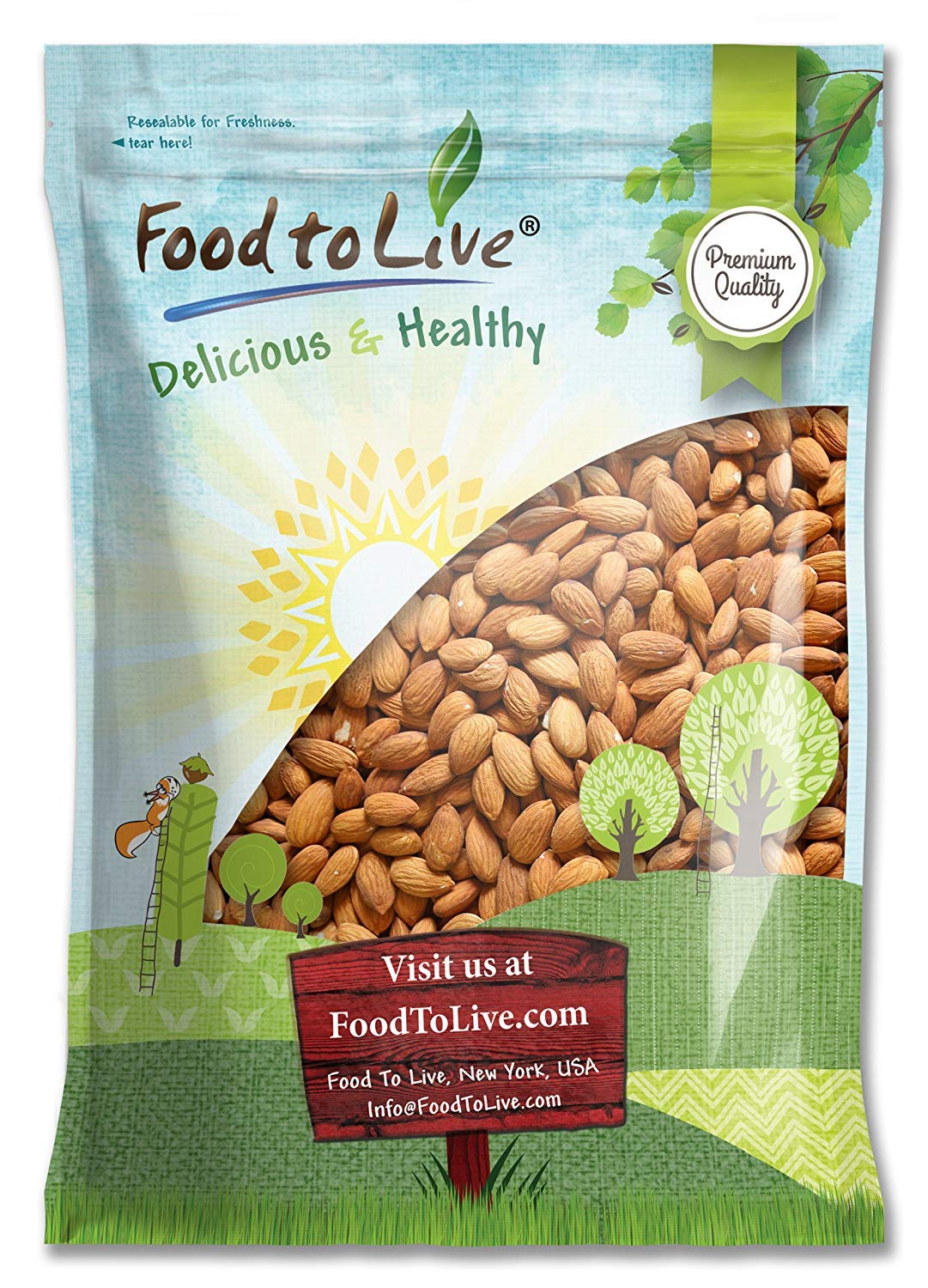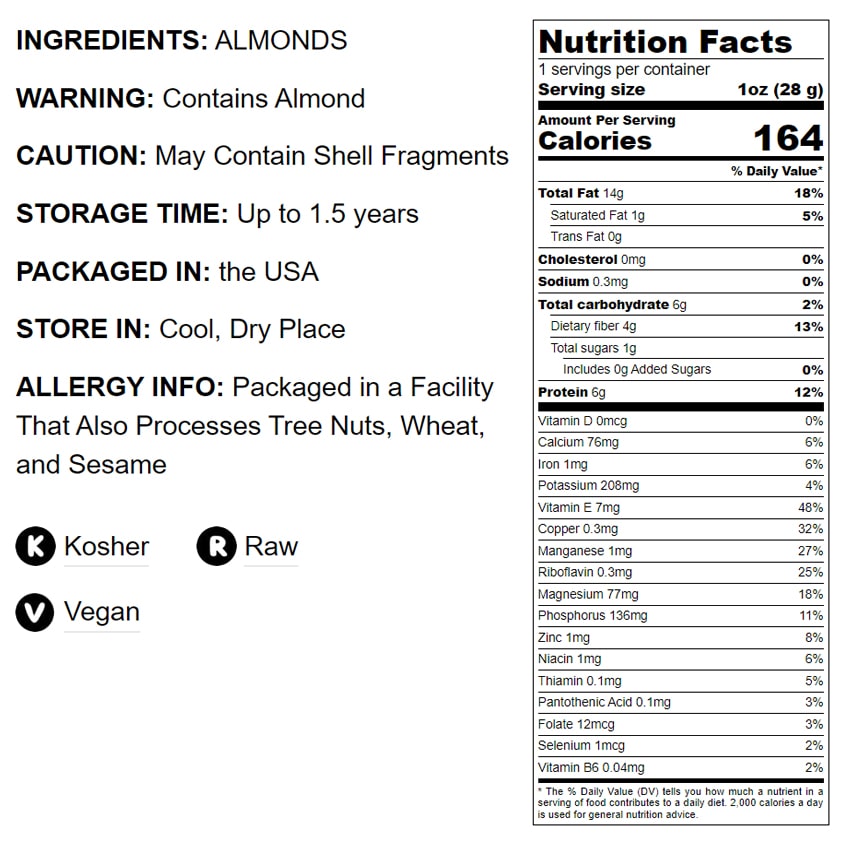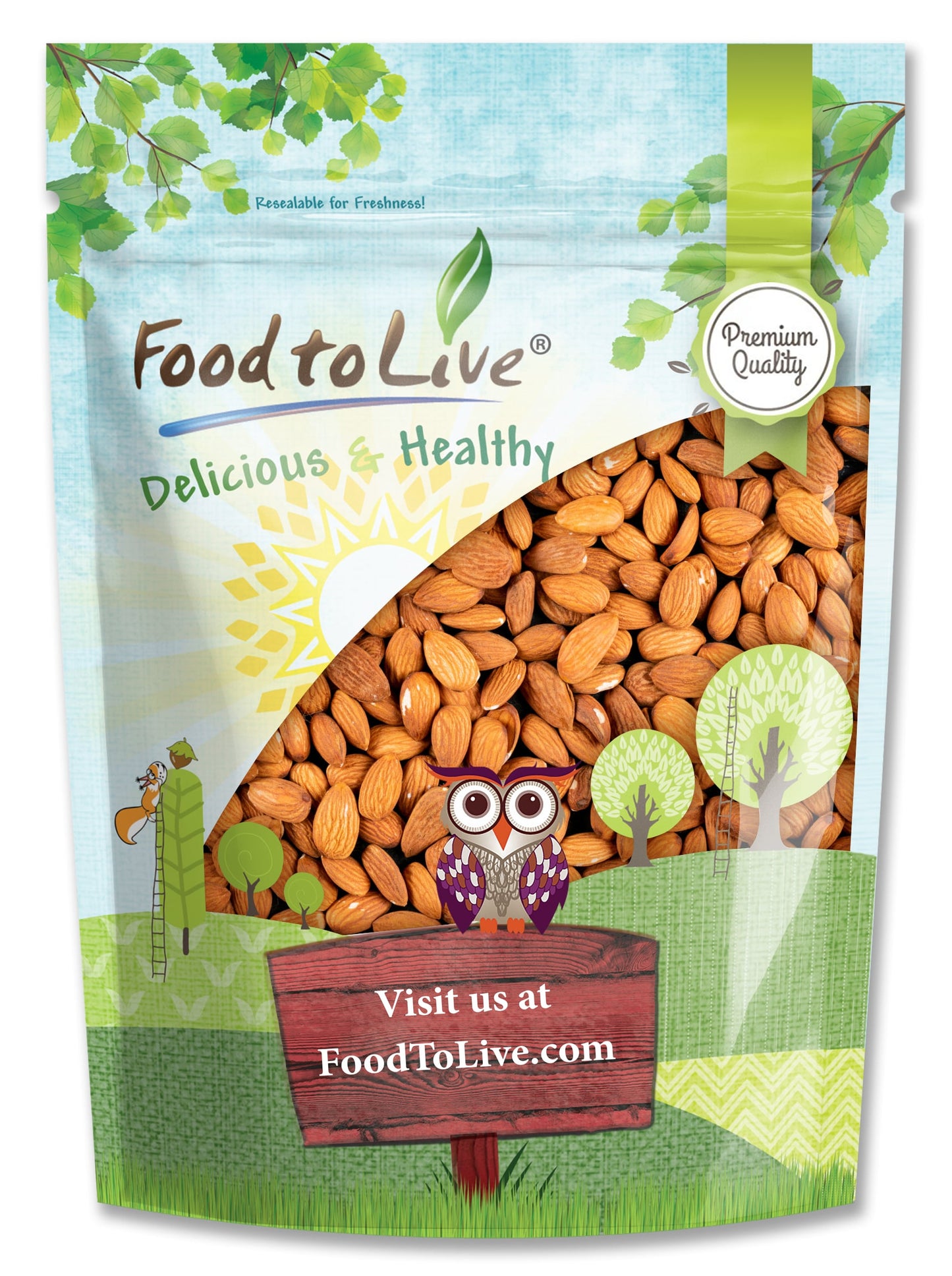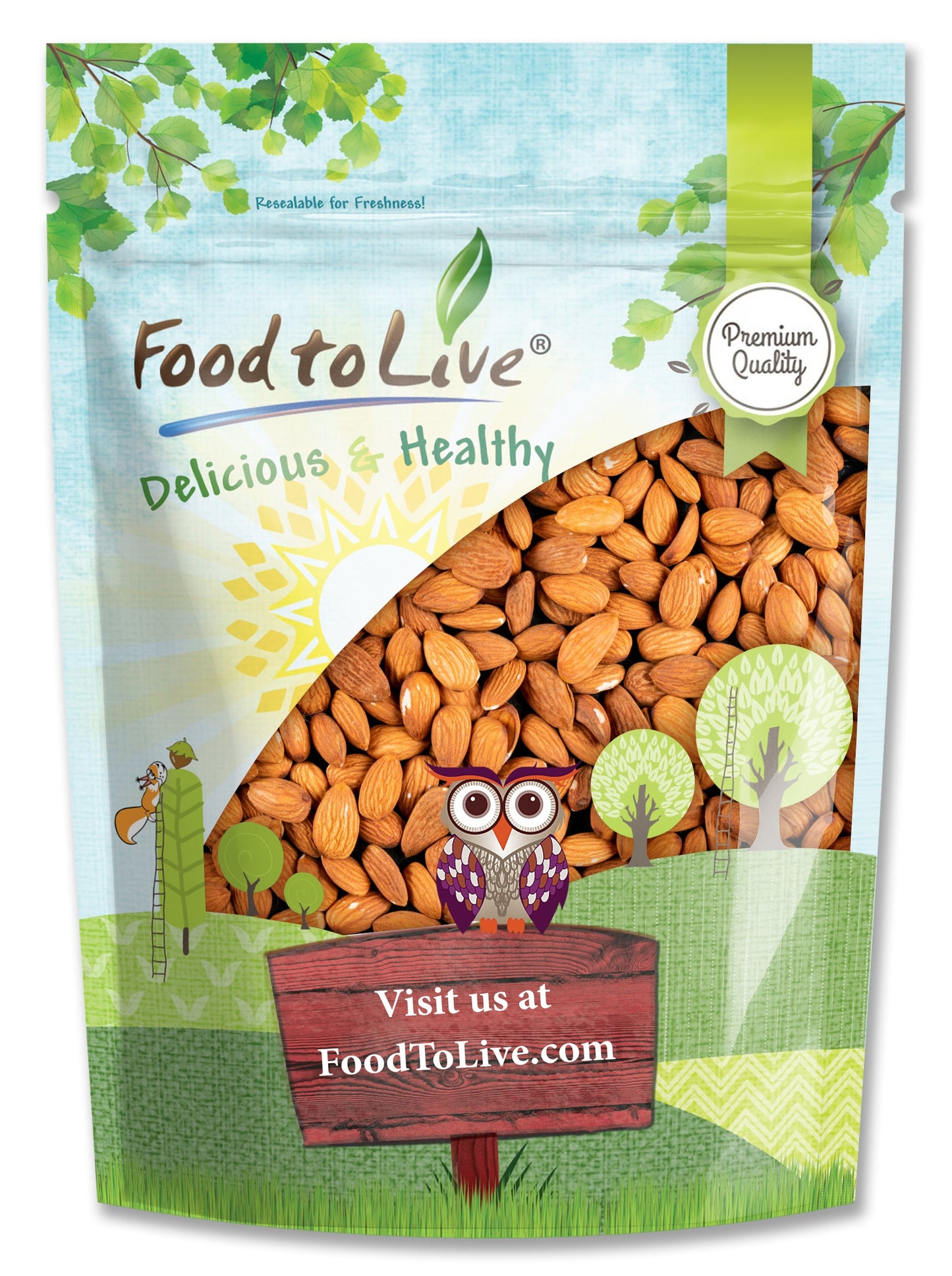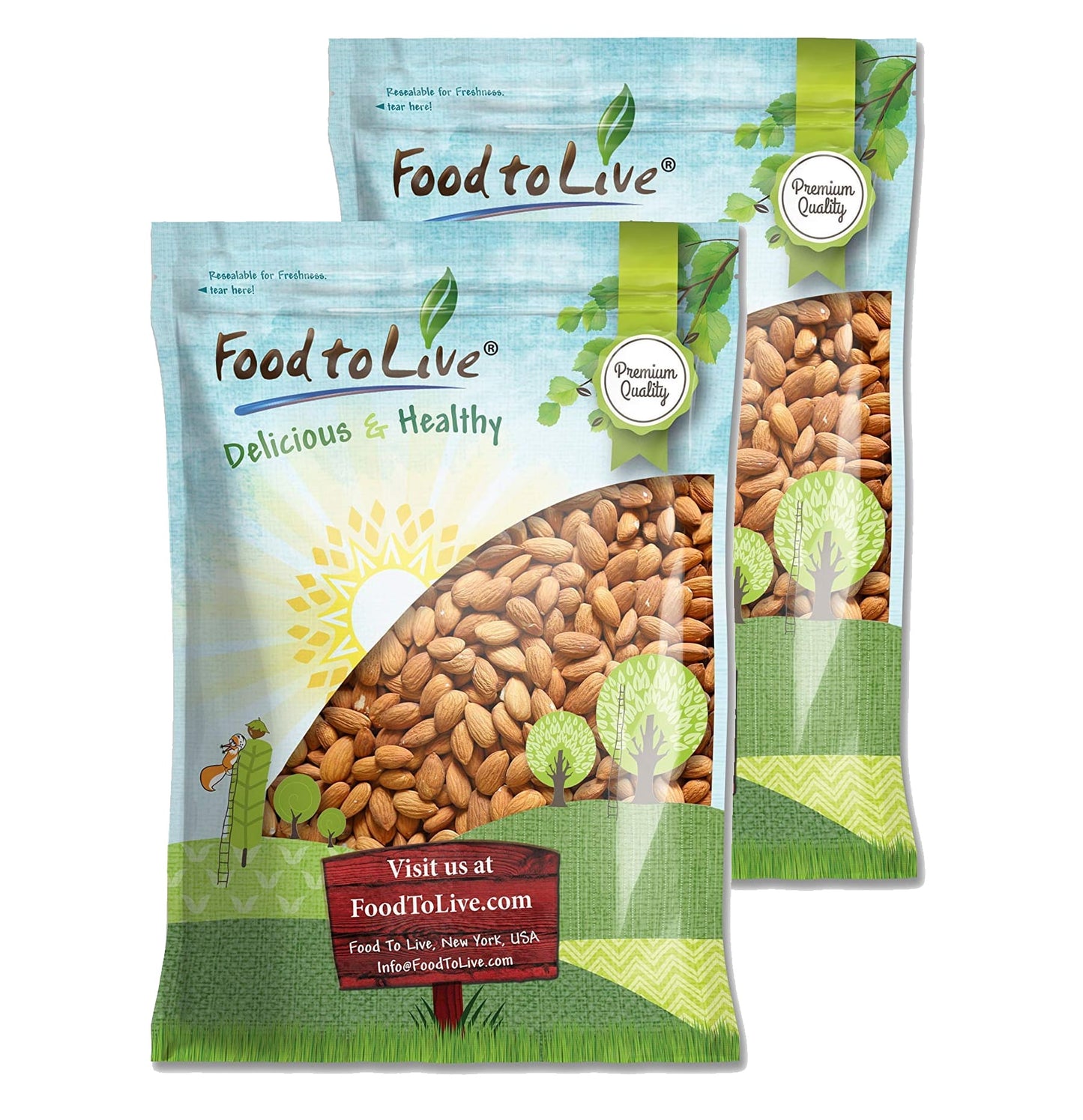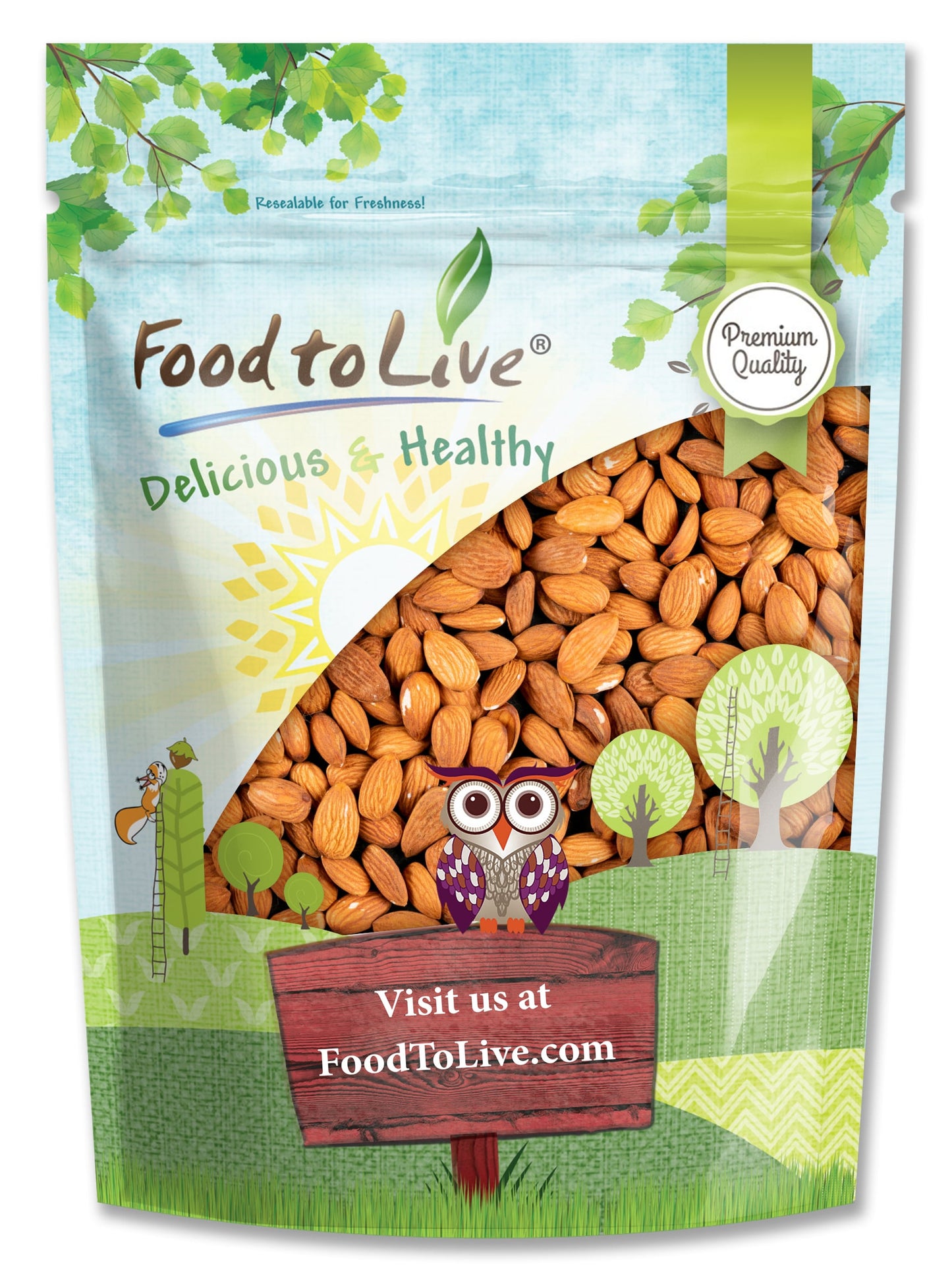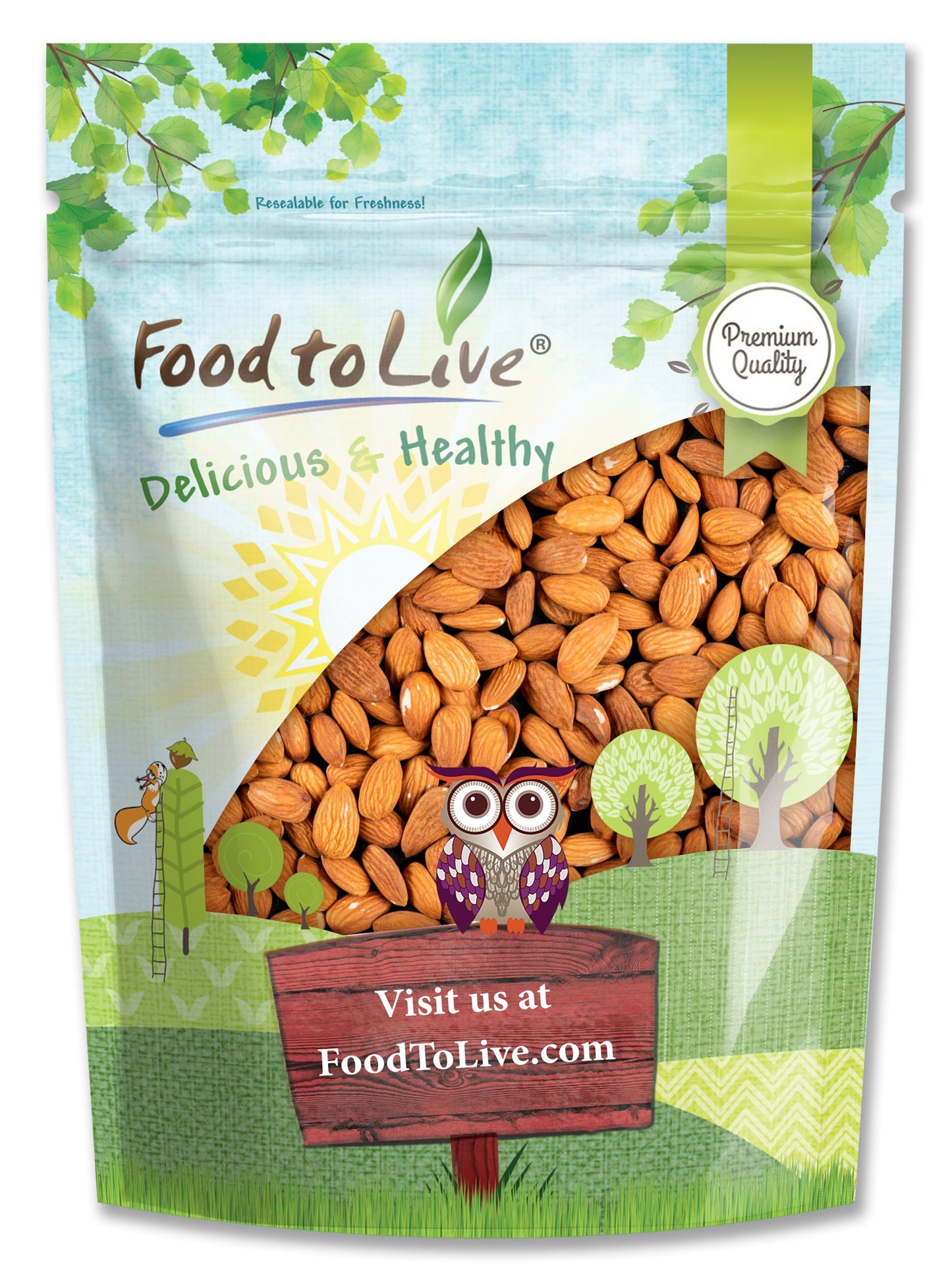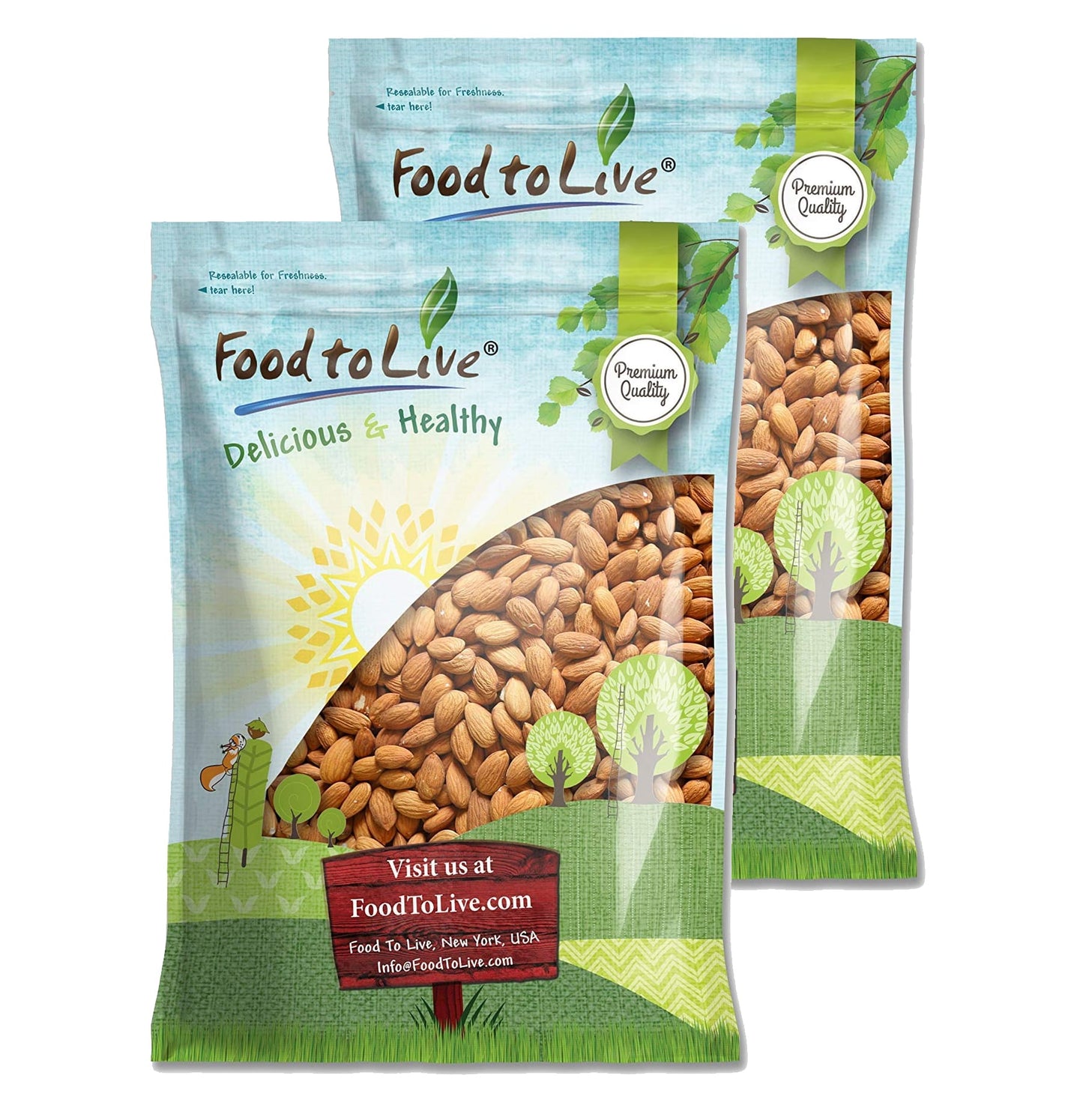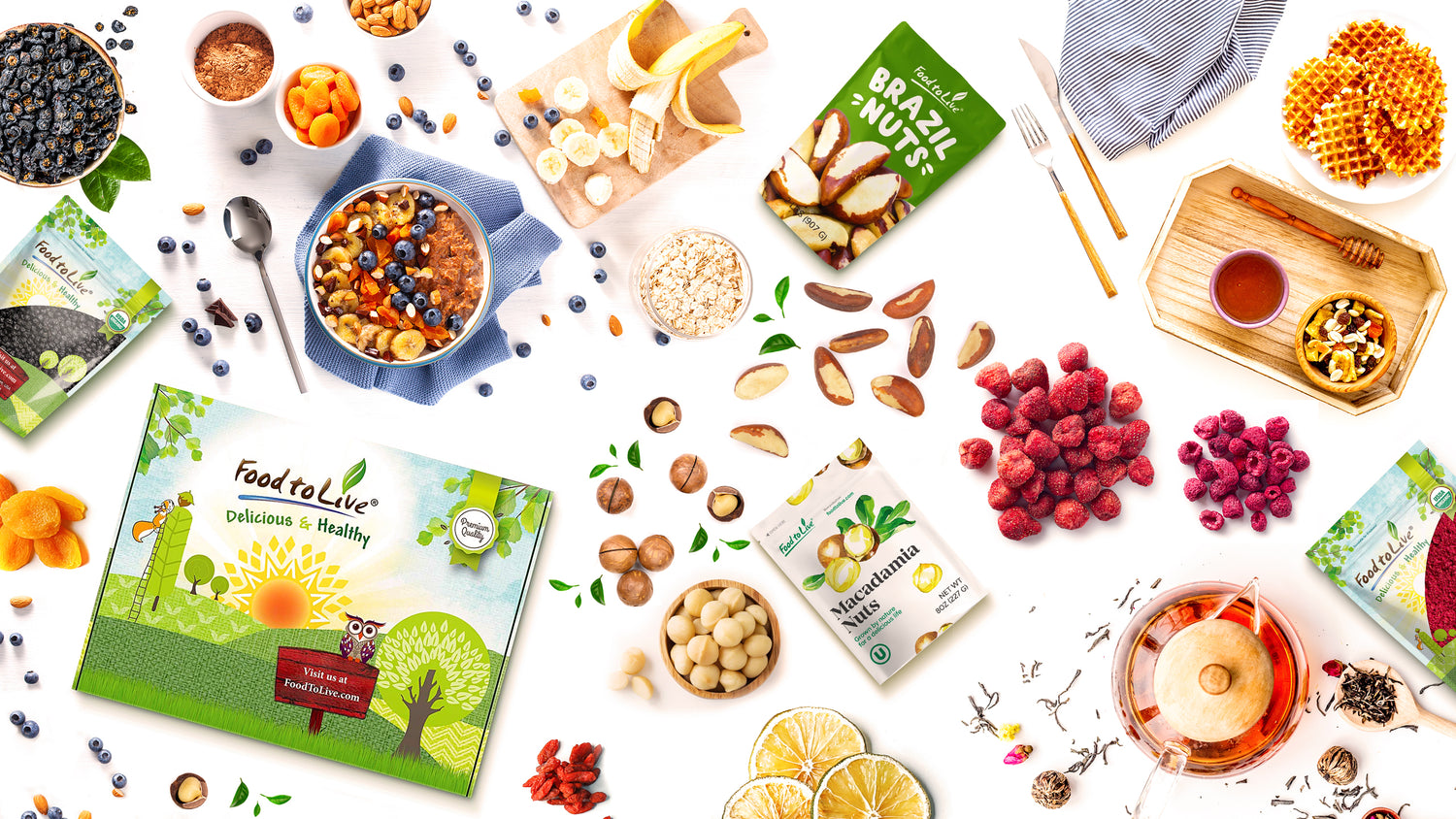 Food to Live was created to give people easy access to delicious and wholesome foods.
We offer a wide range of organic and raw foods that would be a great addition to any diet.
We choose products that can positively impact the body, such as dried fruits, nuts, seeds, grains, powders, flours, spices, and legumes.
Shop more products