Organic Delicious Nuts in a Gift Box - Pecans, Hazelnuts, Brazil Nuts, Macadamia Nuts, and Roasted & Salted Pistachios - by Food to Live
Regular price
$0.00 USD
Sale price
$43.49 USD
Unit price
per
Sale
Sold out
Organic Delicious Nuts - Gift Box by Food to Live includes 5 bags:

- Organic Brazil Nuts - 8 Ounces. Country of Origin: Bolivia, Peru, Brazil.

- Organic Pecans - 6 Ounces. Country of Origin: USA.

- Organic Macadamia Nuts - 8 Ounces. Country of Origin: Kenya.

- Organic Hazelnuts - 8 Ounces. Country of Origin: Turkey.

- Organic Pistachios (Roasted and Salted) - 8 Ounces. Country of Origin: USA.

The kernels of Organic Brazil nut fruits are deliciously sweet and buttery. You can enjoy Organic Brazil Nuts in a great number of ways. The easiest is just to eat a few raw nuts directly from the pack. Roasted Organic Brazil nuts have a stronger flavor and aroma. Raw Organic Brazil nuts contain a variety of potent antioxidants. In particular, they have a high level of vitamin E.

Pecans have a crisp, buttery texture and a mildly sweet and nutty taste. Enjoy them as a healthy snack. They also go great with ice cream, candy, cakes and of course pecan pies. Organic raw pecans contain no additives or preservatives and are grown without pesticides.

Organic Macadamia nuts are high in monounsaturated fatty acid. Macadamias contain flavonoids and tocopherols, which are potent antioxidants. Macadamias contain vitamin A, thiamine, riboflavin, niacin, and iron. The macadamia nut is one of the few foods that contain palmitoleic acid, a monounsaturated fatty acid, promoting positive fat metabolism. Macadamia nut oil contains Omega

Organic Hazelnuts, or filberts, have been used to create various culinary masterpieces for many centuries. Hazelnuts are great for your health and can be incorporated into any diet. As they are rich in dietary fiber and proteins, they can be a nice complement to a weight loss program. Filberts have a great number of culinary uses. They taste amazing on their own and go extremely well with vegetables, sweet pastries, and desserts.

Organic Pistachios are so good for you because they contain a great number of vitamins and minerals. A single cup of pistachios gives you almost 13g of dietary fiber and 25g of proteins. Therefore, this snack is good for both vegans and bodybuilders, because these people require a higher intake of amino acids. Vegans and vegetarians should also consider snacking on pistachios regularly due to calcium and iron. Pistachio nuts contain both omega 3 and omega 6 essential fatty acids.
Shipping & Returns

Shipping Time: Most orders received before 3:00 PM EST will ship not later than the next business day, provided the product ordered is in stock. Most orders received after 3:00 PM EST will ship not later than the second business day. Orders are not processed or dispatched on Sunday. For more information check our Shipping & Return Policy
Storage

Store in a cool,dry place away from Moisture, Light, Oxygen
Share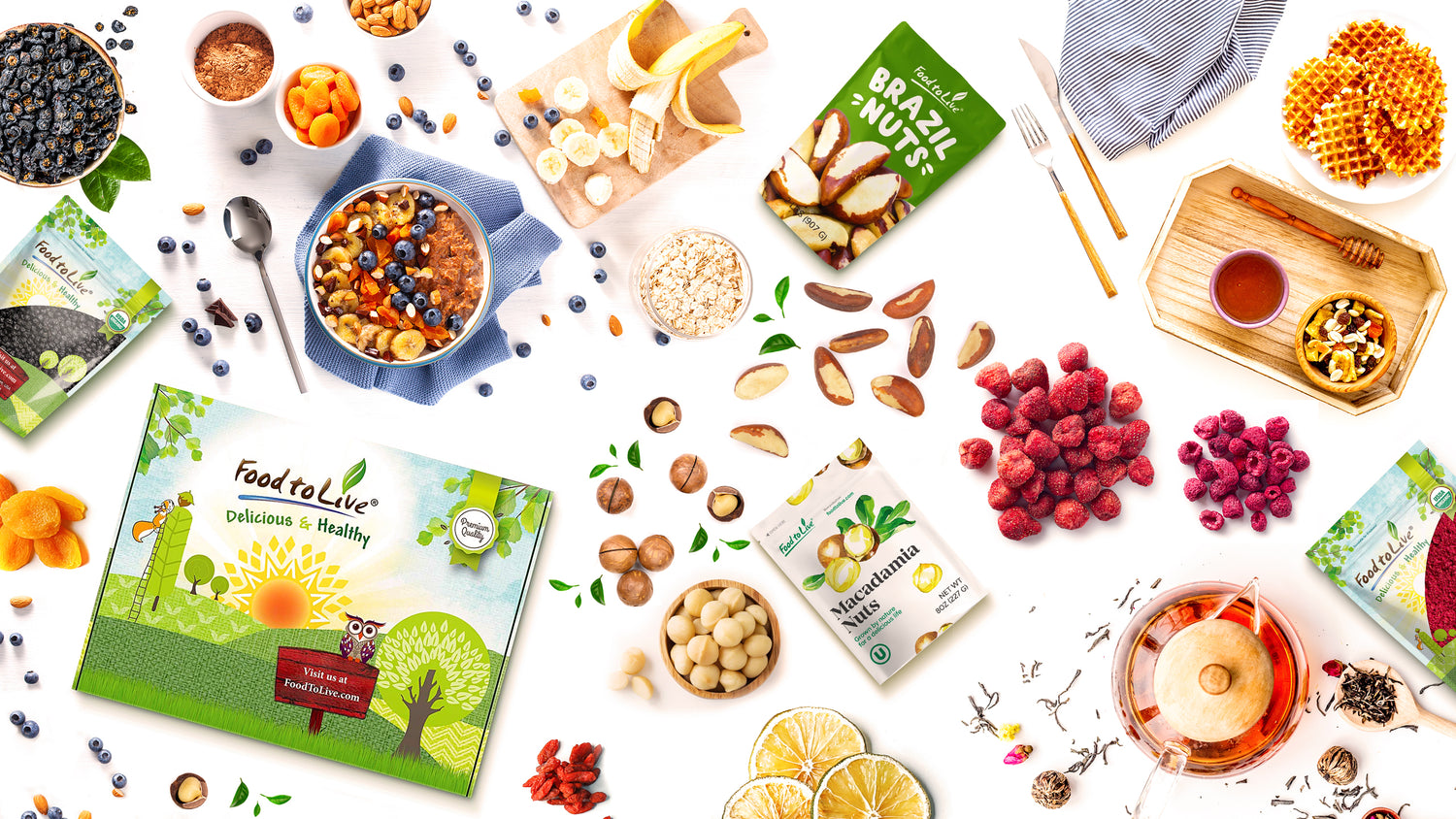 Food to Live was created to give people easy access to delicious and wholesome foods.
We offer a wide range of organic and raw foods that would be a great addition to any diet.
We choose products that can positively impact the body, such as dried fruits, nuts, seeds, grains, powders, flours, spices, and legumes.
Shop more products