Organic Gift Box - Go Matcha On Sweet Little Dragon - Goji Powder, Matcha Green Tea Powder,Coconut Sugar,Chia Seeds,Red Dragon Fruit Powder
Regular price
$0.00 USD
Sale price
$42.99 USD
Unit price
per
Sale
Sold out
Go Matcha On Sweet Little Dragon is a perfect gift for all smoothie lovers. This smoothie kit has all-natural powders, coconut sugar, and black chia seeds, all of which make an ideal beverage. We packaged each item separately for your convenience so you could taste them individually or mix them as you wish. Our smoothie box name represents all of its ingredients:

• Go - Goji Berry Powder
• Matcha - Matcha Green Tea Powder
• Sweet - Coconut Sugar
• Little - Chia Seeds
• Dragon - Red Dragon Fruit Powder


Organic Goji Berry Powder- 8 oz
Besides being a part of the smoothie bowl kit, this superfood powder works great in salads and main courses. Daily dosage for adults is 10-12 g of the product; it is 5-7 g depending on the age for children. How to brew goji? Pour a glass of boiling water to the berries and leave for 10-20 minutes.

Organic Matcha Green Tea Powder- 4 oz
You can consume one or more servings of this plant-based treat daily. Add one teaspoon to 4-6 oz (118-177 ml) of hot water at about 175 ° F (79 ° C) and stir well. Alternatively, prepare a cold drink by stirring and shaking well. You can mix with cocktails or smoothies. Moreover, sprinkle on yogurt or oatmeal to add a bit of green to your daily meals. The product is also suitable for seasoning or adding to baked goods. It goes well with apple, banana, carrot, coconut, herbs, or pineapple.

Organic Coconut Sugar - 8 oz
Coconut sugar is less sweet than beet sugar. However, you will not feel the exotic coconut aroma because its flavor is caramel with nutty notes. The color of the sugar varies from light to dark brown and depends on the manufacturer. The product also differs in composition because it contains vitamins and minerals, such as magnesium, zinc, and iron, unlike white sugar.

Organic Black Chia seed - 8 oz
Recently, chia seeds have gained popularity among US vegetarians as an excellent plant calcium source: 100 g of seeds contain 631 mg of calcium, which is twice as much as in a glass of milk. Moreover, they are a source of antioxidants. It has twice as many of them as blueberries, which are known for their beneficial properties. The seeds also contain vitamins B1, B2, B3, iron, calcium, magnesium, zinc, proteins and carbohydrates, dietary fiber, and healthy fats. Finally, Chia is also super high in fiber!

Organic Red Dragon Fruit Powder - 4 oz
Red Dragon Fruit is a great and very healthy fruit. It is low in calories and contains proteins, water, phosphorus, calcium, iron, and vitamins, such as C, PP, B1, B2, and B3. One scoop of pink Organic Red Dragon Fruit Powder in smoothies, plant-based milk, yogurt, or mixed in water makes a healthy, beautiful drink. Besides being nutritious, it is a natural food coloring that can bring more aesthetics to your table.
Shipping & Returns

Shipping Time: Most orders received before 3:00 PM EST will ship not later than the next business day, provided the product ordered is in stock. Most orders received after 3:00 PM EST will ship not later than the second business day. Orders are not processed or dispatched on Sunday. For more information check our Shipping & Return Policy
Storage

Store in a cool,dry place away from Moisture, Light, Oxygen
Share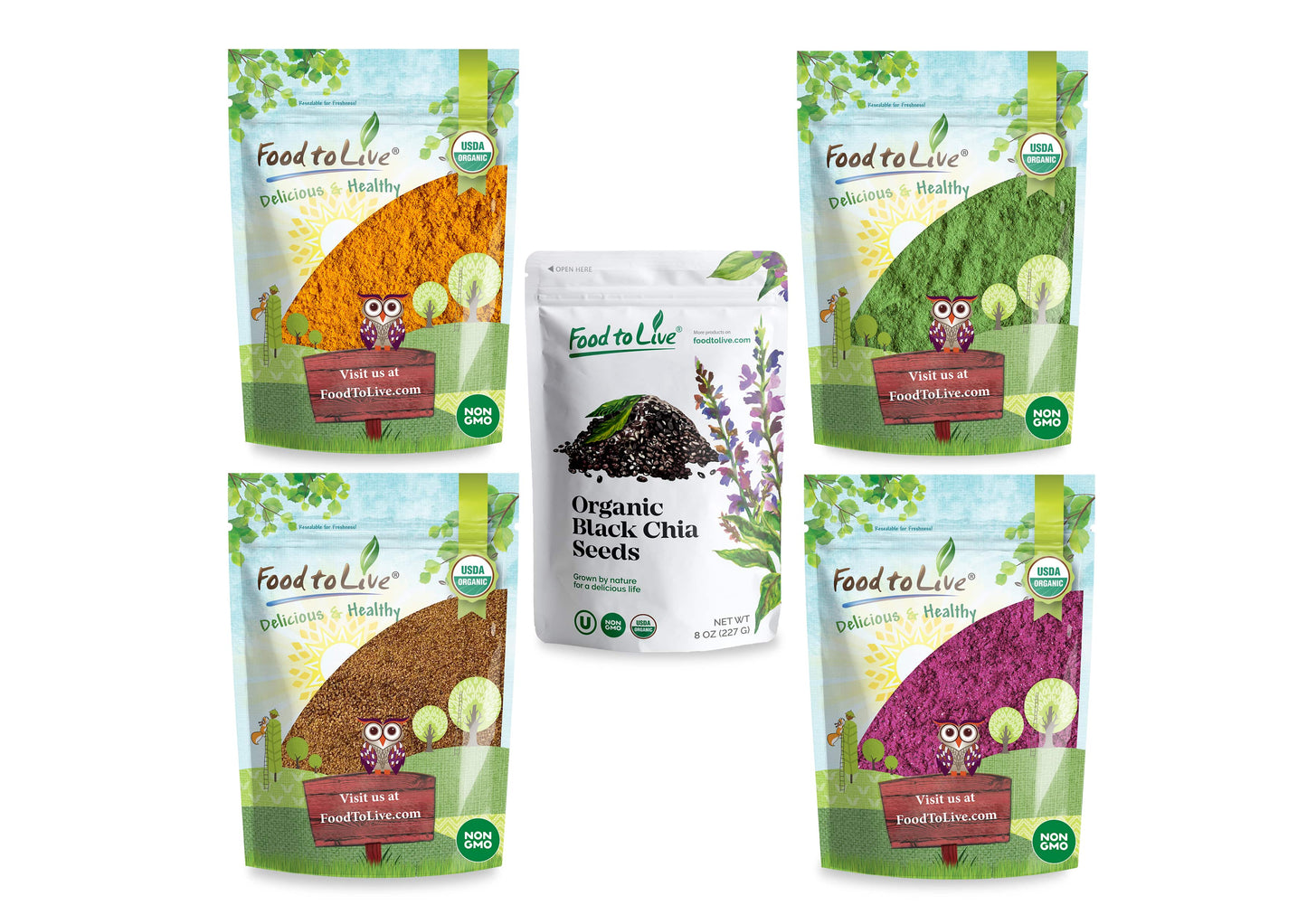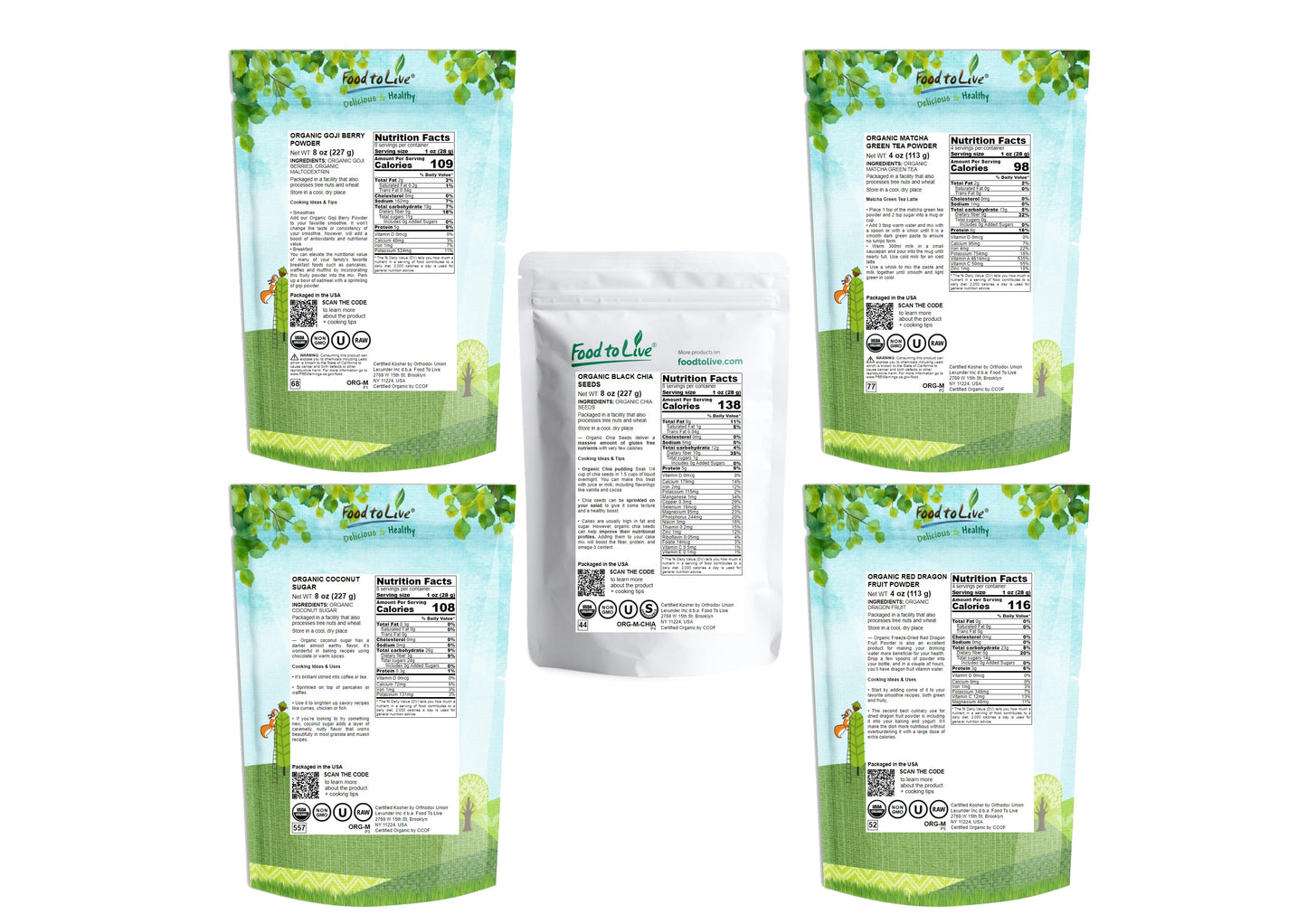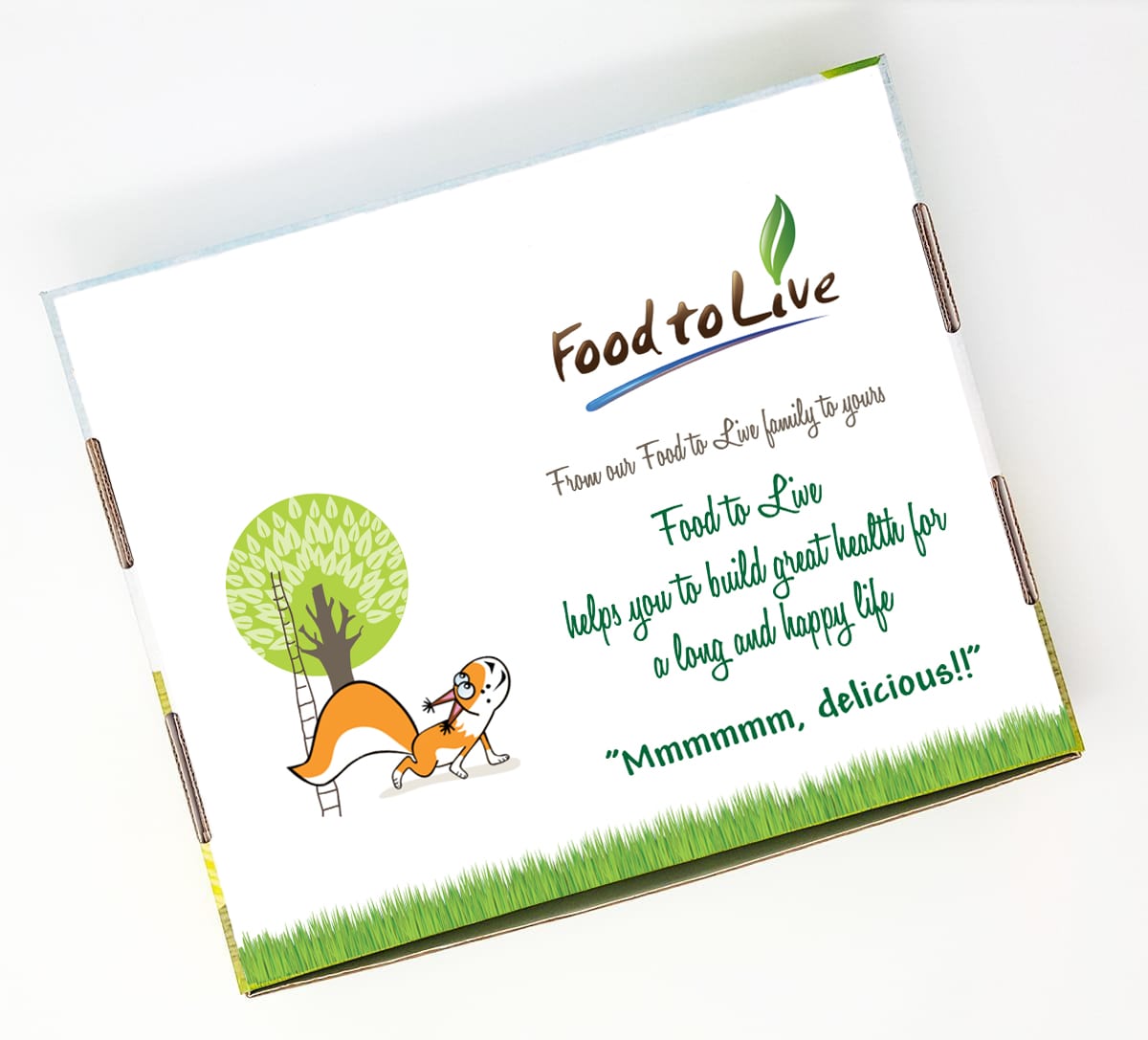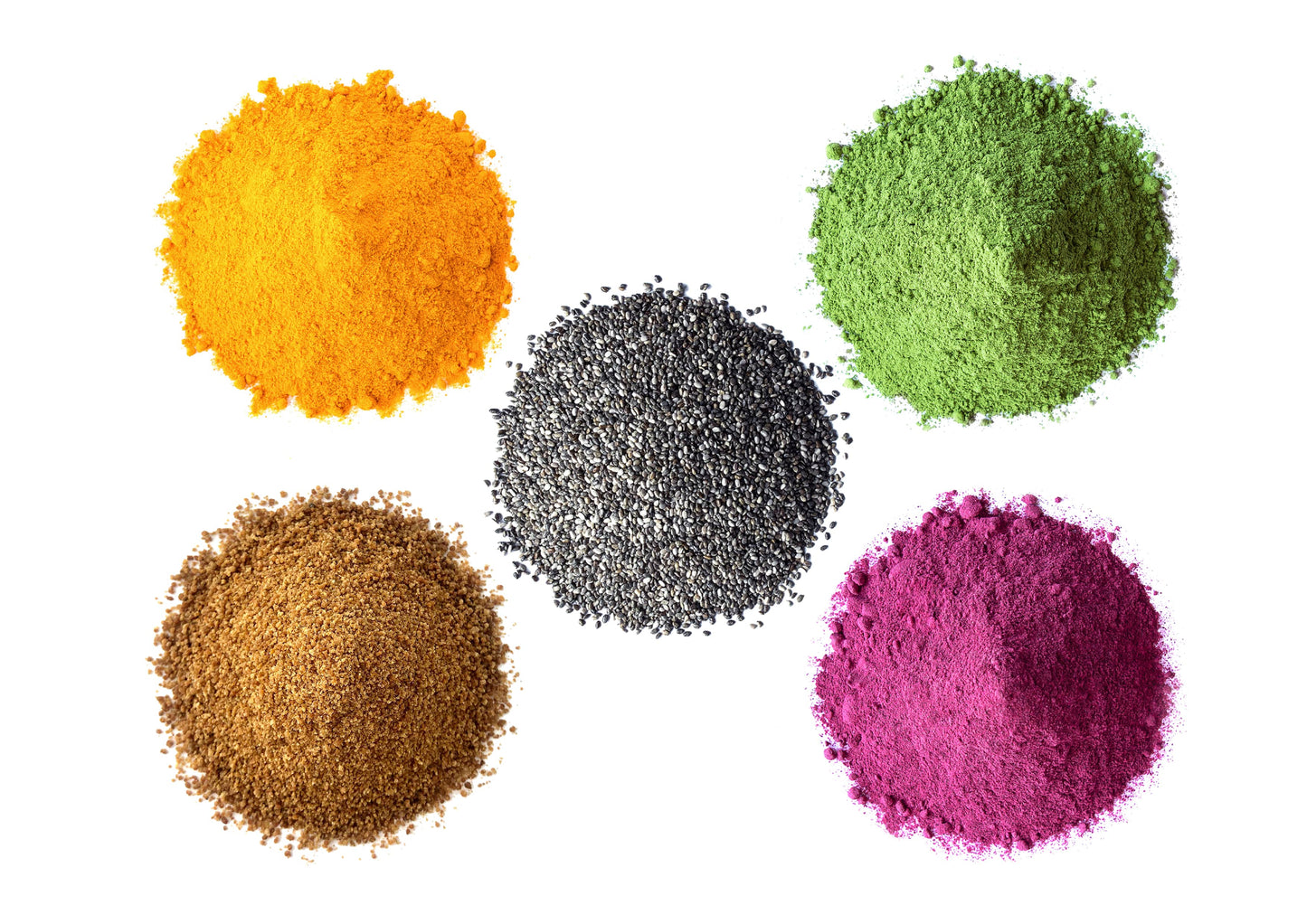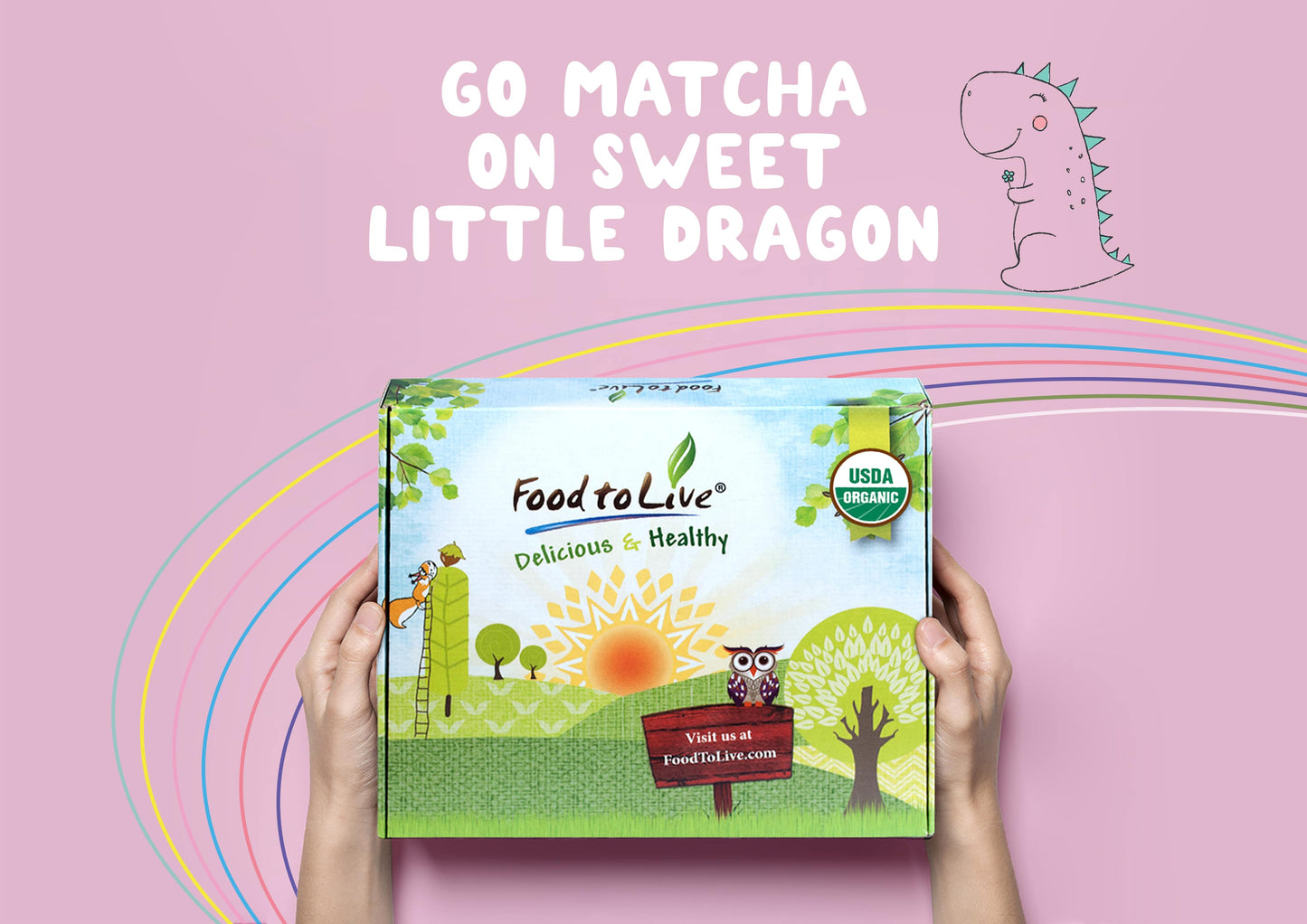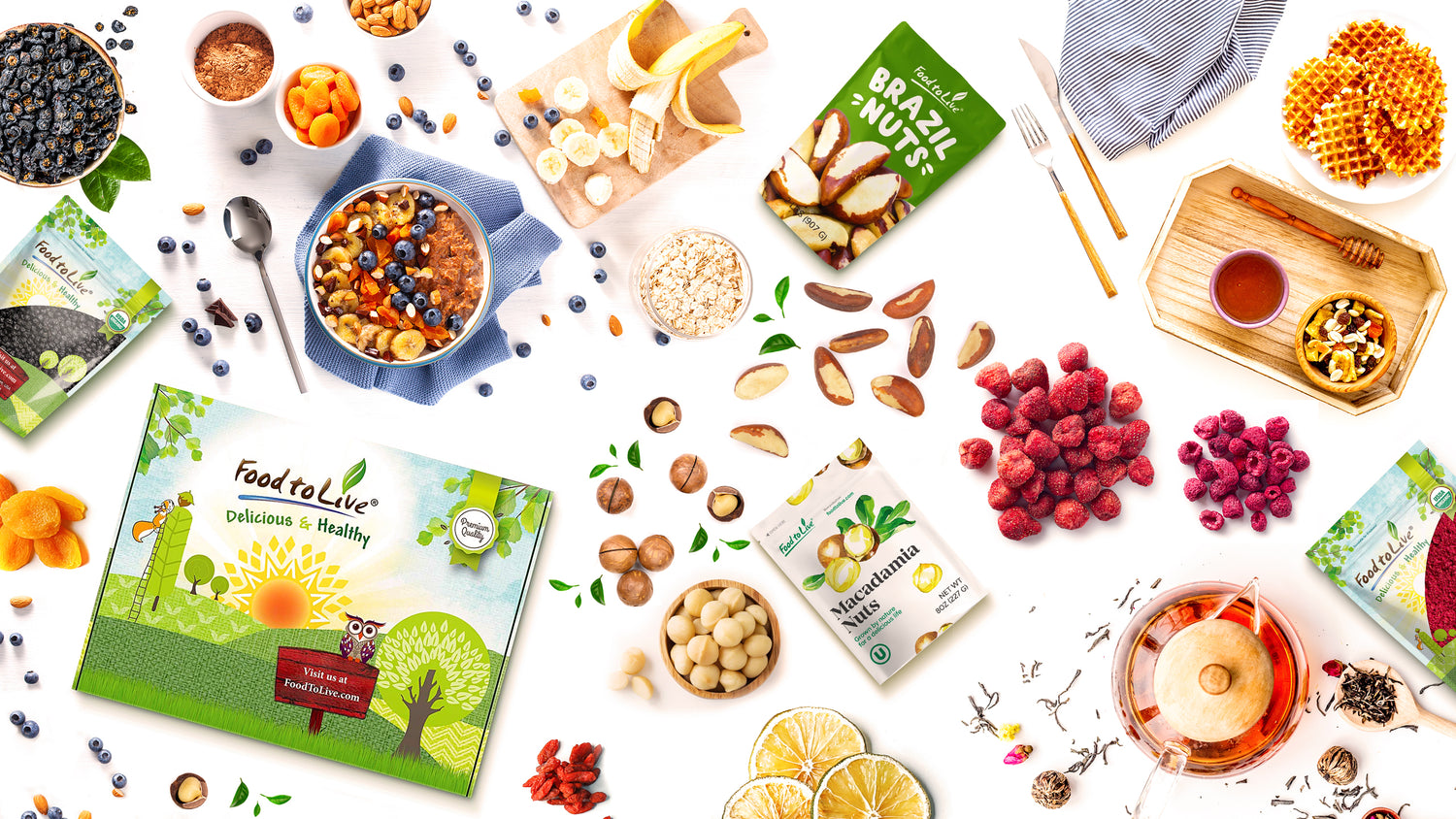 Food to Live was created to give people easy access to delicious and wholesome foods.
We offer a wide range of organic and raw foods that would be a great addition to any diet.
We choose products that can positively impact the body, such as dried fruits, nuts, seeds, grains, powders, flours, spices, and legumes.
Shop more products