Organic Hazelnuts / Filberts - Non-GMO, Kosher, Raw, No Shell, Bulk - by Food to Live
Regular price
$0.00 USD
Sale price
$9.99 USD
Unit price
per
Sale
Sold out
Our organic hazelnuts or filberts are large-size nutritious nuts originating from Turkey, where they have been cultivated for a long time. Organic nuts are grown without chemicals, so they are safe and full of essential vitamins and minerals. These small kernels contain the most folate (also called vitamin B9) as compared to any other nut. That is why hazelnuts are good for the cardiovascular system. They also help pregnant women reduce the risk of many congenital disabilities.

Health Benefits

To benefit from our organic hazelnuts, store them in a dry, cool place, or else they might become rancid. Do not open the package if you are not going to use them right away. After opening the package, we recommend using a freezer zipper bag or placing the hazelnuts in an airtight can. Our hazelnuts are of the best quality, so they can repeatedly be refrozen without loss of texture and taste, providing the essential health benefits:

* Lower the risk of heart diseases.
According to the recent research, people who eat about 1.5 oz of filberts per day reduce the risk of cardiovascular diseases and heart attacks.
* Decrease the risk of blood clotting.
The high content of proanthocyanidin helps you prevent the risk of blood clotting, along with the potential for urinary tract infections.
* Provide dietary fiber.
By eating hazelnuts, you get the necessary amount of dietary fiber, which helps you lower cholesterol levels and prevents constipation due to its laxative effect.
* Are rich in vitamin E.
100 g of hazelnuts provide 100 % RDA of vitamin E. This vitamin is a powerful antioxidant needed to maintain the integrity of your cell membranes.
* Contain copper and manganese.
Copper is used during iron absorption, and manganese is needed for bone formation, so it is important to get them in sufficient amounts.
Shipping & Returns

Shipping Time: Most orders received before 3:00 PM EST will ship not later than the next business day, provided the product ordered is in stock. Most orders received after 3:00 PM EST will ship not later than the second business day. Orders are not processed or dispatched on Sunday. For more information check our Shipping & Return Policy
Storage

Store in a cool,dry place away from Moisture, Light, Oxygen
Share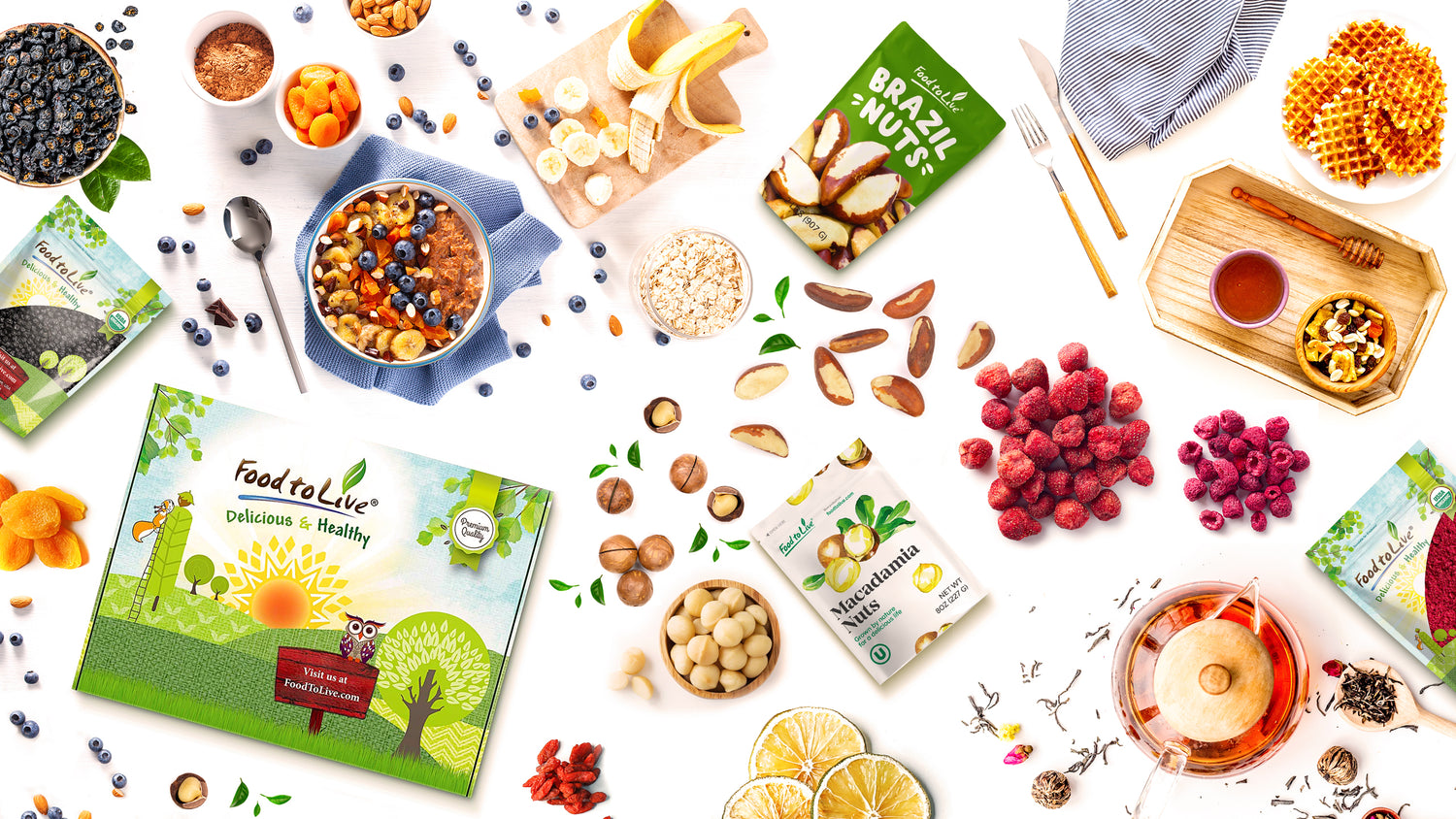 Food to Live was created to give people easy access to delicious and wholesome foods.
We offer a wide range of organic and raw foods that would be a great addition to any diet.
We choose products that can positively impact the body, such as dried fruits, nuts, seeds, grains, powders, flours, spices, and legumes.
Shop more products