Organic Healthy Nuts & Seeds in a Gift Box - A Variety Pack of Almonds, Walnuts, Cashews, Macadamia Nuts and Pumpkin Seeds -by Food to Live
Regular price
$0.00 USD
Sale price
$37.98 USD
Unit price
per
Sale
Sold out
Organic Healthy Nuts & Seeds - Gift Box by Food to Live includes 5 bags:

- Organic Macadamia Nuts - 8 Ounces. Country of Origin: Kenya.

- Organic Walnuts - 4 Ounces. Country of Origin: USA.

- Organic Almonds - 8 Ounces. Country of Origin: Italia.

- Organic Raw Cashew - 8 Ounces. Country of Origin: Vietnam, Ivory Coast, Indonesia.

- Organic Pumpkin Seeds - 8 Ounces. Country of Origin: China.

Organic macadamia nuts are nutritious, filling, and tasty. Macadamia nut oil is a source of omega 3 and omega 6 essential fatty acids. It contains healthy fats, proteins, and dietary fiber. Organic macadamia nuts also contain antioxidants. 4-5 organic macadamia nuts daily will be enough for you to enjoy their benefits.

Walnuts have a great number of uses, although being a delicious food is definitely the leader among them. Organic walnuts appear to be one of the healthiest foods out there. Although in much smaller amounts, organic walnuts also contain calcium and selenium, as well as vitamins A and C. There are a great number of ways to enjoy organic walnuts. You can eat them raw or if you want to enhance their flavor, try roasted walnuts.

When it comes to snacking on Organic almonds, nutrition should be the first thing on your mind as they give you quite a few of the nutrients that should be included in a healthy diet. 3.5 ounces of the buttery-flavored nuts give you all the copper you need to consume in a day and an equal amount of manganese. There are many great ways to use Organic almonds in the kitchen.

Organic Cashews boost the level of 'good' cholesterol and providing the body with good essential fats. They are rich in minerals, namely copper, iron, manganese, and calcium. You can eat Organic cashews either raw or roasted as their nutritional stays almost the same. Organic Roasted cashews have a sweeter, more buttery flavor. Remember to keep the Organic raw cashews refrigerated so they can stay fresh longer.

Organic raw pumpkin seeds can be included in a Paleo diet plan as they are rich in a variety of nutrients. Organic Pumpkin Seeds make a fantastic culinary ingredient, which can be included in a variety of recipes. Organic Pumpkin seeds are gluten-free and can be used for baking by the people with a sensitivity to this element. Note that the absence of this protein in the kernels does not exclude the fact of possible cross-contamination.
Shipping & Returns

Shipping Time: Most orders received before 3:00 PM EST will ship not later than the next business day, provided the product ordered is in stock. Most orders received after 3:00 PM EST will ship not later than the second business day. Orders are not processed or dispatched on Sunday. For more information check our Shipping & Return Policy
Storage

Store in a cool,dry place away from Moisture, Light, Oxygen
Share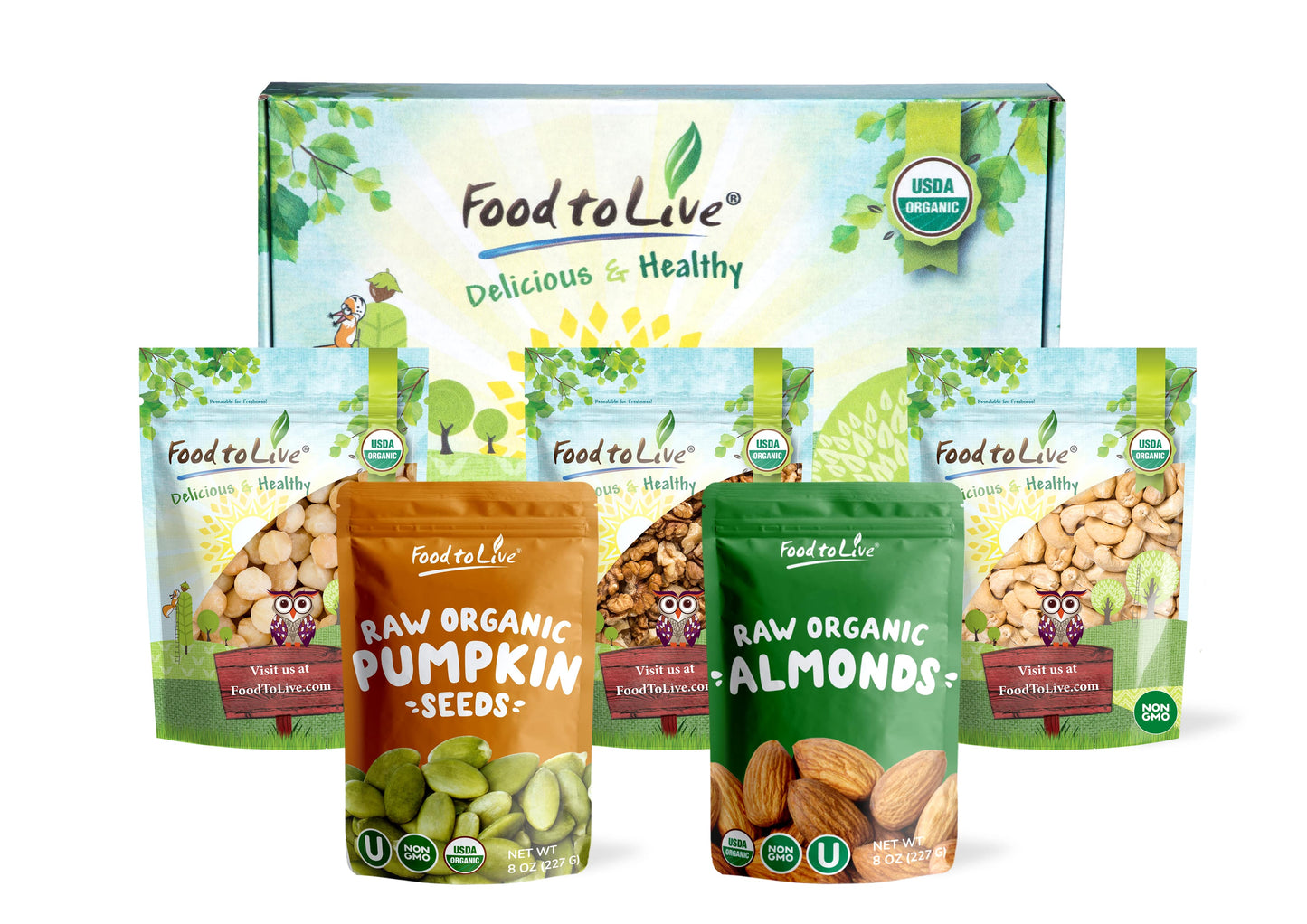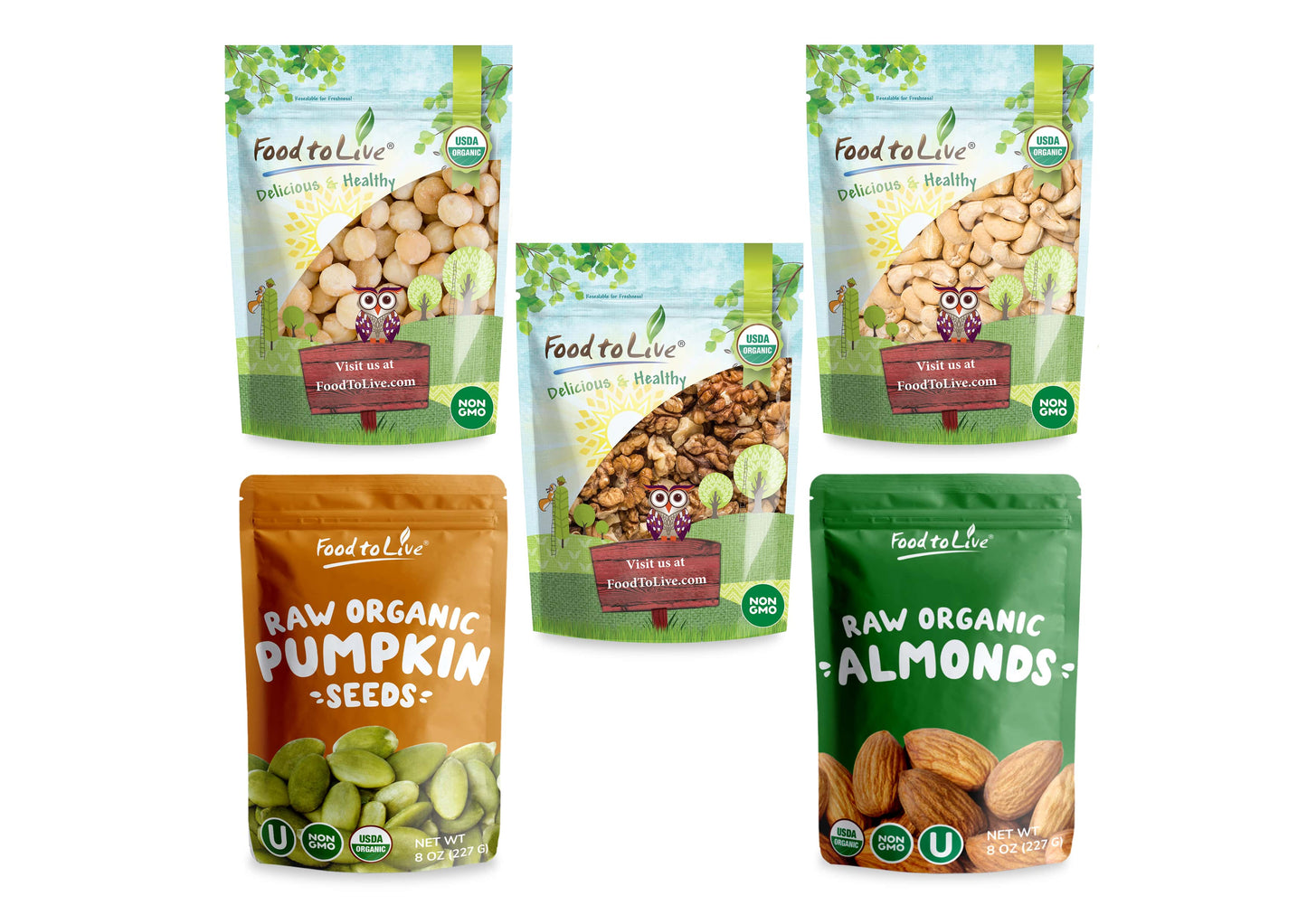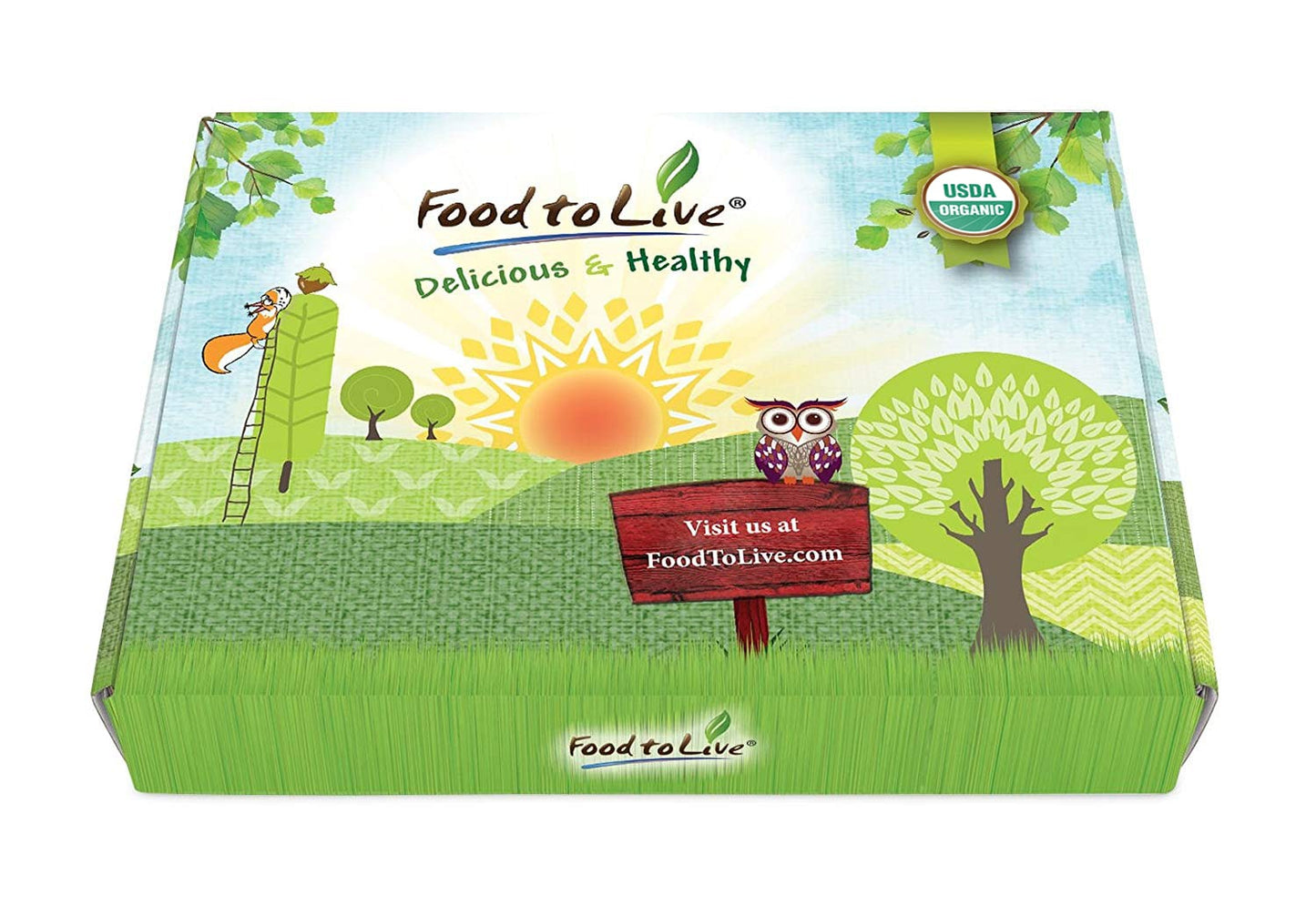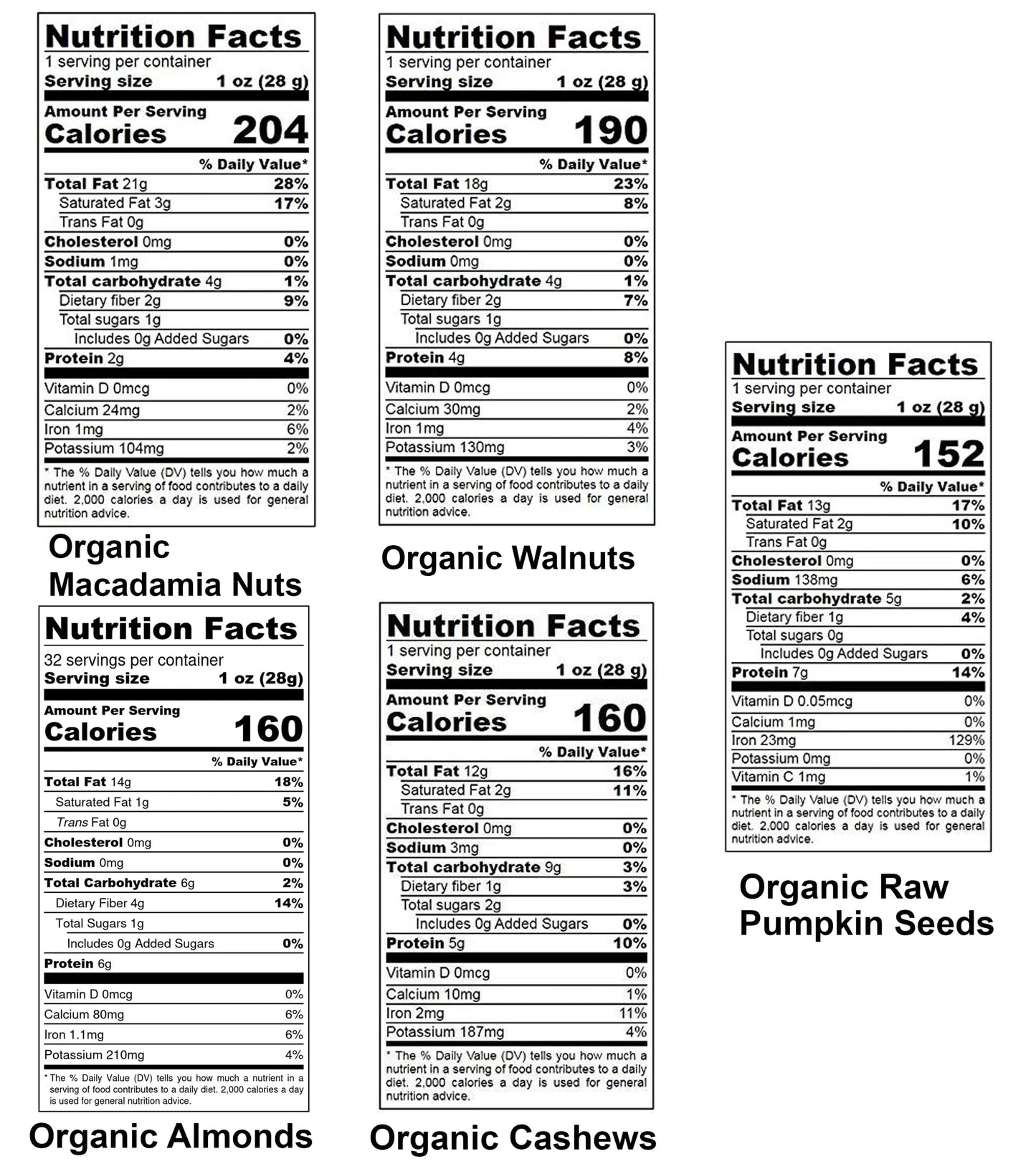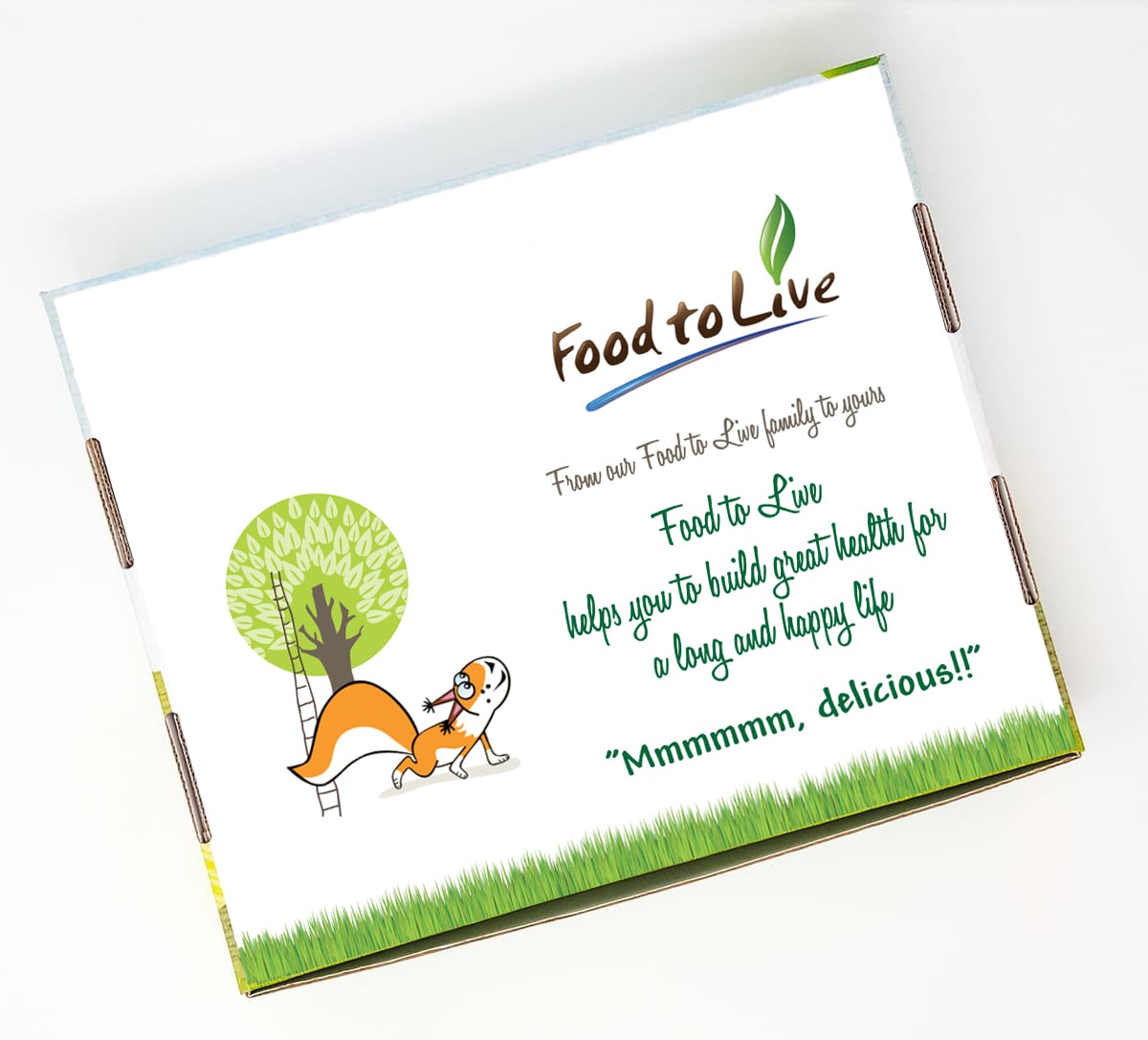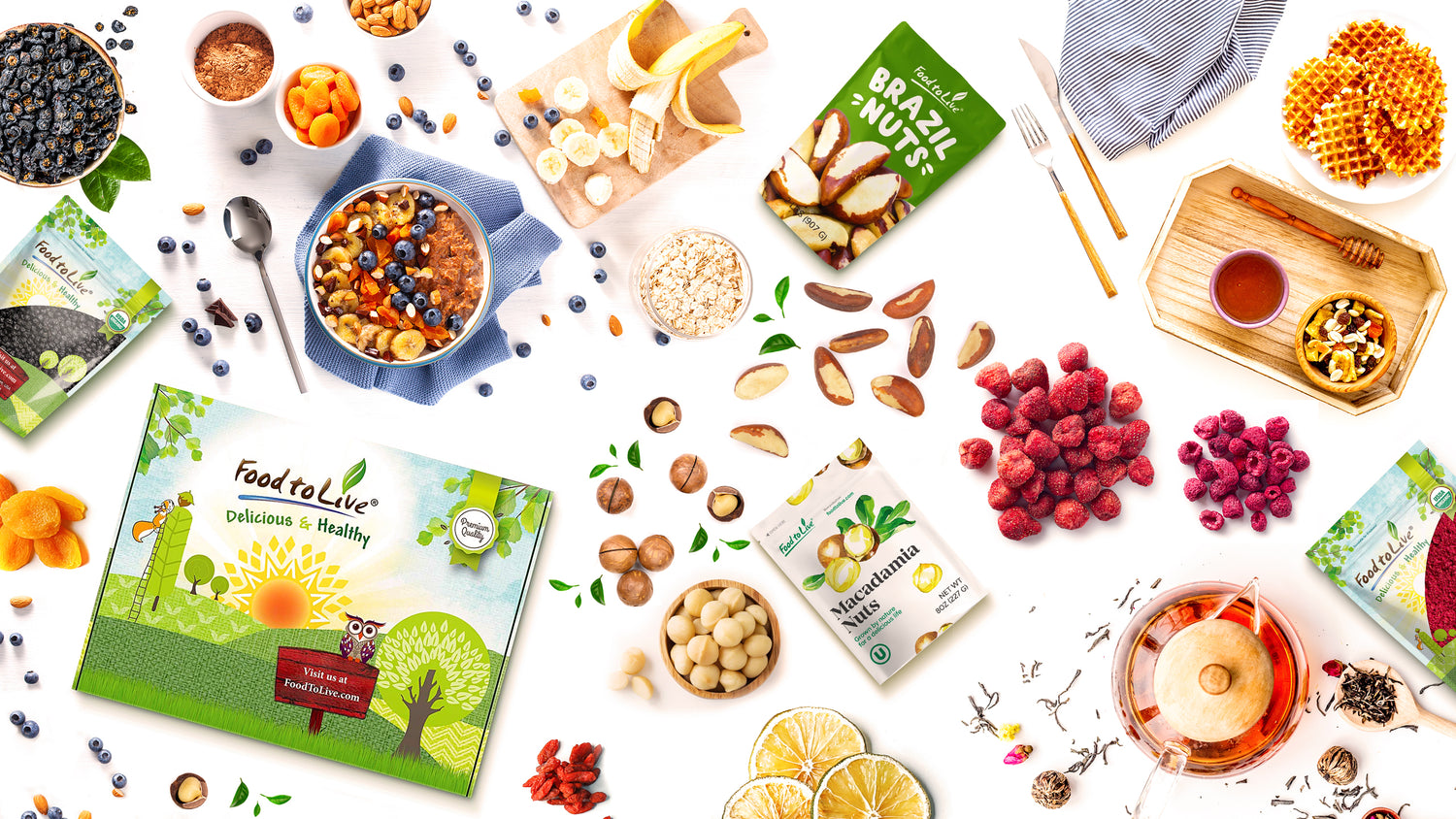 Food to Live was created to give people easy access to delicious and wholesome foods.
We offer a wide range of organic and raw foods that would be a great addition to any diet.
We choose products that can positively impact the body, such as dried fruits, nuts, seeds, grains, powders, flours, spices, and legumes.
Shop more products