Organic Hulled Millet — Whole Grain Seeds, Non-GMO, Kosher, Raw, Bulk, Product of the USA - by Food to Live
Regular price
$0.00 USD
Sale price
$70.99 USD
Unit price
per
Sale
Sold out
Organic Millet is a type of grain everyone will love. It's rich in nutrients, not so high in calories, and very tasty. Organic millet seed has been cultivated for over 10 000 years and remains one of the most important crops on the planet. Resilient to harsh weather, millet feeds millions of people. It's also used as animal feed and for producing many alcoholic beverages.

The leading producers (and consumers) of millet are Africa, India, Middle East, and China. This fantastic grain is only gaining popularity in America. But considering how good it is, many people are sure to fall in love with it. Food To Live Organic Millet is 100% toxin and GMO-free. This bulk pack will allow you to try different sweet and savory millet dishes.

Millet Benefits and Nutrition

Millet seed benefits are the same as any whole grain, but even better. This type of grain is lower in calories and fats. It's also easier to cook and doesn't contain gluten.

Nutrition-wise, organic millet grain gives you notable amounts of:

* B vitamins
* Manganese
* Magnesium
* Iron
* Zinc

You also get a little bit of calcium and selenium. Add to this the fact that a cup of cooked organic millet seed contains 2.3 grams fiber and 6.1 grams of protein. All that only in 207 calories.

As you can see, organic millet is excellent for vegans, bodybuilders, athletes, and virtually everyone who wants to maintain a healthy diet. It also fits well into weight-management plans because millet is somewhat filling. Besides, it contains some antioxidants so that you can enjoy a serving of this grain while on detox.

How to Cook Organic Millet Grain

Cooking organic millet grain can be tricky, but it shouldn't take you more than 30 minutes. You don't have to pre-soak or even wash it beforehand.

Instructions:

1. Toast 1 cup of organic millet seeds in a saucepan for 5 minutes.
2. Add 2 cups of water and ¼ teaspoon salt.
3. Bring to a boil and stir carefully. Reduce heat to the minimum.
4. Add two tablespoons butter and stir again before covering the pan.
5. Open and stir occasionally, but be very gentle and don't do this often as you'll break tender seeds.
6. Let organic millet simmer for 15 minutes. Remove from heat and leave for 10 minutes more. Do not open during this time.

Fluff up your millet with a fork and add more salt if needed. Serve this grain warm as it tastes best fresh.

You can use organic millet seed as a substitute for any grain. It will taste great in baked goods and make them more crunchy. You can even add millet to soups. Be sure to try some sweet organic millet cereal in the morning. Add 3 cups of water when cooking to make it creamier and better suited for such recipes.

Millet Storage Tips

Buy millet in bulk with no fear as the grain will keep well in a cool and dry place. Store it in an airtight container.
Shipping & Returns

Shipping Time: Most orders received before 3:00 PM EST will ship not later than the next business day, provided the product ordered is in stock. Most orders received after 3:00 PM EST will ship not later than the second business day. Orders are not processed or dispatched on Sunday. For more information check our Shipping & Return Policy
Storage

Store in a cool,dry place away from Moisture, Light, Oxygen
Share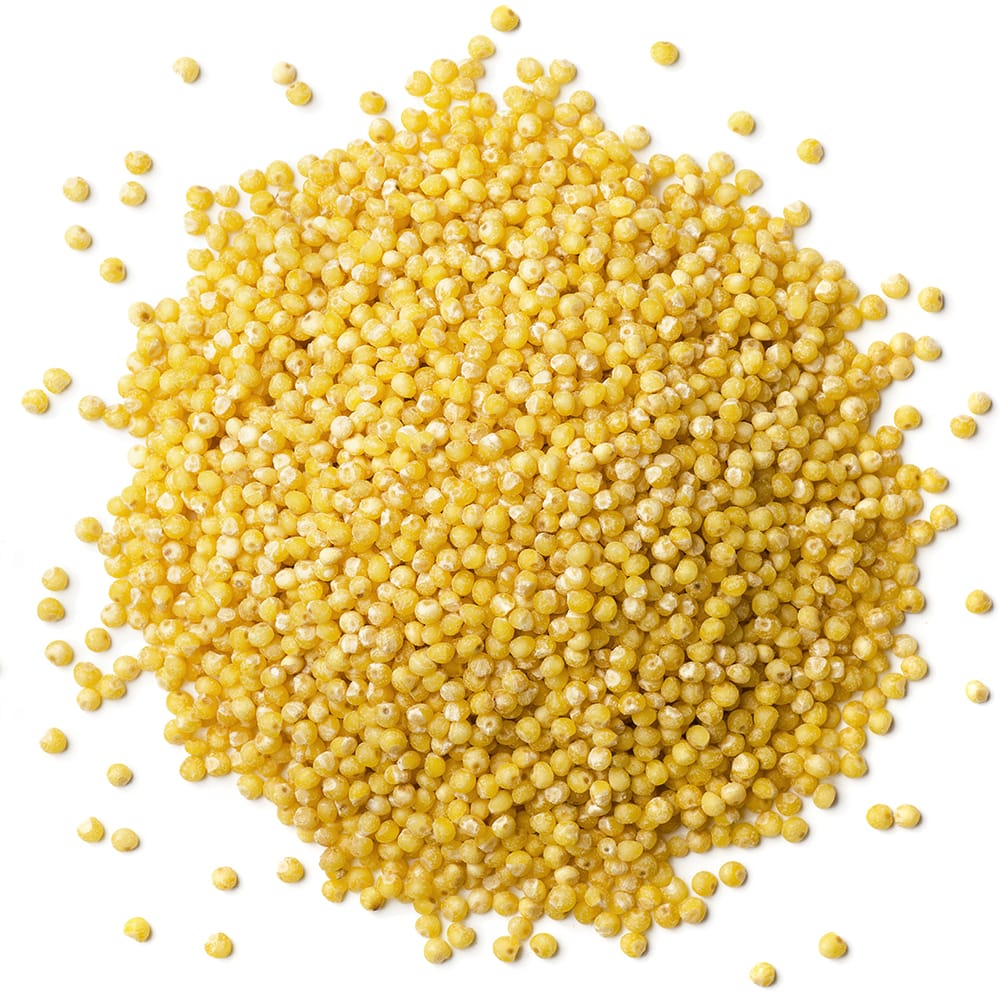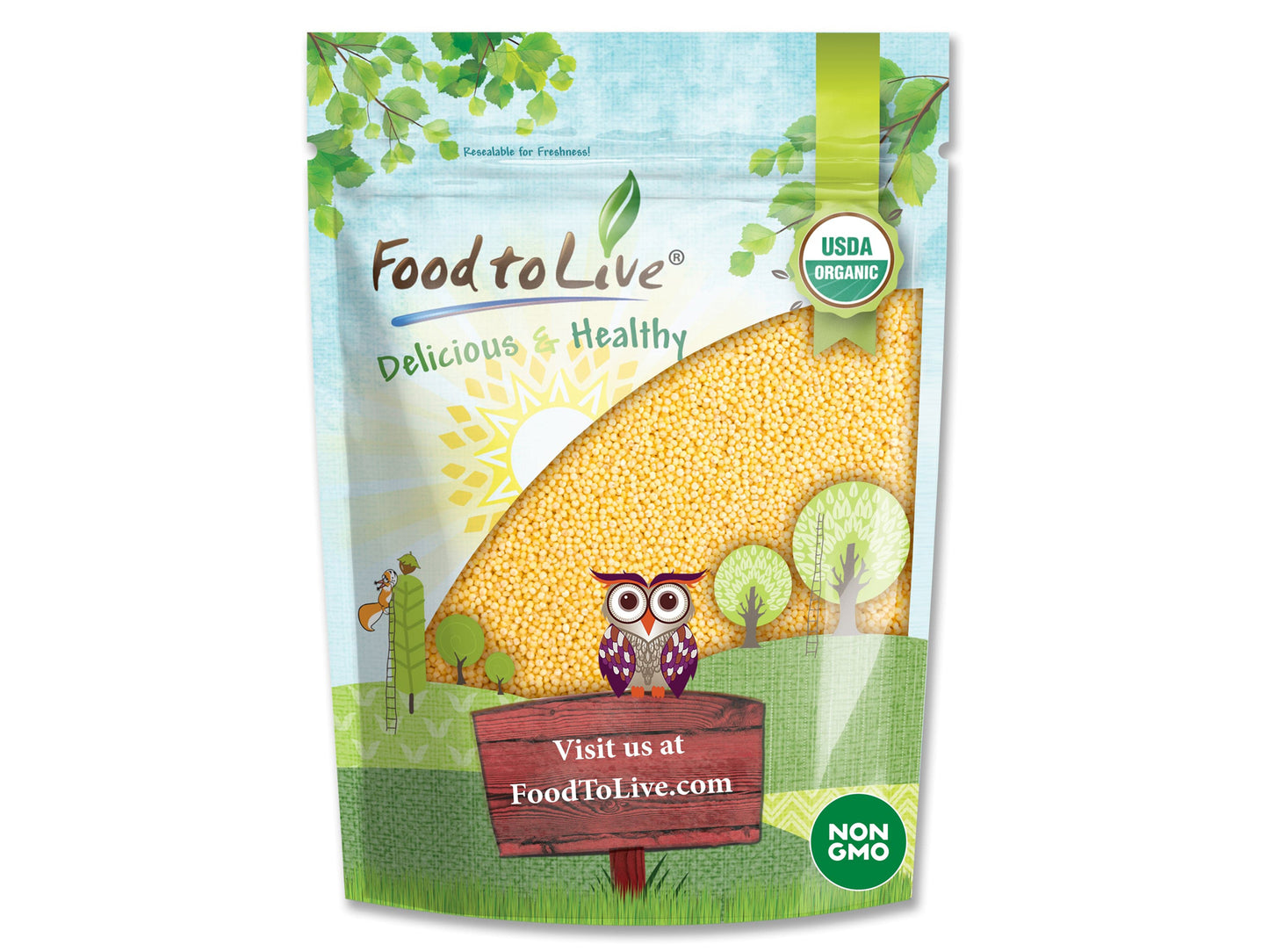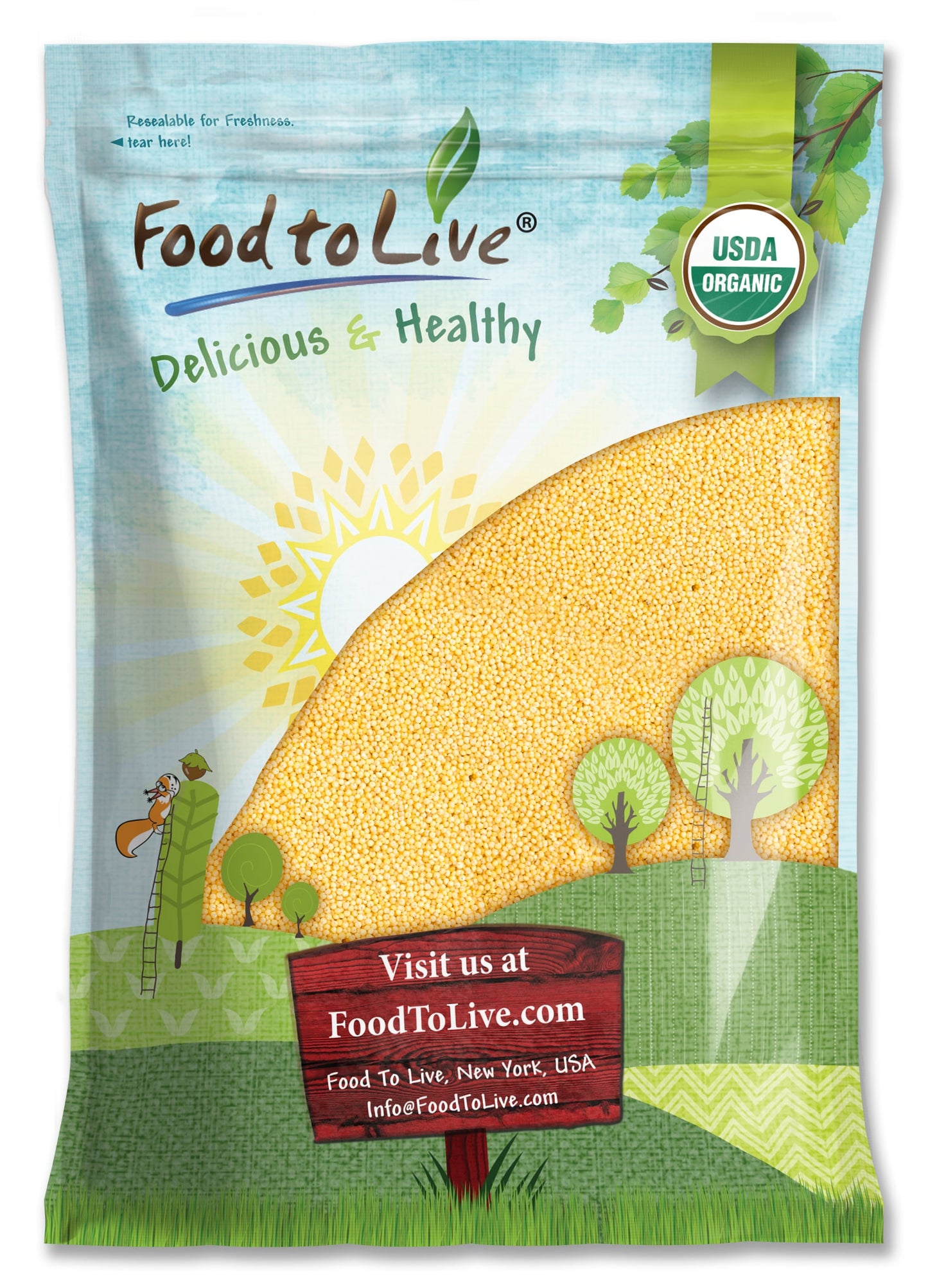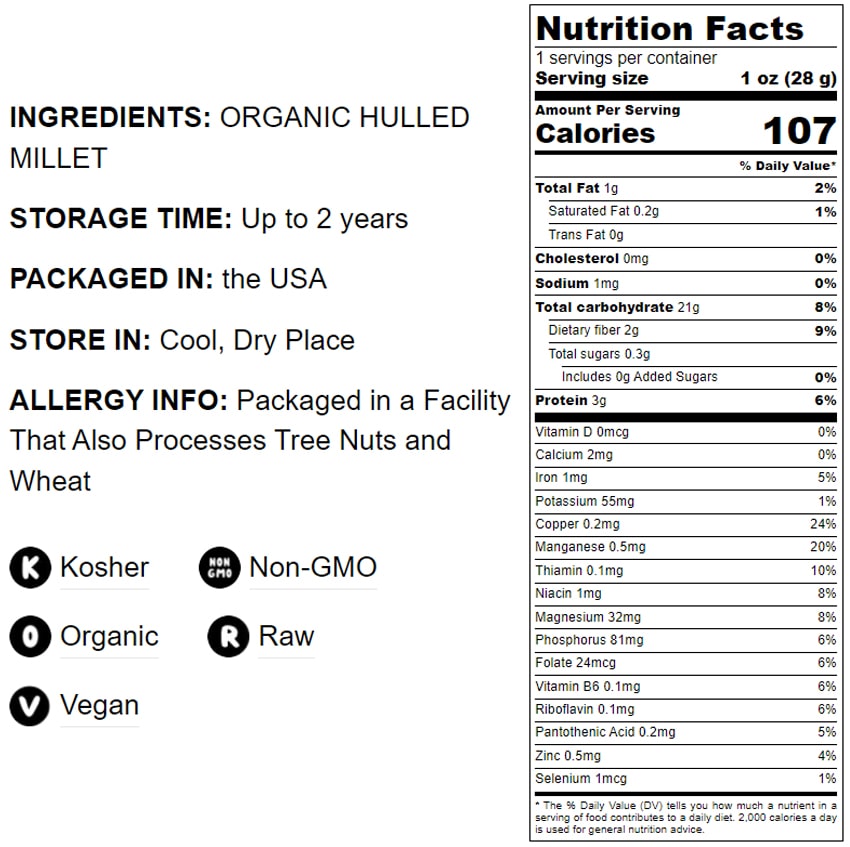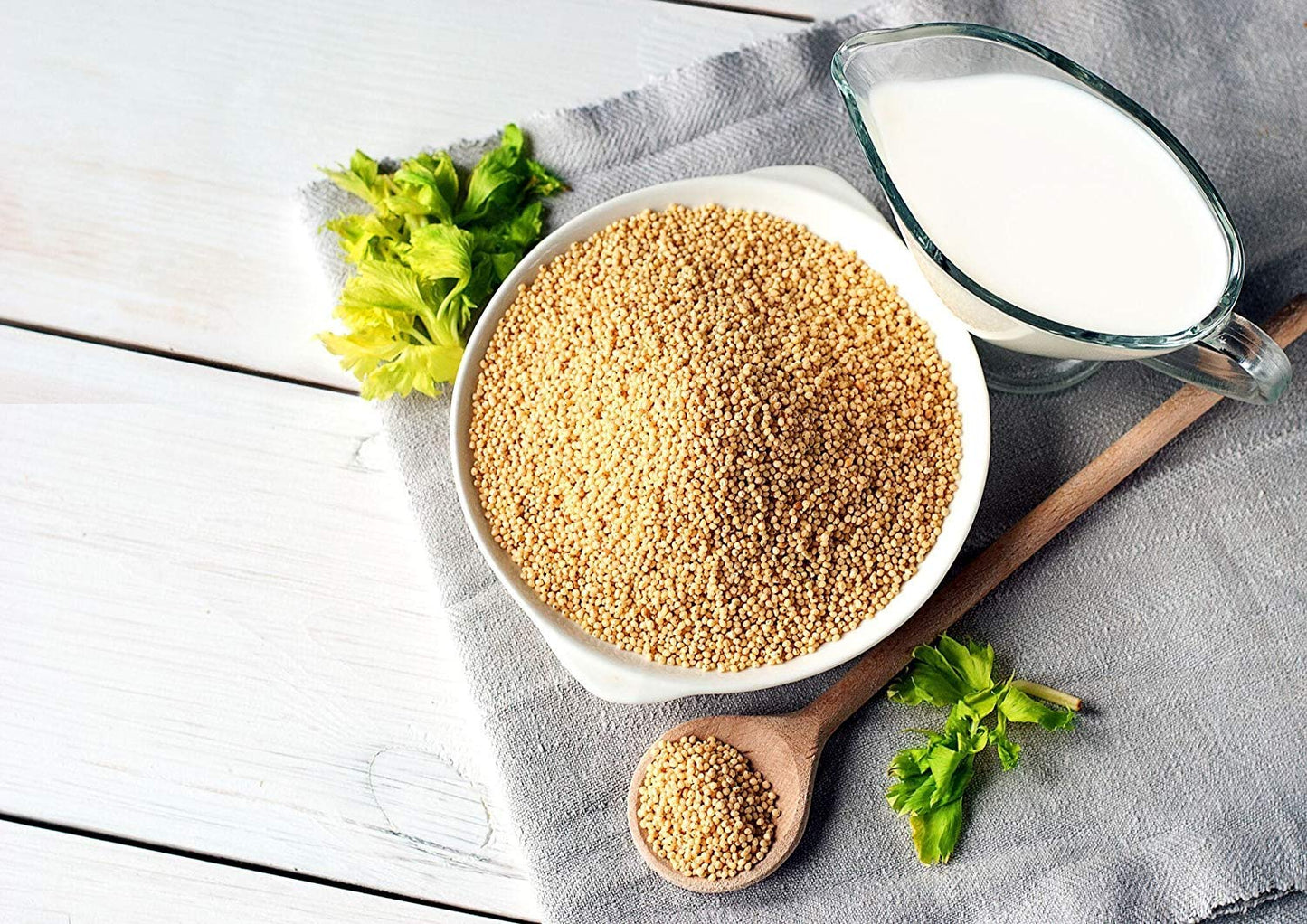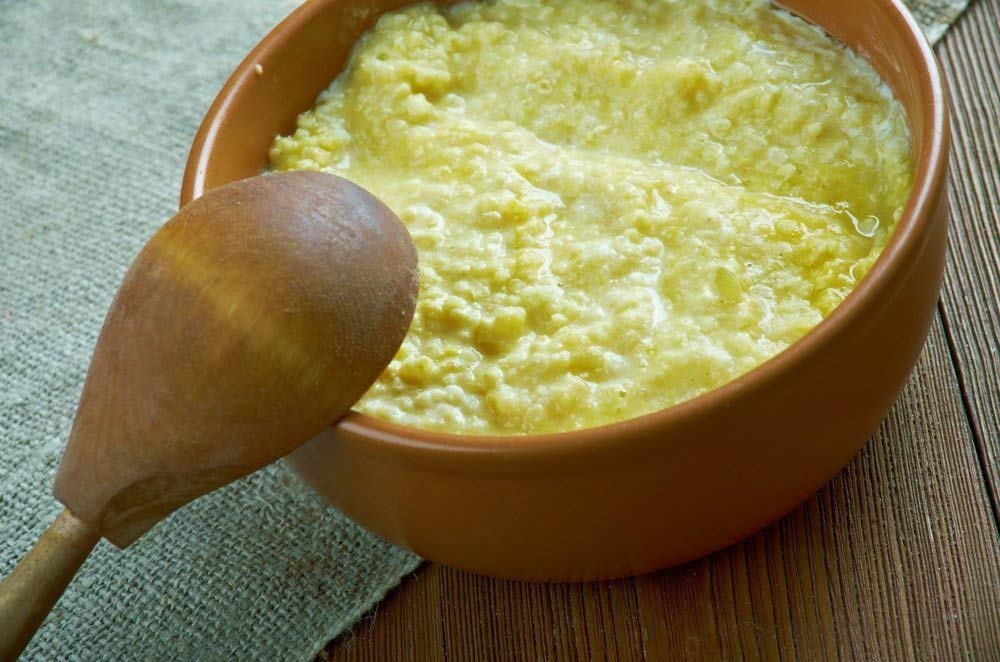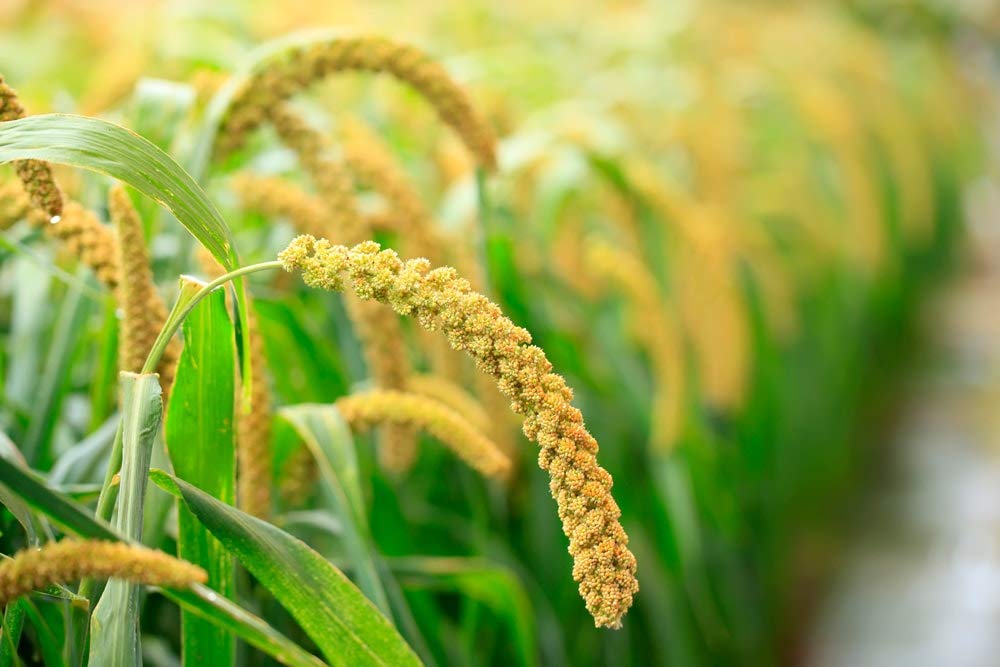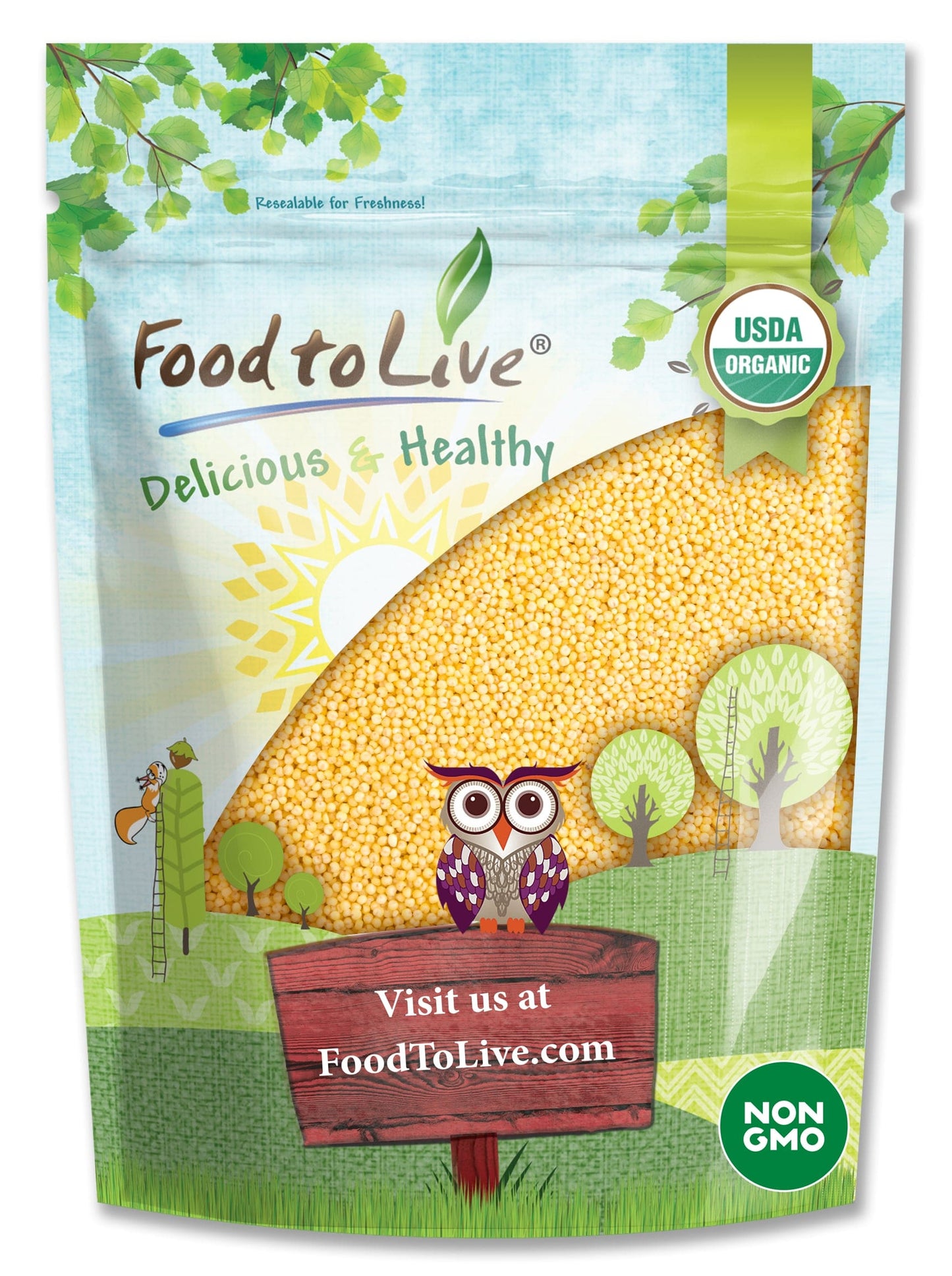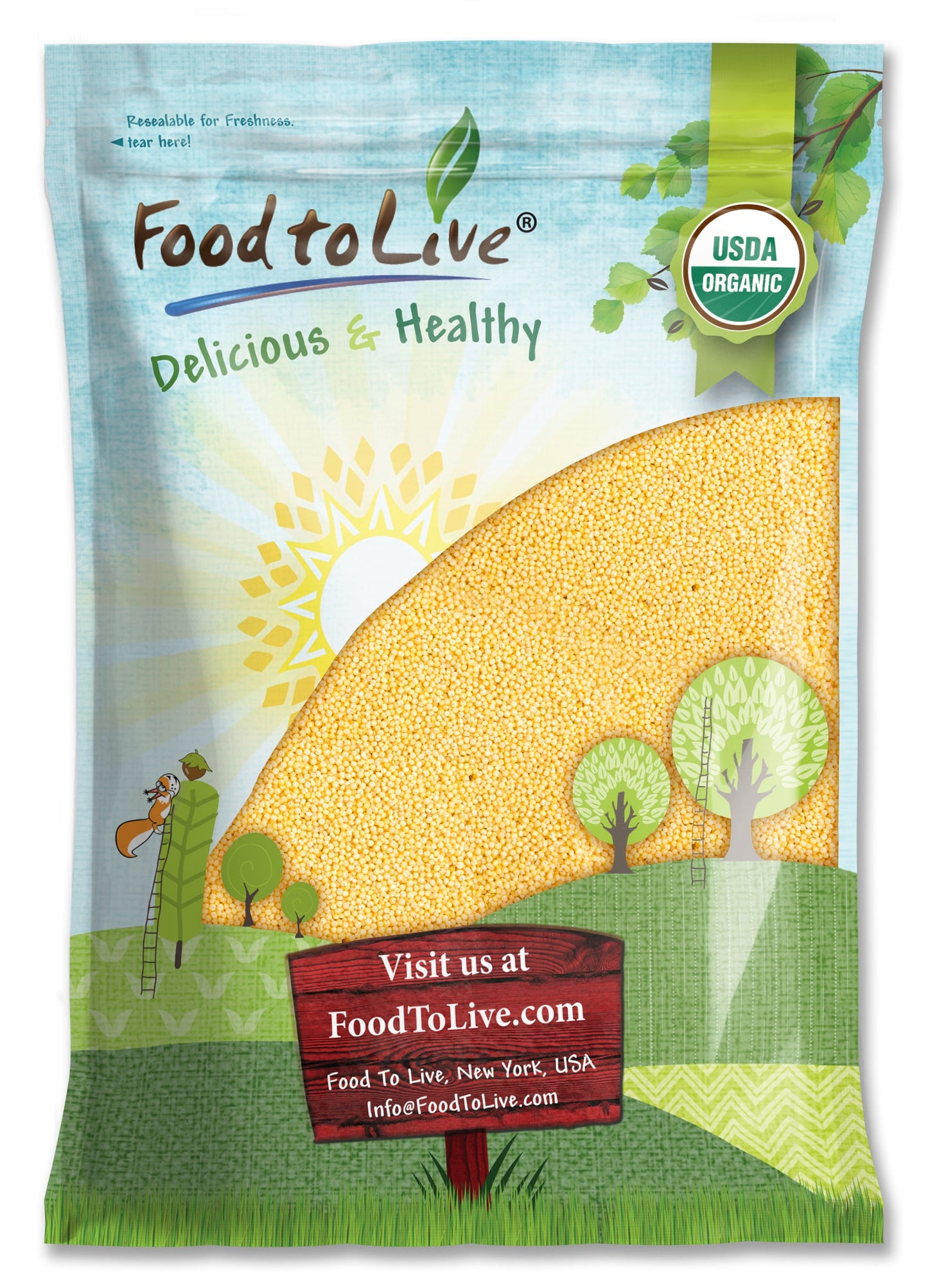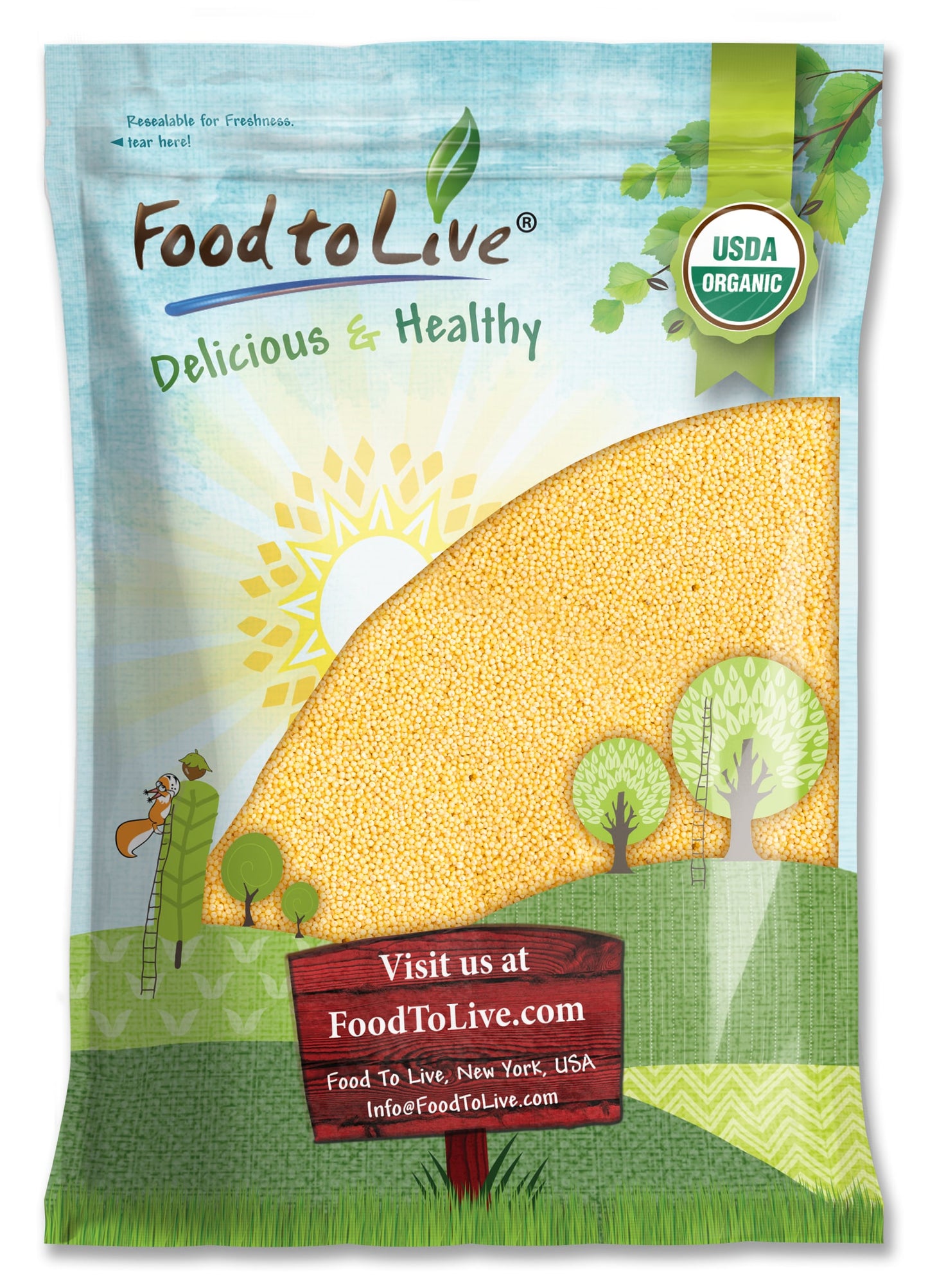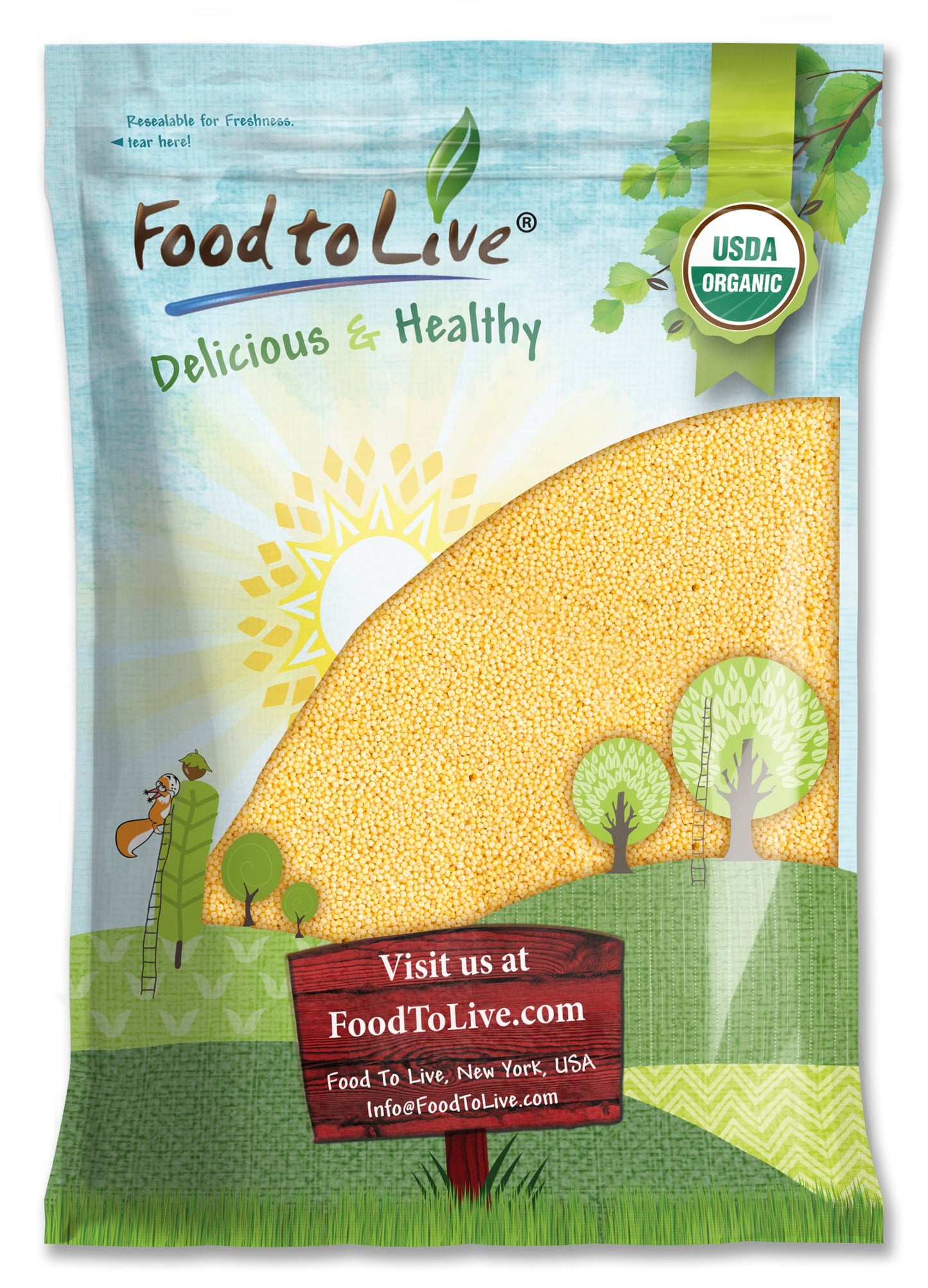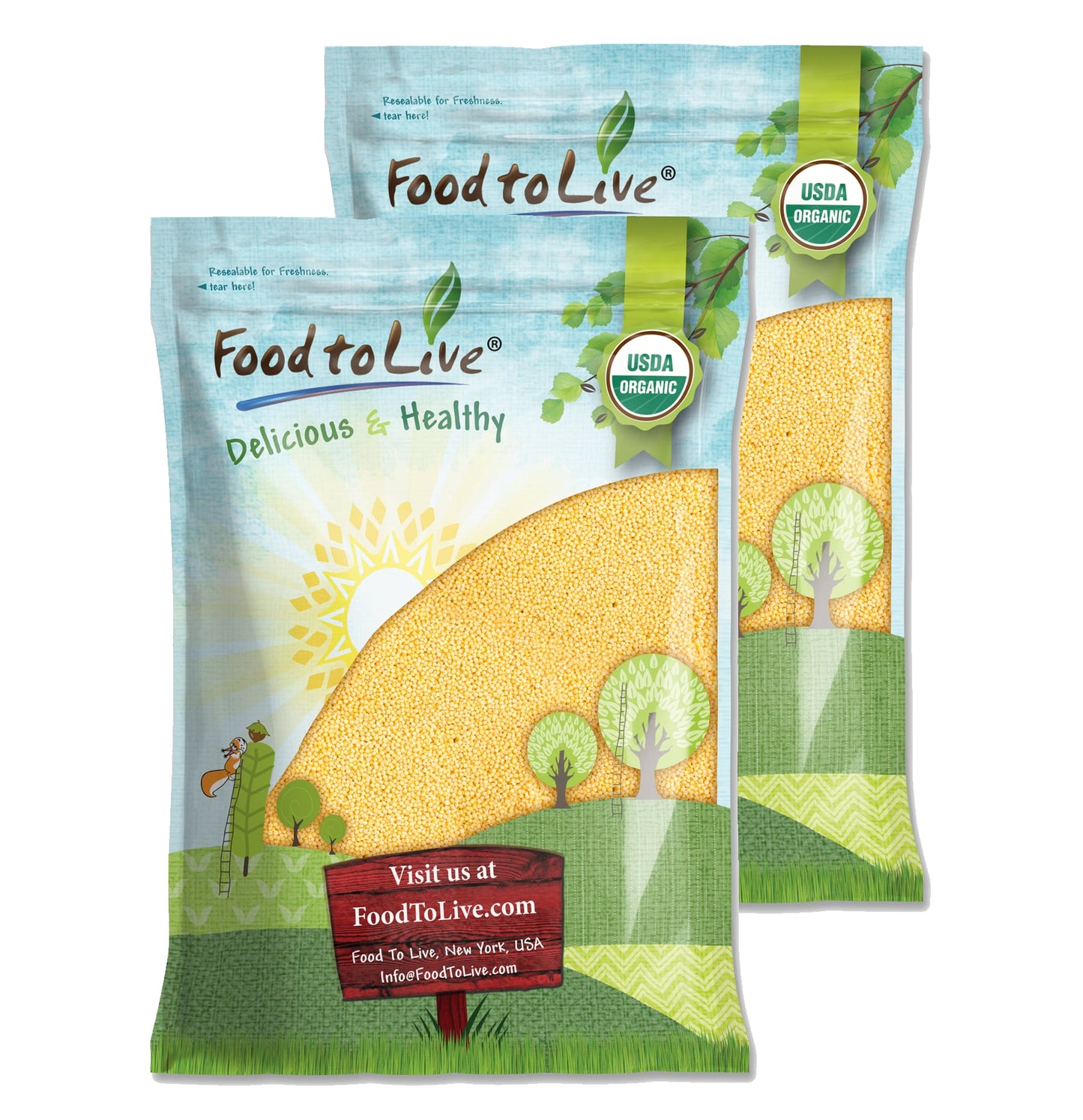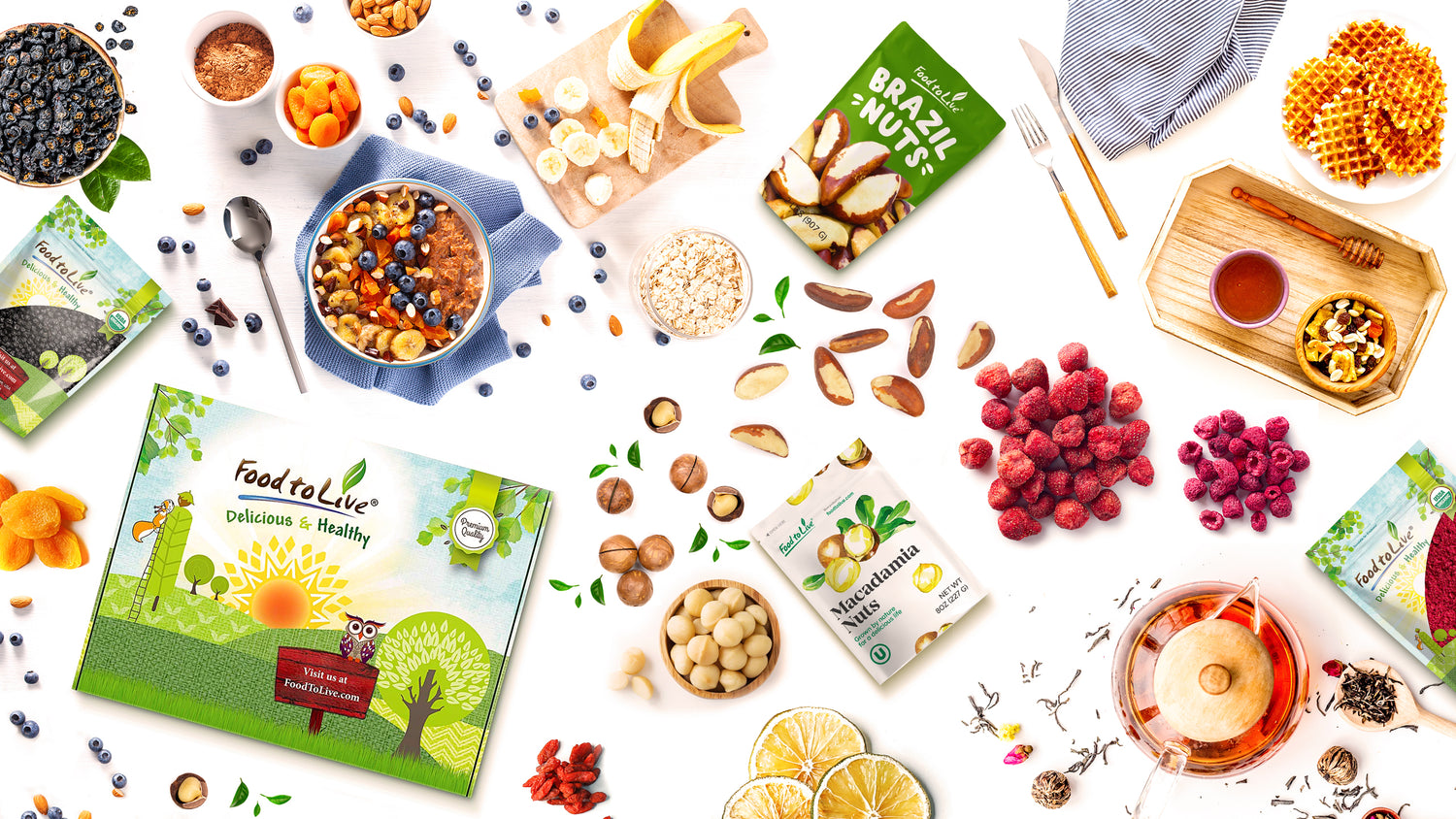 Food to Live was created to give people easy access to delicious and wholesome foods.
We offer a wide range of organic and raw foods that would be a great addition to any diet.
We choose products that can positively impact the body, such as dried fruits, nuts, seeds, grains, powders, flours, spices, and legumes.
Shop more products