Organic Mixed Raw Nuts - Cashews, Brazil Nuts, Walnuts, Almonds, Non-GMO, Kosher, Raw, Vegan, Unsalted, Bulk - by Food to Live
Regular price
$0.00 USD
Sale price
$12.49 USD
Unit price
per
Sale
Sold out
Certified Organic Mixed Raw Nuts contain four of the most delicious and beneficial nuts that exist, namely Almonds, Walnuts, Cashews, and Brazil Nuts. Each of them has its own unique flavor and affects your body in different ways. This mix gives you a chance to enjoy the best things this food group has to offer.

As the product is Certified Organic, you can be 100% sure that it doesn't contain any harmful chemicals. We choose the farmers we work with very carefully and double-check their organic certifications in order to ensure that the nuts they grow are indeed pure.

Buying Organic Mixed Raw Nuts allows you to truly benefit from the food as there is no risk of it slowly poisoning your body. These nuts also taste better because they are grown without using any chemicals that can affect their flavor.

Health Benefits

Nuts are great for your health, in general, and these particular types offer the following benefits:

* Almonds.
Almonds are one of the best sources of vitamin E and protein. The former is an antioxidant that helps protect your body from the damage dealt by free radicals. This nutrient does not only strengthen your health, it also enhances your beauty. Increasing the intake of vitamin E is known to result in stronger and shinier hair and nails.
Proteins are the building blocks your body uses on a daily basis to reconstruct its cells. You need to consume quite a lot of them to stay strong and healthy. The required amount increases if you exercise as your muscles require an extra dose of protein to grow. Almond proteins are easy to digest and break down so your body can make good use of them quickly.
* Walnuts.
Lauded as the healthiest nuts, Walnuts are exceptionally beneficial to your health as a whole. They contain large amounts of omega 3 fatty acids that are necessary to reduce inflammatory processes within the body. As the vast majority of people are severely deficient in omega 3, introducing Walnuts into your diet helps improve your health as a whole.
* Brazil Nuts.
These nuts provide you with a large dose of selenium. In fact, they are the best natural source of this essential mineral. Selenium deficiency increases the risk of liver cirrhosis, some types of cancer, and coronary heart disease. Eating about 4 Brazil nuts a day will ensure you don't suffer from this deficiency.
* Cashews.
Aside from being extremely tasty, cashews also contain lots of zinc and copper, minerals necessary for maintaining the proper functioning of many systems inside your body. Eating these nuts regularly helps improve digestion as well as affects the growth and development of children.
Shipping & Returns

Shipping Time: Most orders received before 3:00 PM EST will ship not later than the next business day, provided the product ordered is in stock. Most orders received after 3:00 PM EST will ship not later than the second business day. Orders are not processed or dispatched on Sunday. For more information check our Shipping & Return Policy
Storage

Store in a cool,dry place away from Moisture, Light, Oxygen
Share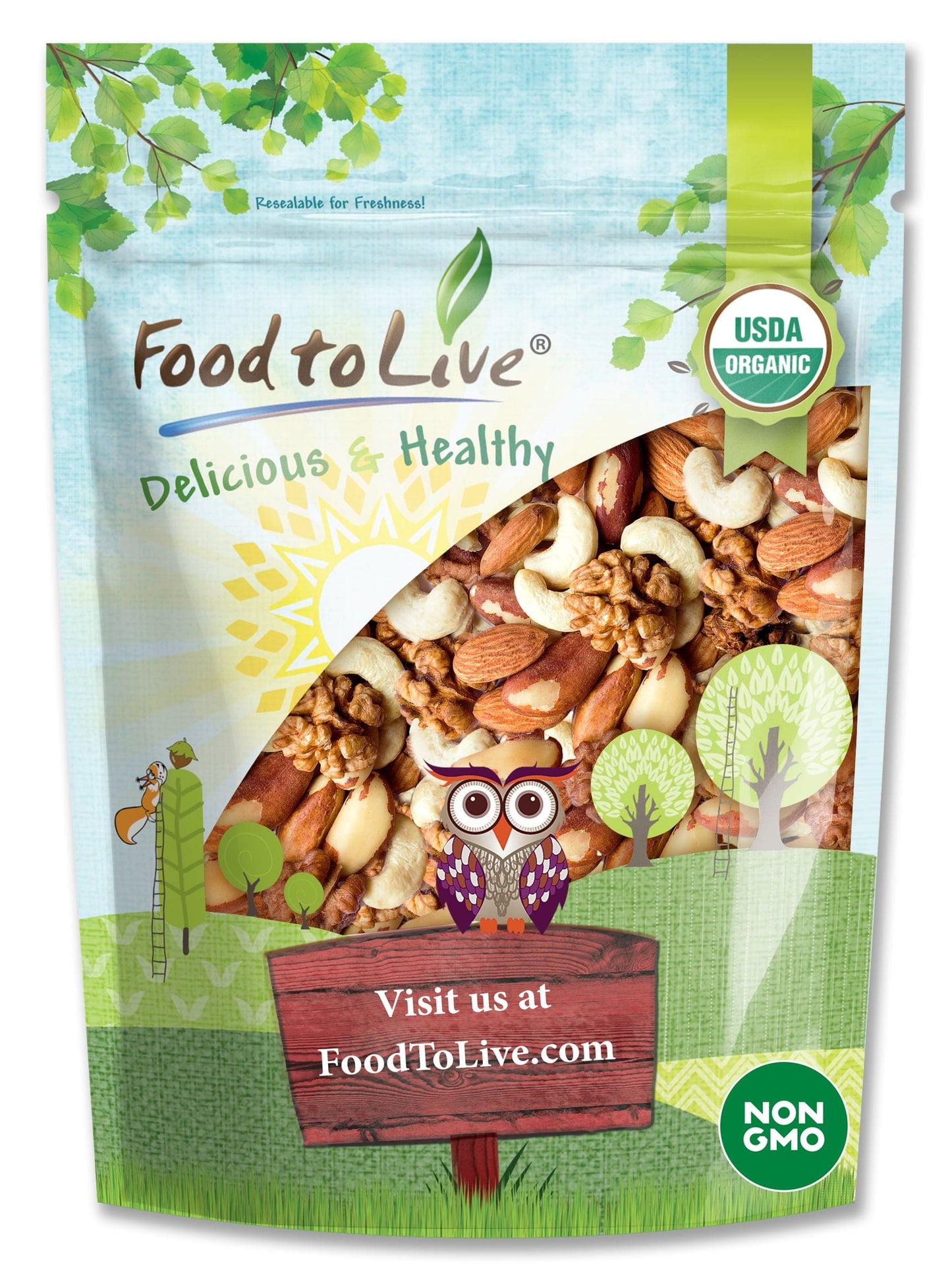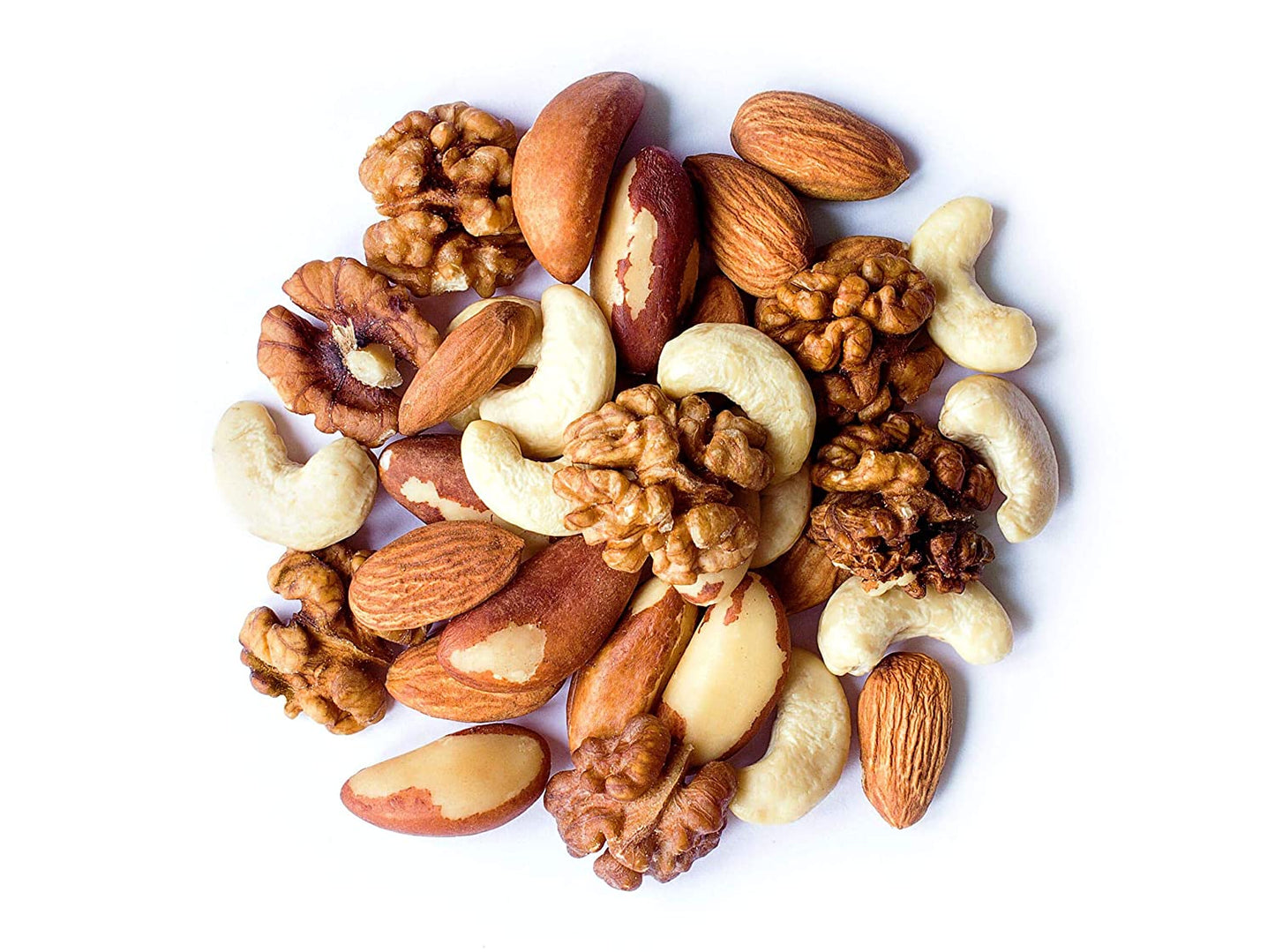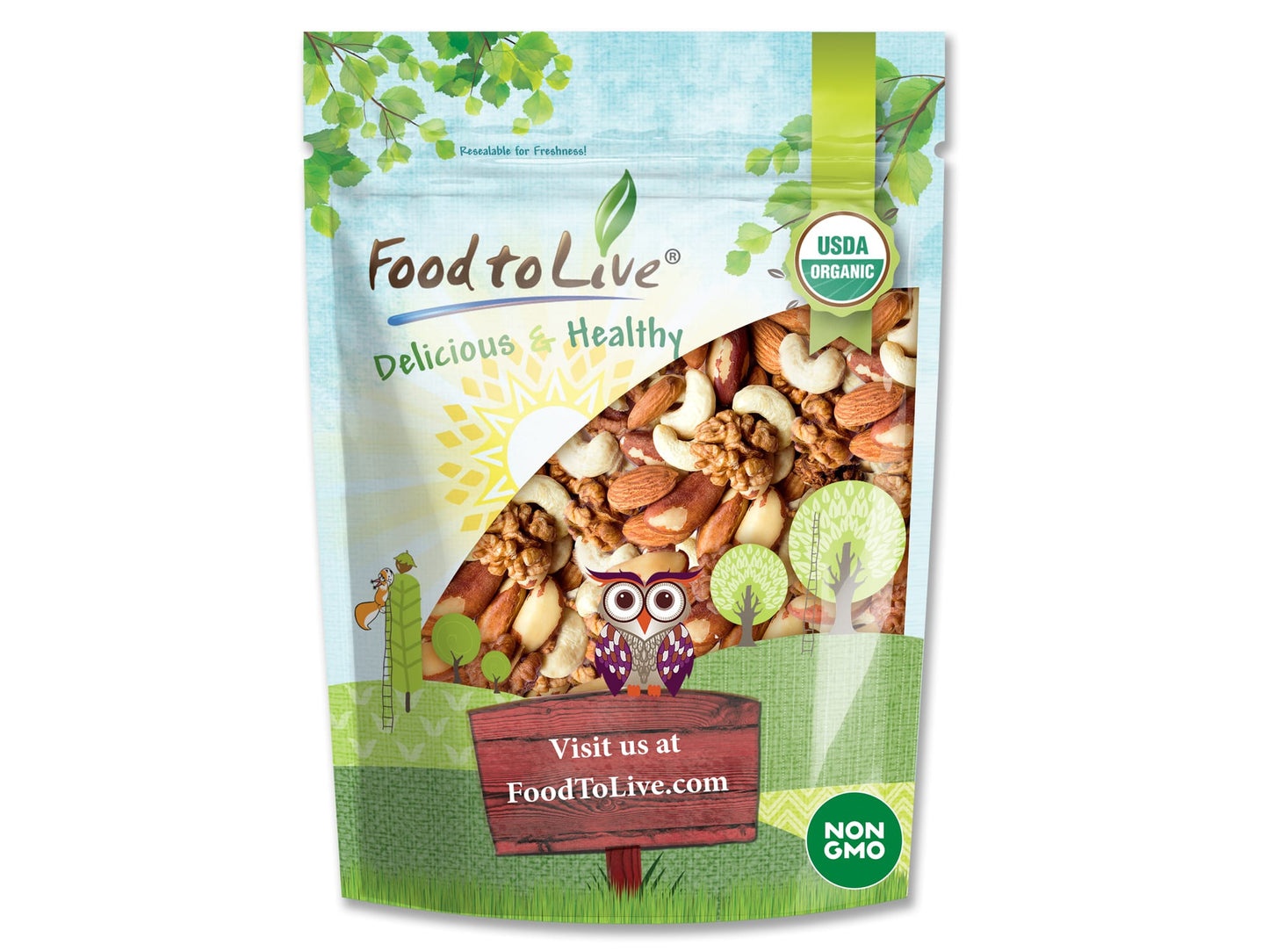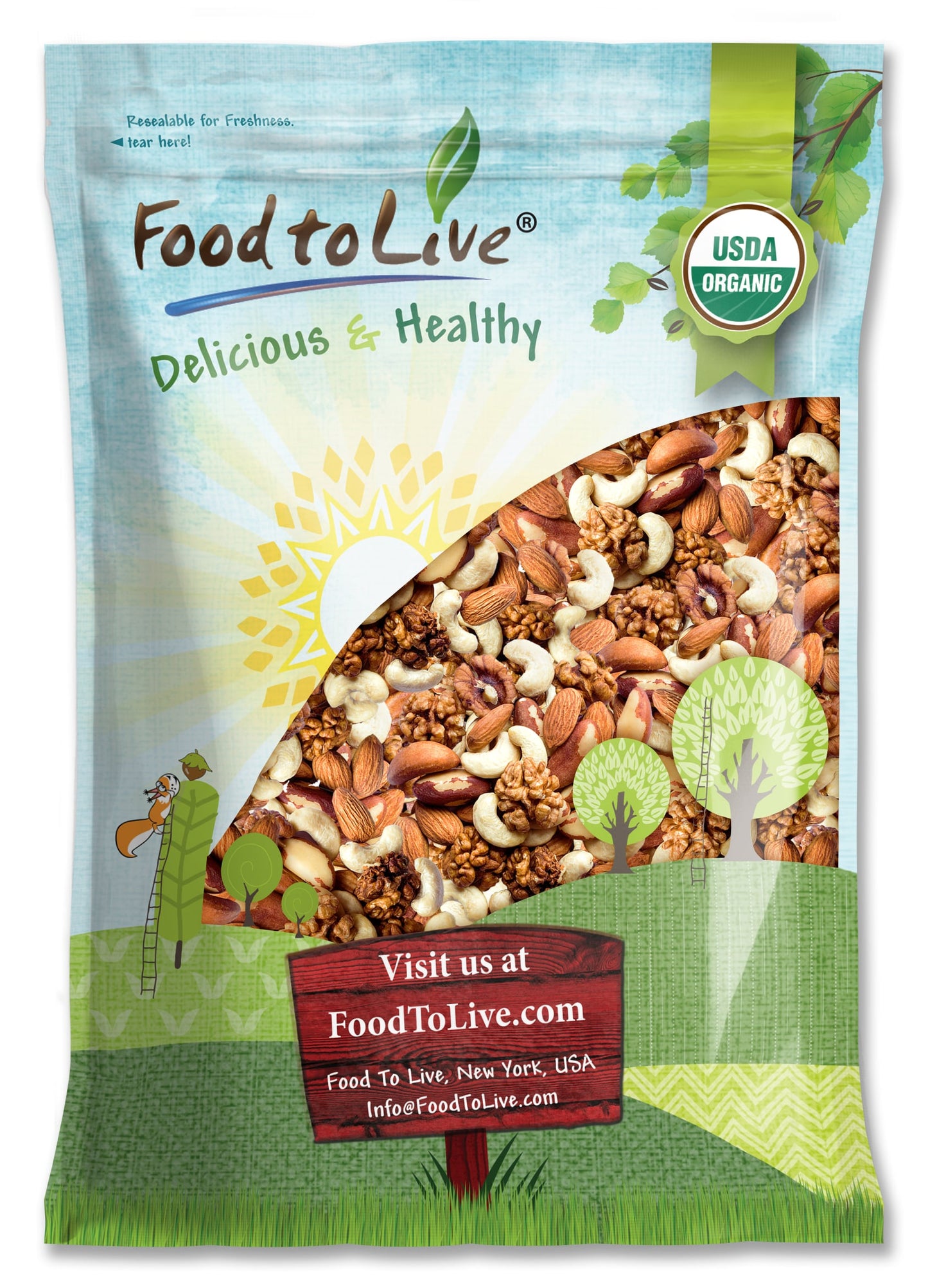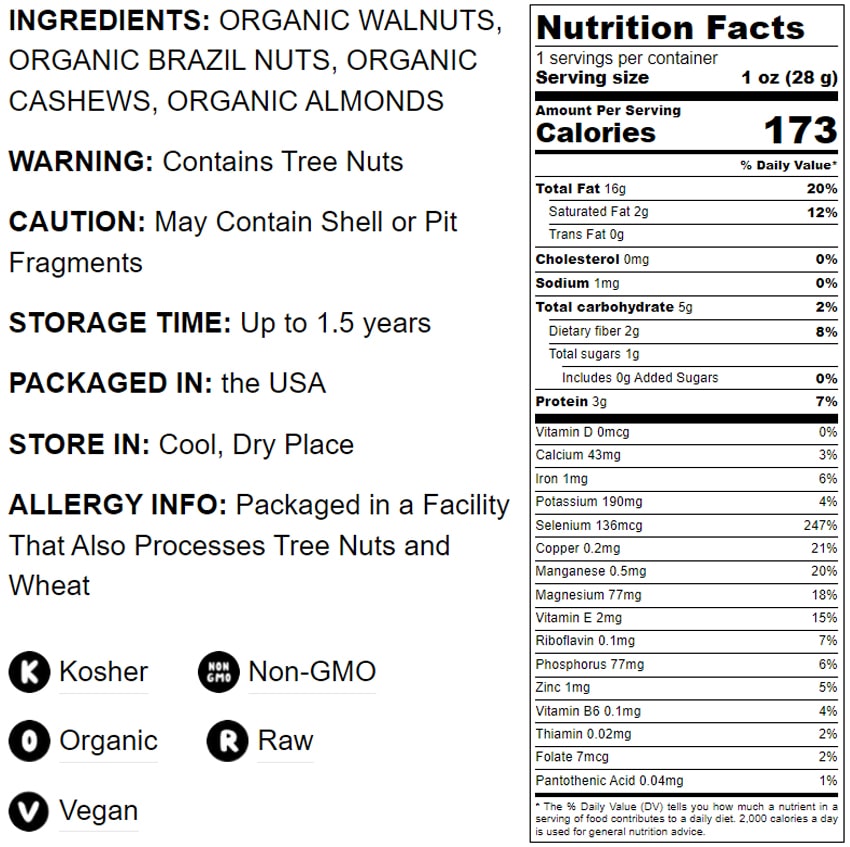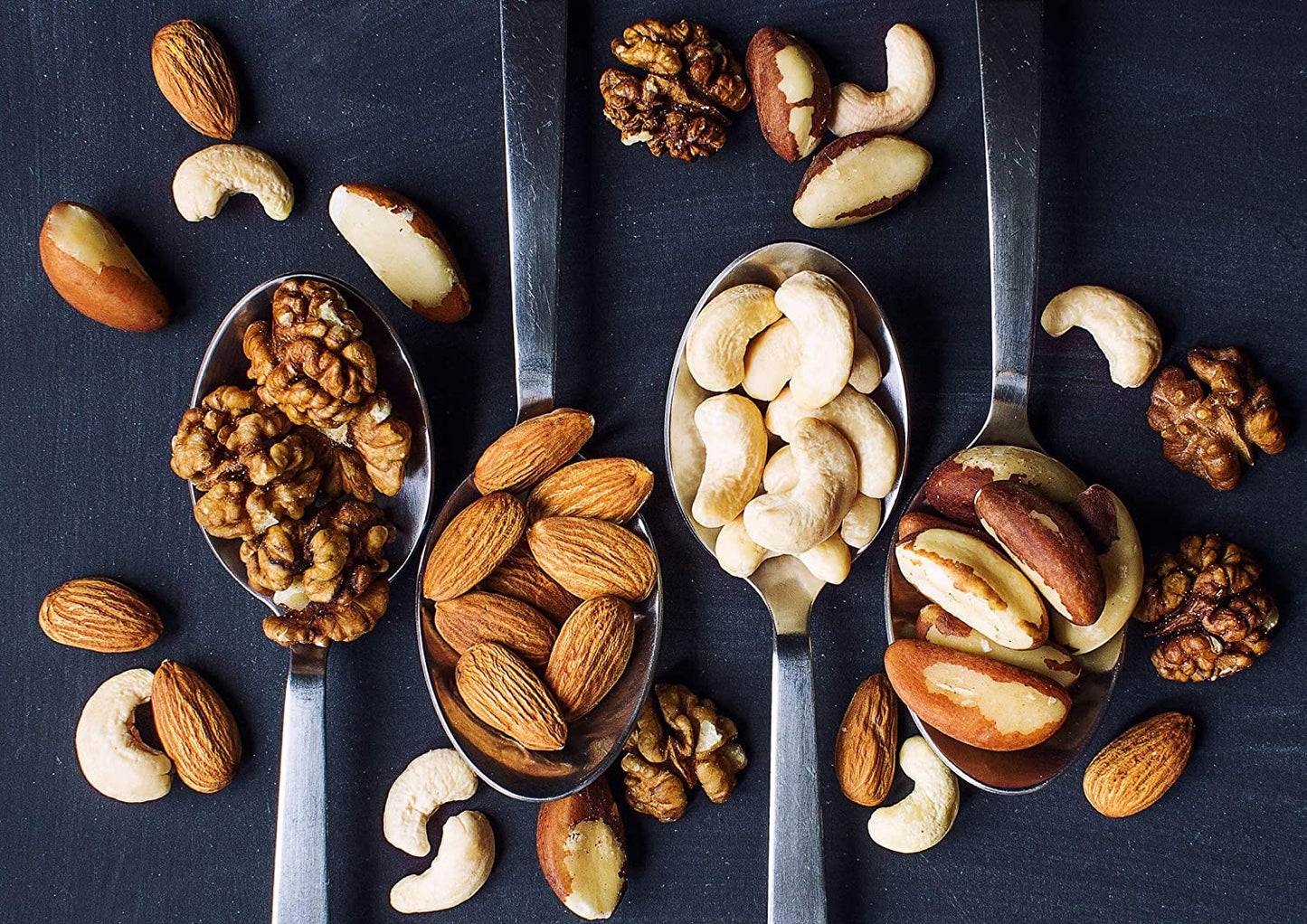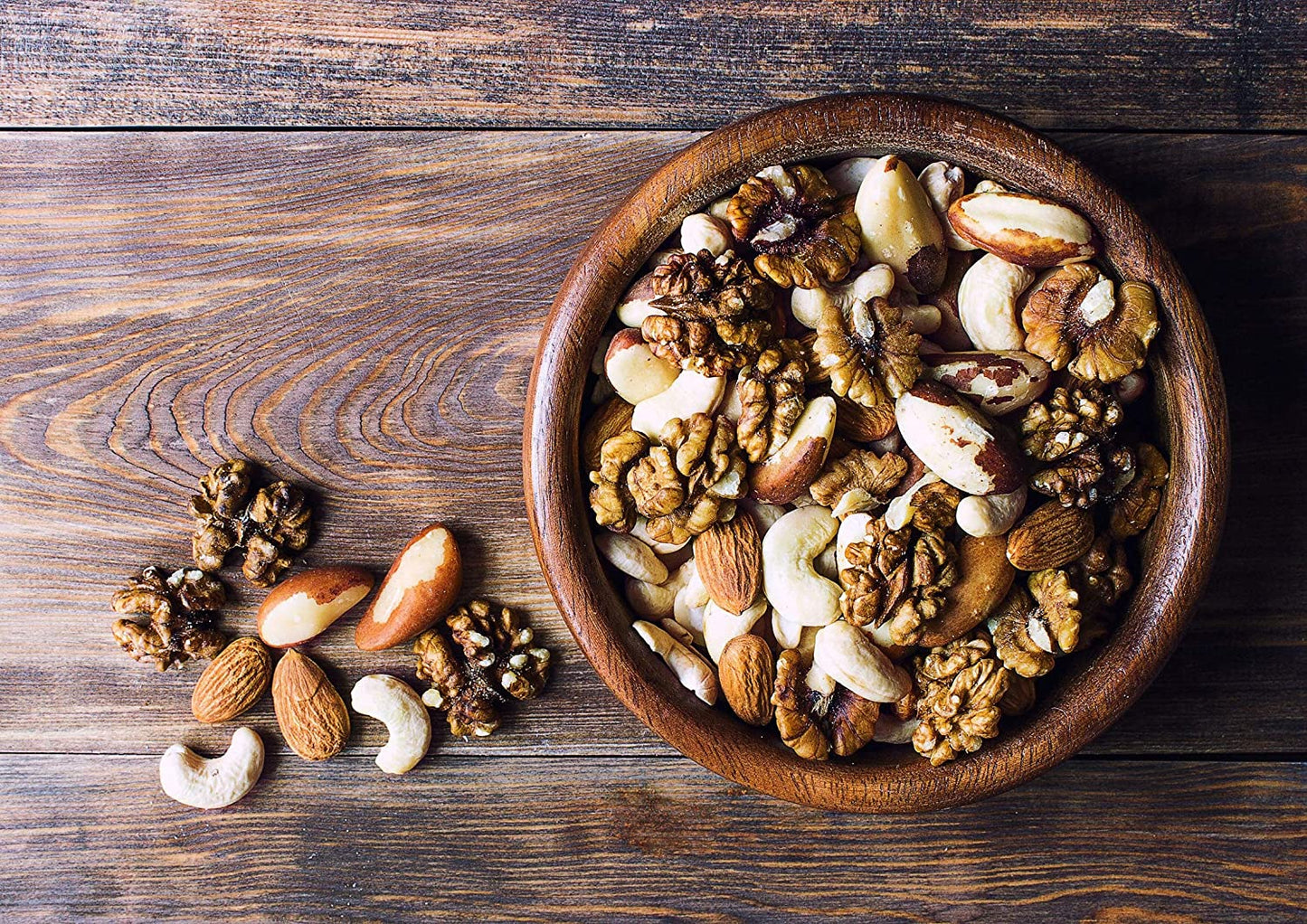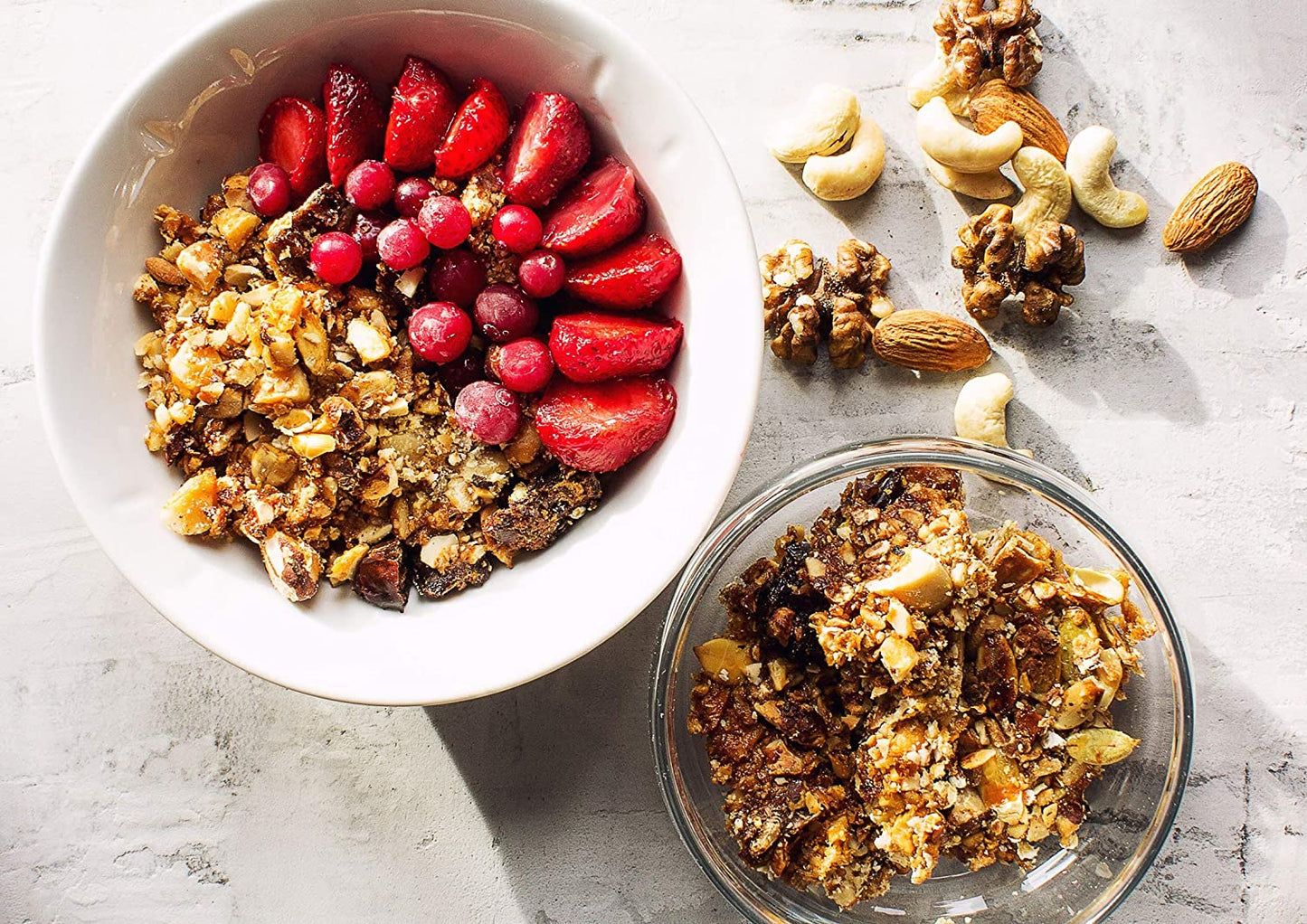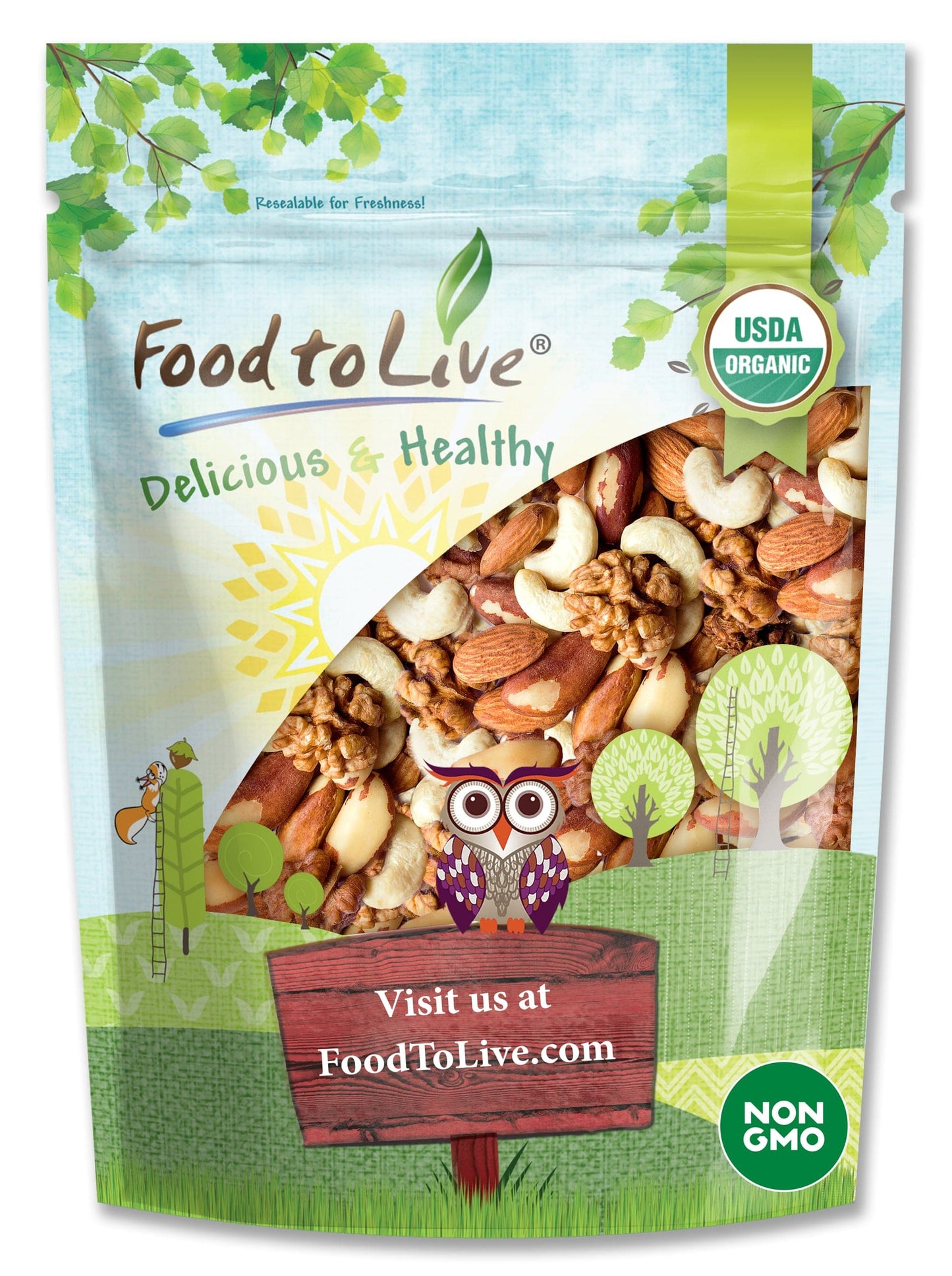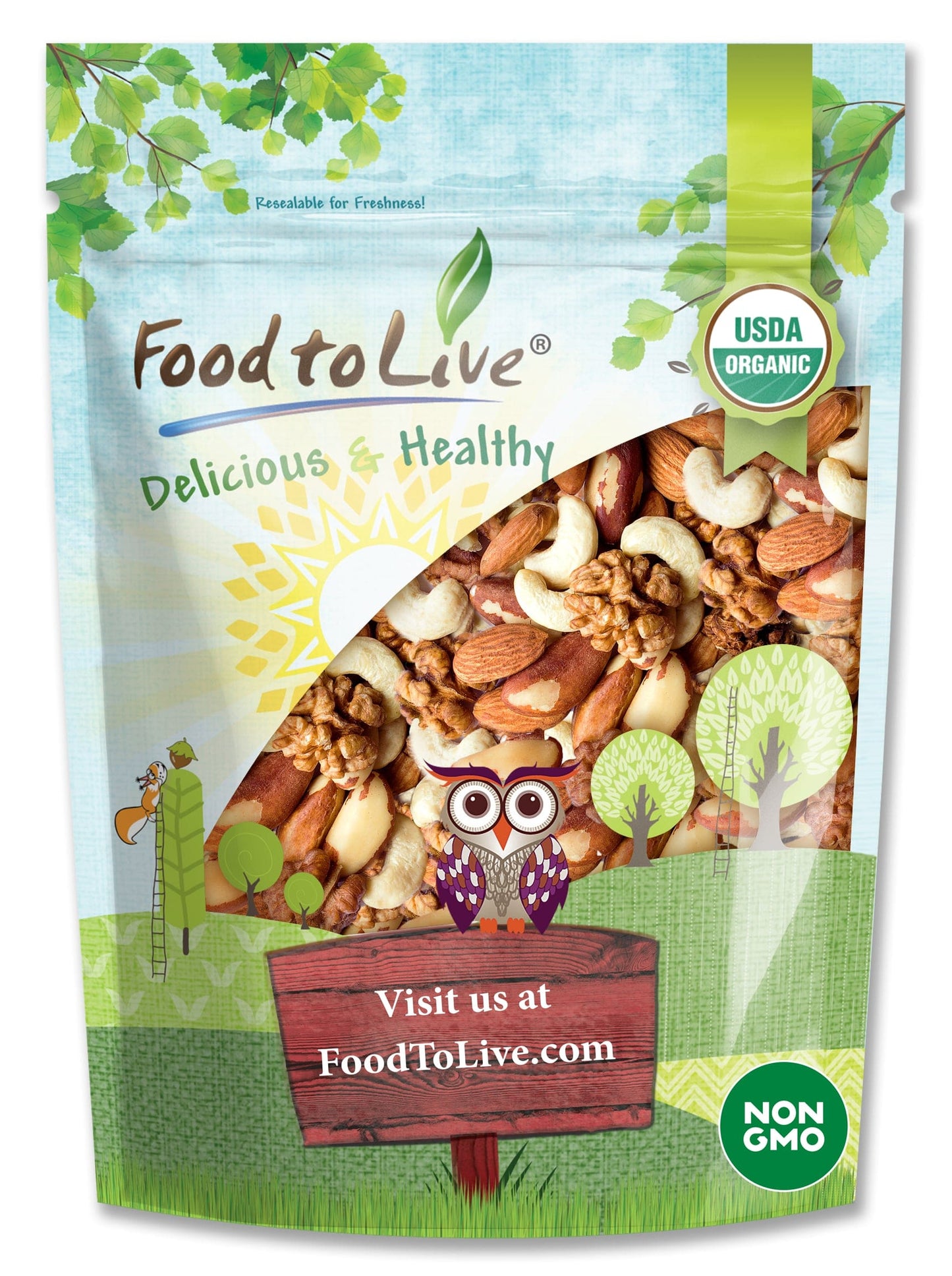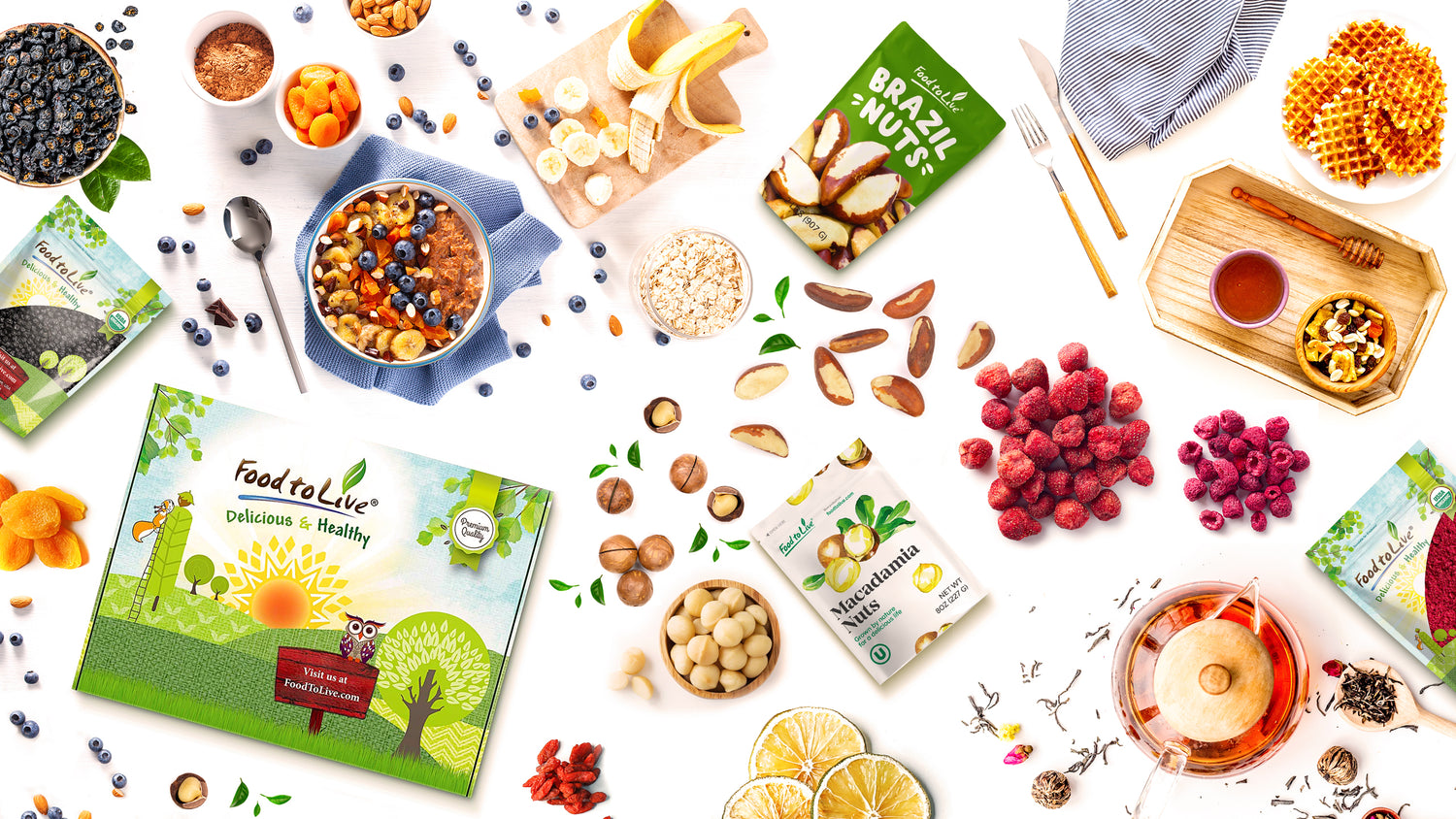 Food to Live was created to give people easy access to delicious and wholesome foods.
We offer a wide range of organic and raw foods that would be a great addition to any diet.
We choose products that can positively impact the body, such as dried fruits, nuts, seeds, grains, powders, flours, spices, and legumes.
Shop more products