Organic Pecans - Non-GMO, Kosher, Raw, Vegan, No Shell - by Food to Live
Regular price
$362.49 USD
Regular price
$0.00 USD
Sale price
$362.49 USD
Unit price
per
Sale
Sold out
Organic Pecans are considered to be one of the most antioxidant tree nuts. Native Americans who valued these nuts for their plentiful nutritious content and used them as a medication knew its healthful qualities.

How Organic Pecans Are Grown

At present, there are many farms that are engaged in growing organic pecans. On these farms, trees are cultivated with the help of environment-friendly techniques such as crop rotation, compost, biological pesticide control, and some others. Synthetic fertilizers and growth-enhancing substances are excluded from the process. As a result, organic nuts do not contain any pesticides, herbicides, or fungicides.

Why Organic Pecans Are Better

All pecans - both organic and non-organic - are a powerhouse of healthful nutrients: protein, carbohydrates, and fat. They are especially rich in minerals - manganese, copper, zinc - and in vitamins. What is more essential - the nuts are packed with antioxidants. These phytochemical substances remove toxic free radicals from the body, thus defending it from numerous ailments. Recent studies have revealed the fact that organic pecans are up to 60% higher in the number of antioxidants than non-organic ones.

Health Benefits of Organic Pecans

1. Protection of the heart.
Studies have shown that pecans are able to balance cholesterol levels and reduce the risk of hypertension. Their high content of monosaturated fat makes them invaluable for people with the heart and vessel disorders.
2. Lower risk of type 2 diabetes.
Although rich in carbohydrates, pecans help maintain blood sugar levels, which is of great importance for people who are inclined to this serious illness.
3. Cancer prevention.
High content of such powerful antioxidants as ellagic acid, vitamin E, beta-carotene, lutein, and zeaxanthin makes pecans helpful in reducing the risk of different types of cancer.
4. Prevention of gallstones.
Medical observations suggest that there is a link between eating pecans and decreased risk of creation of stones in the bile cyst.
5. Anti-toxicity properties.
Pecans help ward off toxic substances due to high content of fiber and protect the liver, kidneys, and bladder.
Shipping & Returns

Shipping Time: Most orders received before 3:00 PM EST will ship not later than the next business day, provided the product ordered is in stock. Most orders received after 3:00 PM EST will ship not later than the second business day. Orders are not processed or dispatched on Sunday. For more information check our Shipping & Return Policy
Storage

Store in a cool,dry place away from Moisture, Light, Oxygen
Share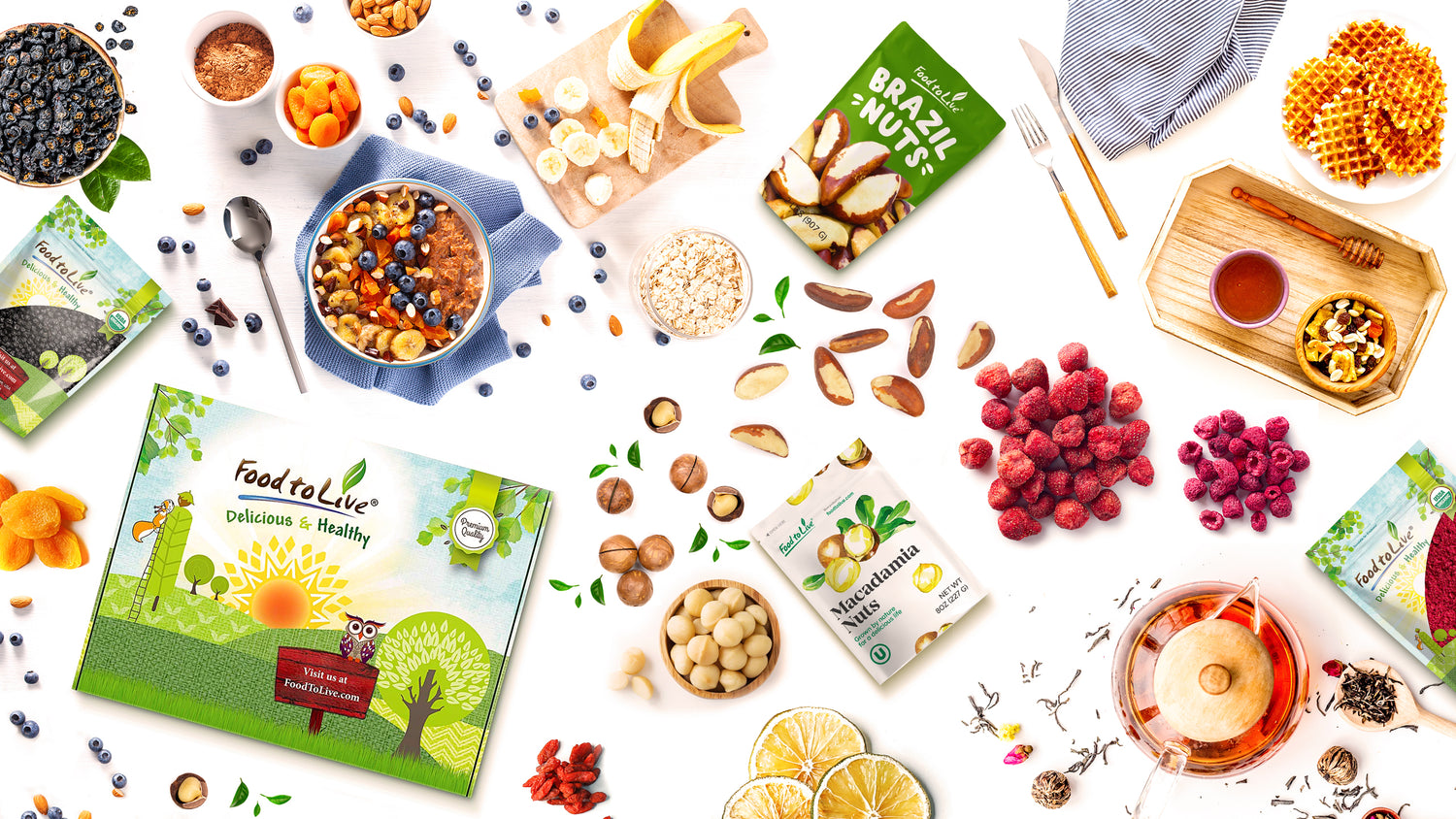 Food to Live was created to give people easy access to delicious and wholesome foods.
We offer a wide range of organic and raw foods that would be a great addition to any diet.
We choose products that can positively impact the body, such as dried fruits, nuts, seeds, grains, powders, flours, spices, and legumes.
Shop more products