Organic Pinto Beans - Non-GMO, Kosher, Bulk - by Food to Live
Regular price
$0.00 USD
Sale price
$74.99 USD
Unit price
per
Sale
Sold out
Tasty, healthy, and nutritious Organic Pinto Beans from Food To Live will be a great addition to your table. You can use them to make delicious stews, chilis, burritos, and a variety of other dishes.

These legumes are the most popular type of bean in the US. They are easy to cook and packed with nutrients. You can use them as a substitute for any other beans in most recipes. If you are on a gluten-free diet, try adding pinto beans flour to your baking mixes.

Organic Pinto Beans: Benefits for Your Diet

Organic pinto beans are perfect for you. They are full of fiber and contain less than a gram of fat in one serving. It means they are heart-friendly.

As organic pinto beans are packed with essential nutrients and proteins, bodybuilders and vegans will benefit from them much. You can share these benefits with your dog as long as the seeds you give the animal are well-cooked and unseasoned.

Organic Pinto Beans: Nutrition and Calories

The nutritional value of organic pinto beans is very high. One serving of them (½ cup) contains 8g proteins, 8g fiber, and less than a gram of both sugar and fat.

Essential vitamins and minerals organic pinto beans contain include:

* Calcium
* Iron
* Manganese
* Magnesium
* Copper
* B vitamins
* Vitamin K

Note that the organic pinto beans calories count is meager compared to their nutritional value. Therefore, you can include them in a weight loss plan. Due to the high level of fiber and starchy carbs, this food makes you feel full for a long time.

How to Use Organic Dried Pinto Beans

You can use our organic dried pinto beans in a variety of ways:

* Sprout and cook.
Organic sprouted beans are easier to digest and even more nutritious. They also take less time to cook. Steam them, use as a substitute for regular beans in recipes, or add to salads.
* Grind into a meal.
Enrich your gluten-free flour mix with organic beans ground into an excellent meal. Soak and roast the seeds before grinding to enhance the flavor. You can also make organic bean flour from sprouted beans.
* Soak and cook.
There are dozens of recipes for organic beans and much more where you can use them as a substitute for other species. You'll need to pre-soak the seeds overnight or use the speed-soaking technique (bring to a boil and leave in a covered pot with hot water for an hour).

To cook organic pinto beans merely bring your prep-soaked, drained and rinsed seeds to a boil and let simmer for 1-3 hours. The cooking time will determine how soft the seeds become. If you are planning to make organic refried beans, longer is better.

You can buy organic beans (dry) in bulk as this product stores for months. Keep the beans in an airtight container somewhere cool.
Shipping & Returns

Shipping Time: Most orders received before 3:00 PM EST will ship not later than the next business day, provided the product ordered is in stock. Most orders received after 3:00 PM EST will ship not later than the second business day. Orders are not processed or dispatched on Sunday. For more information check our Shipping & Return Policy
Storage

Store in a cool,dry place away from Moisture, Light, Oxygen
Share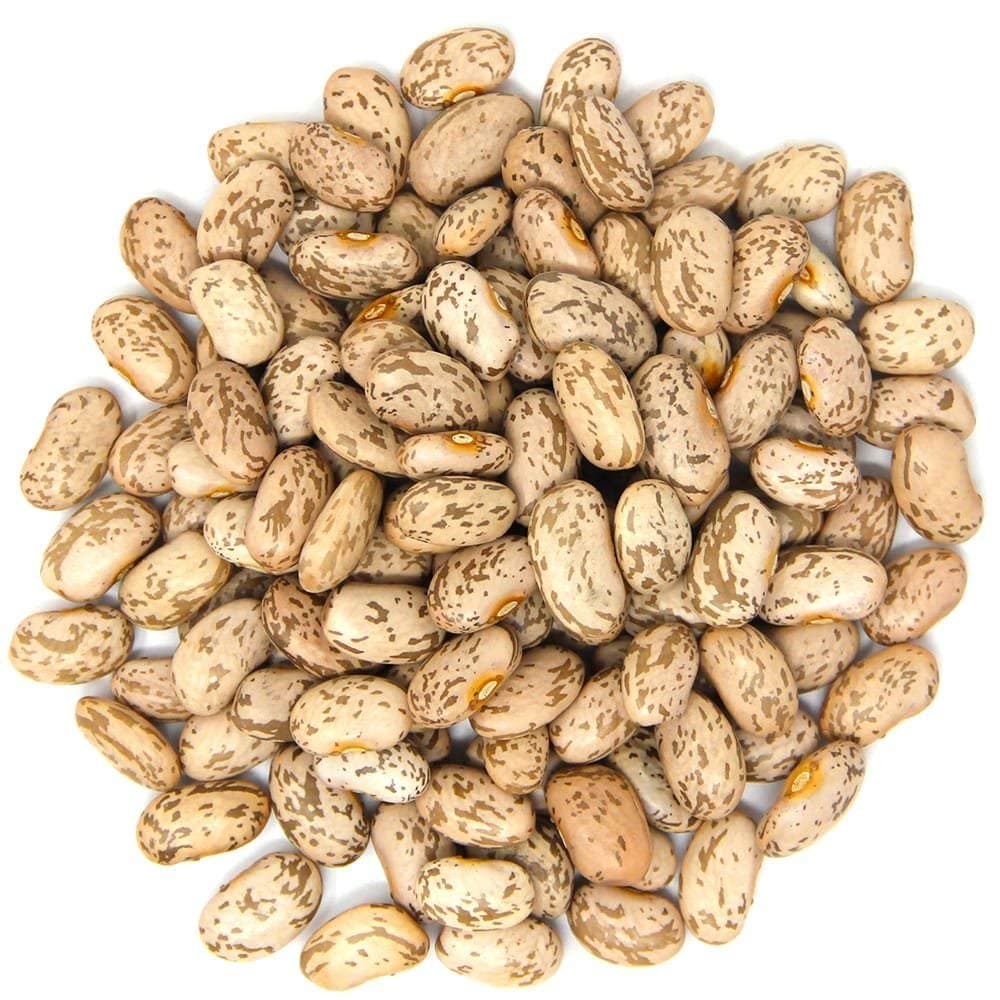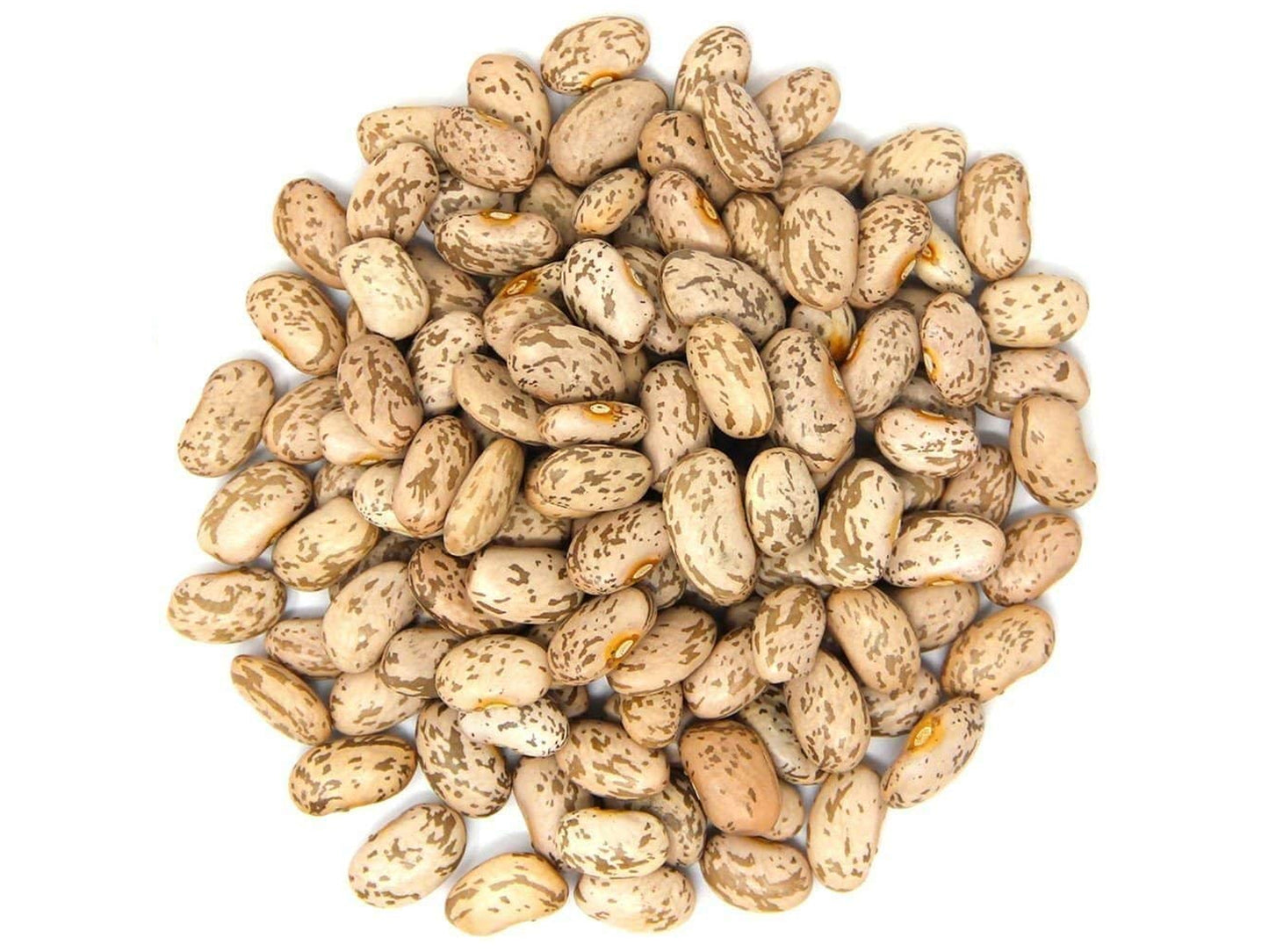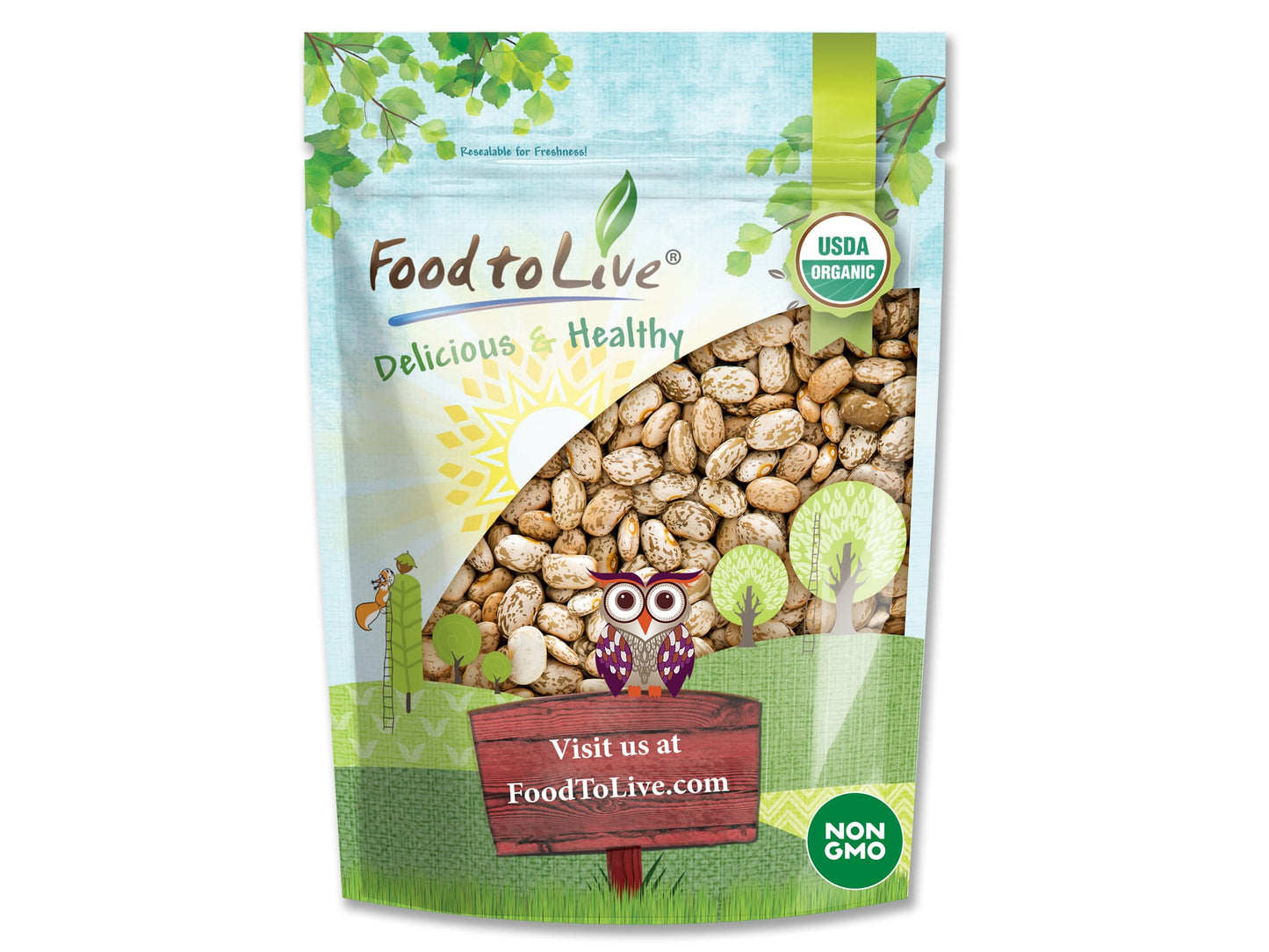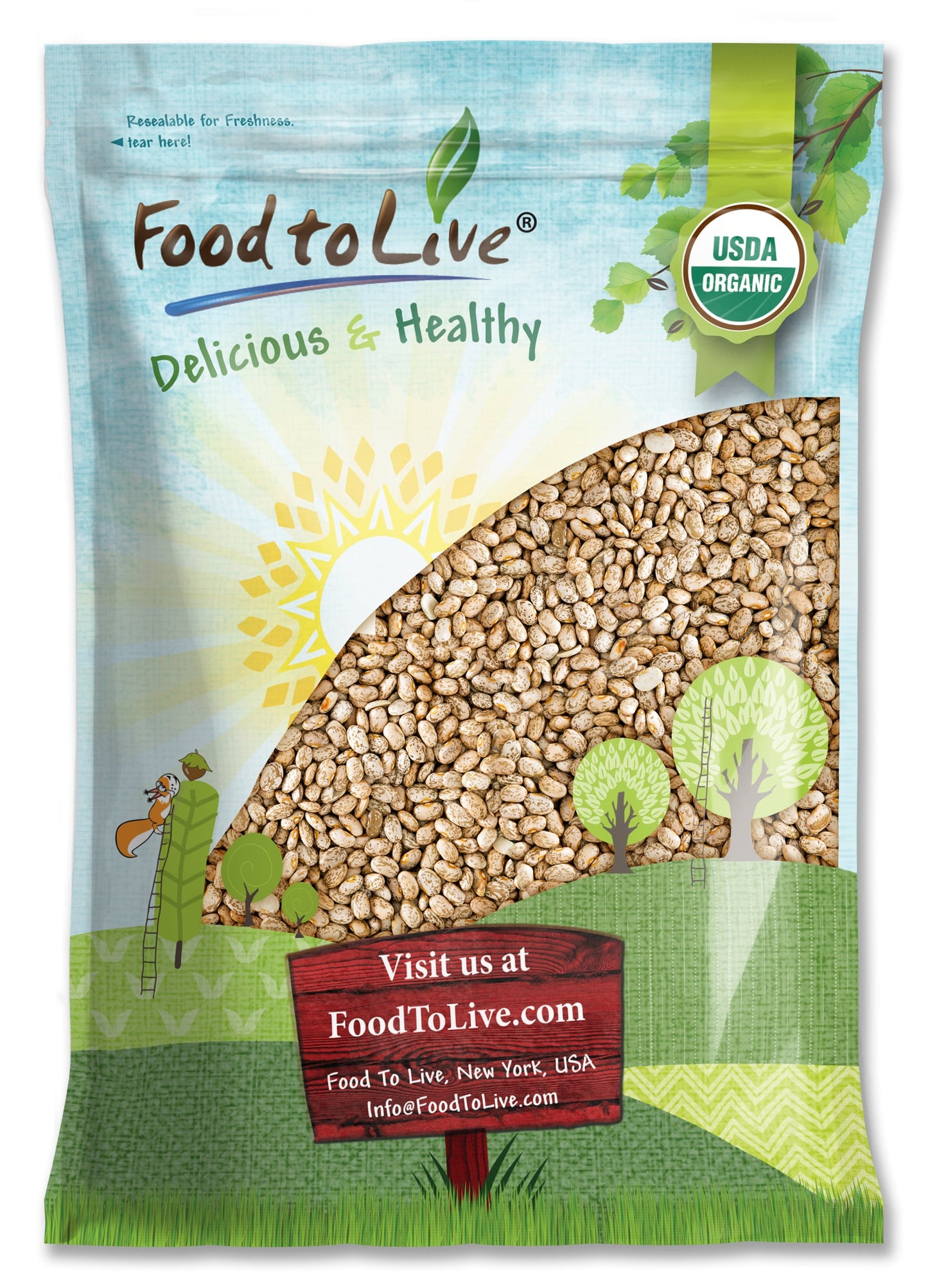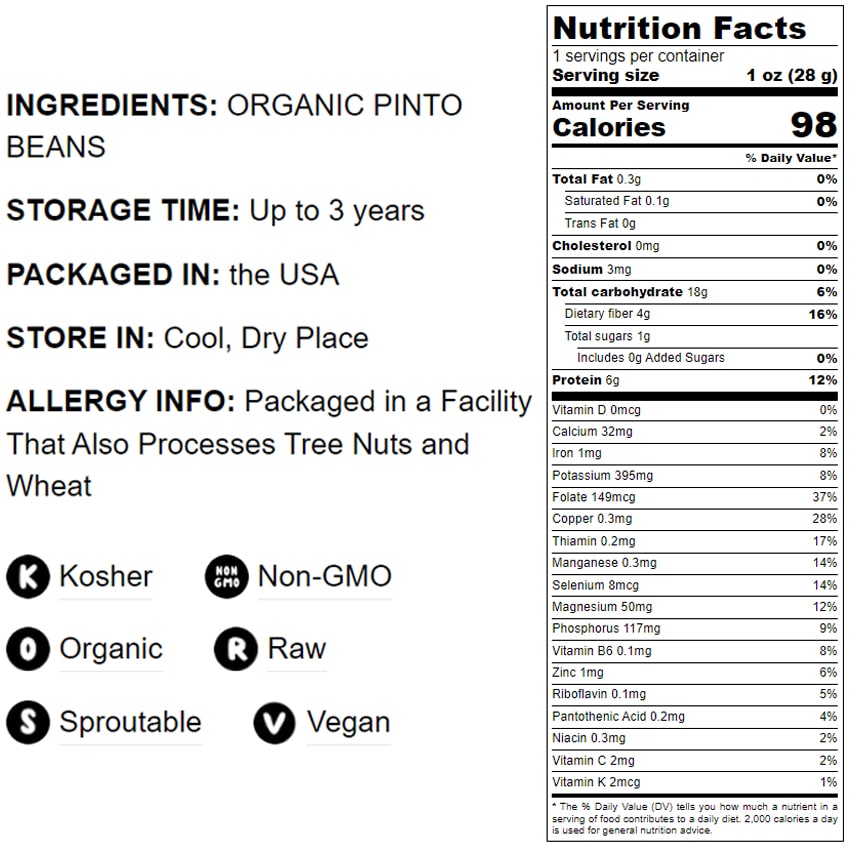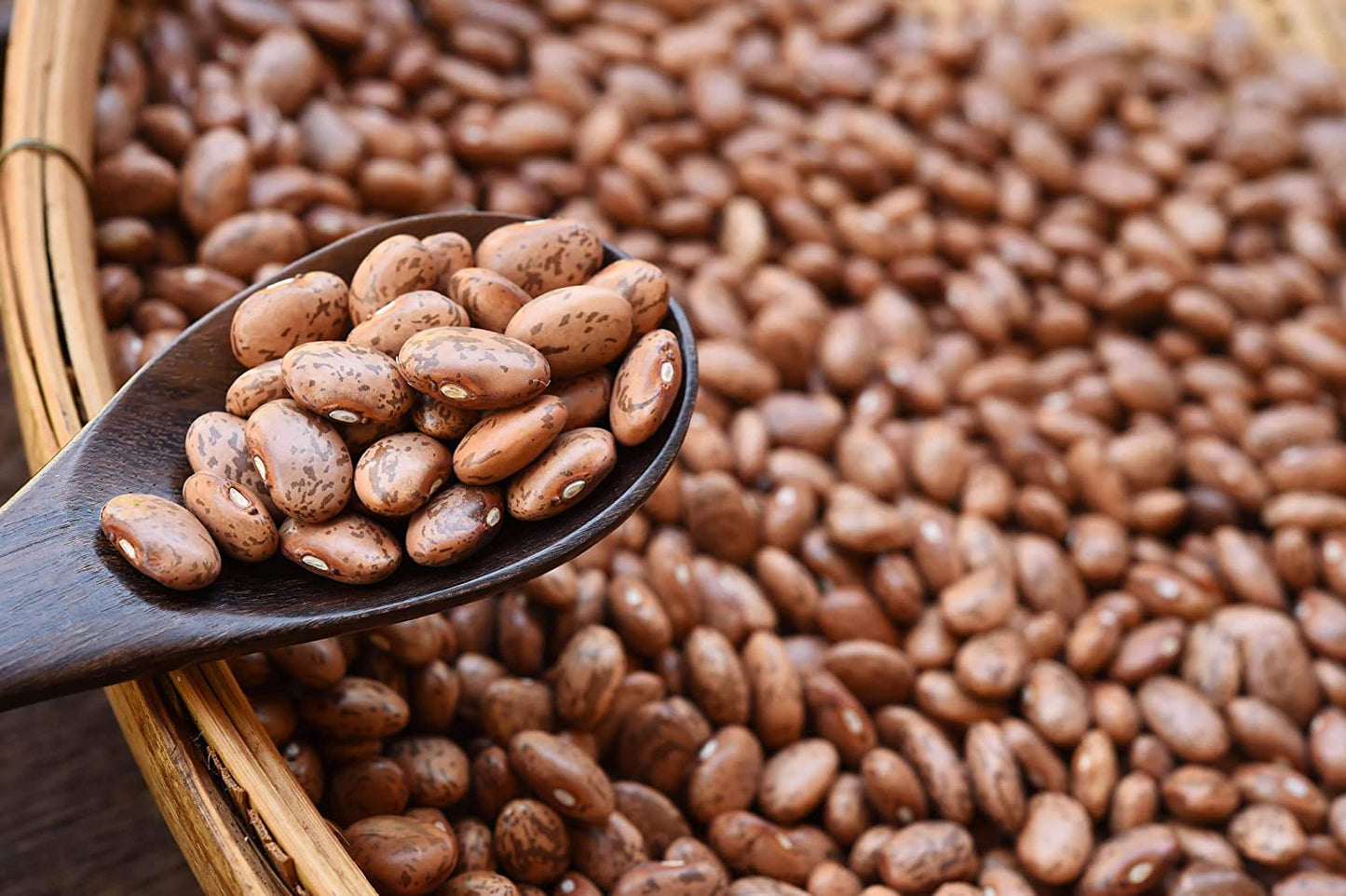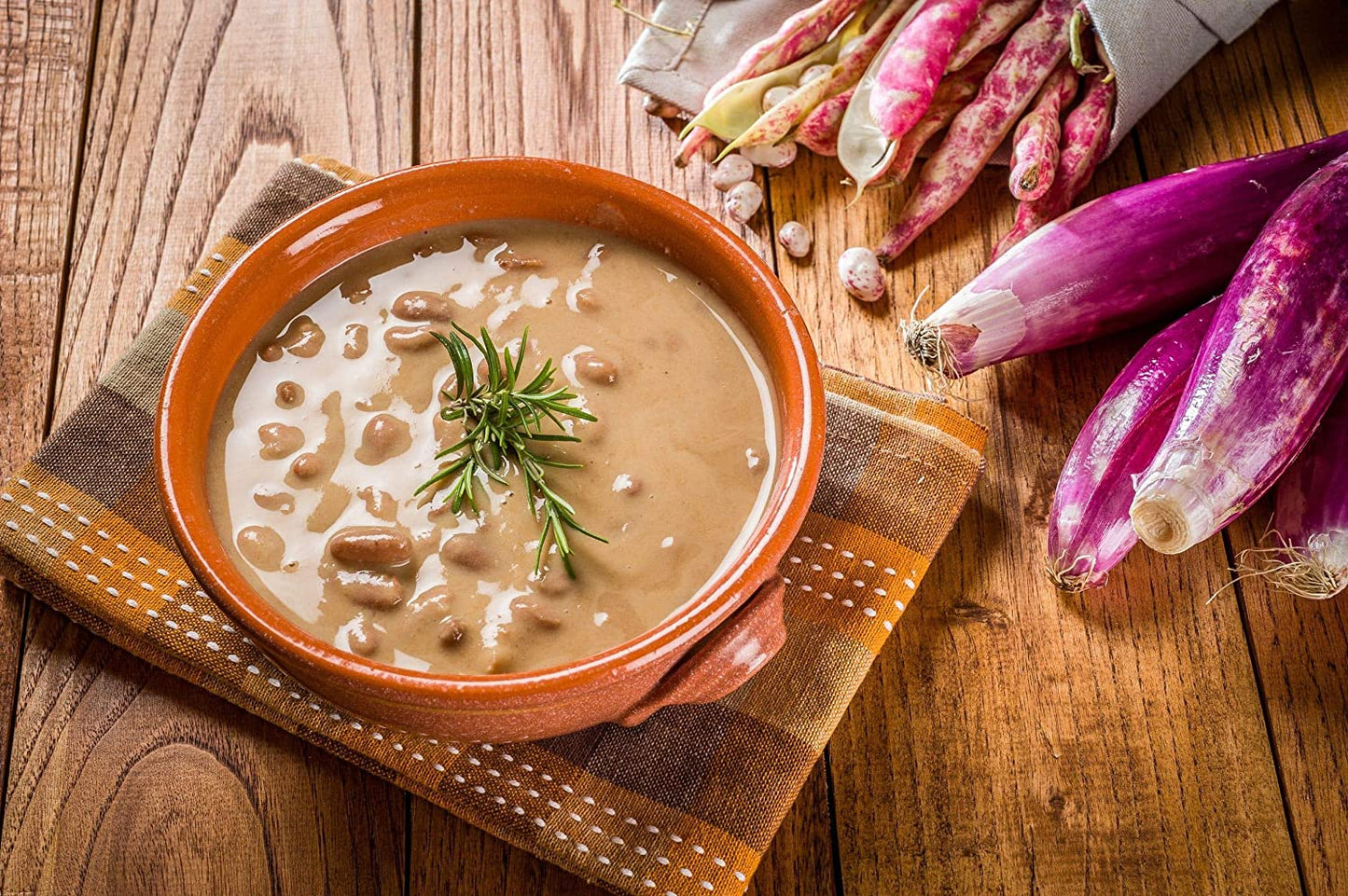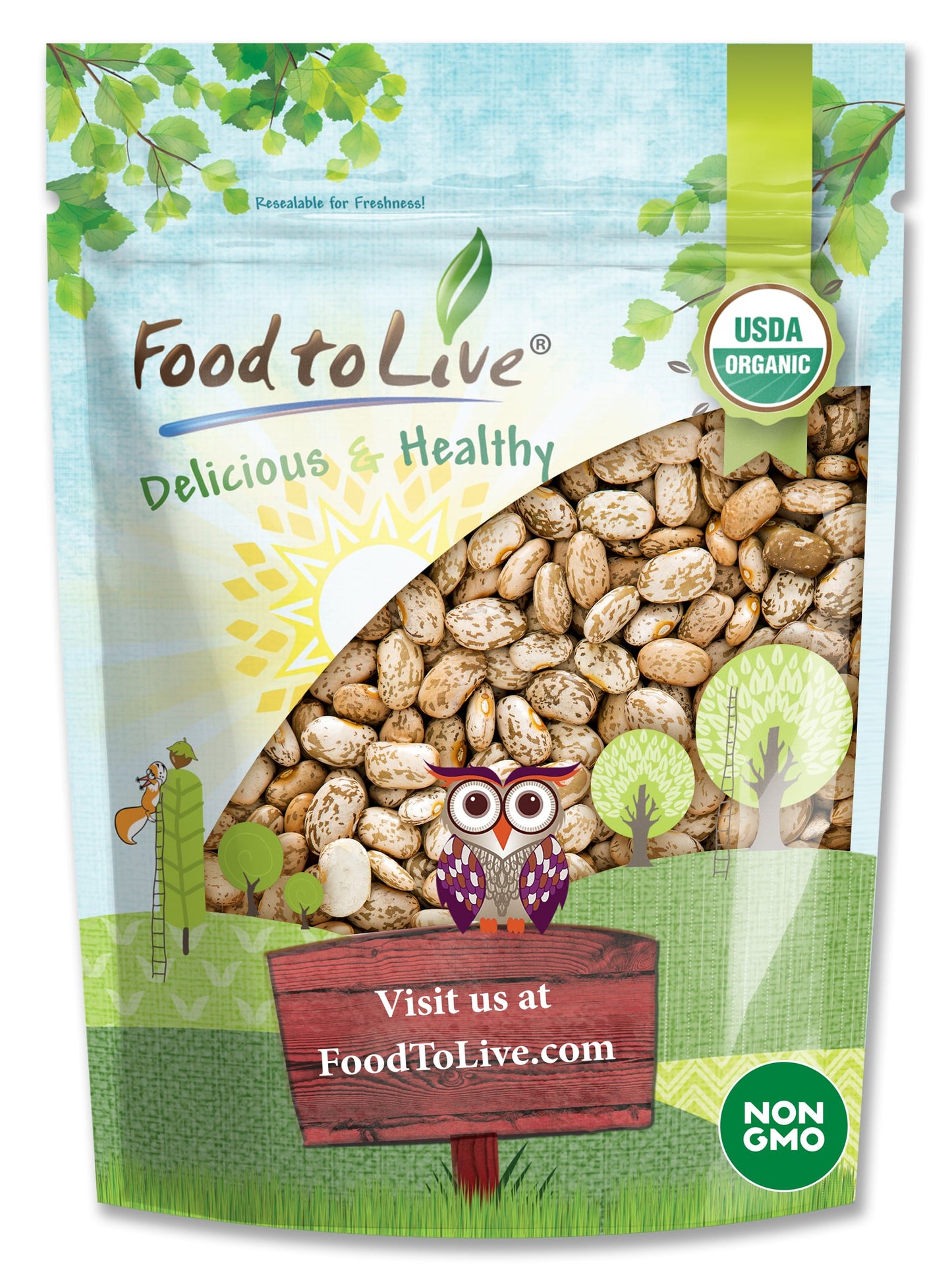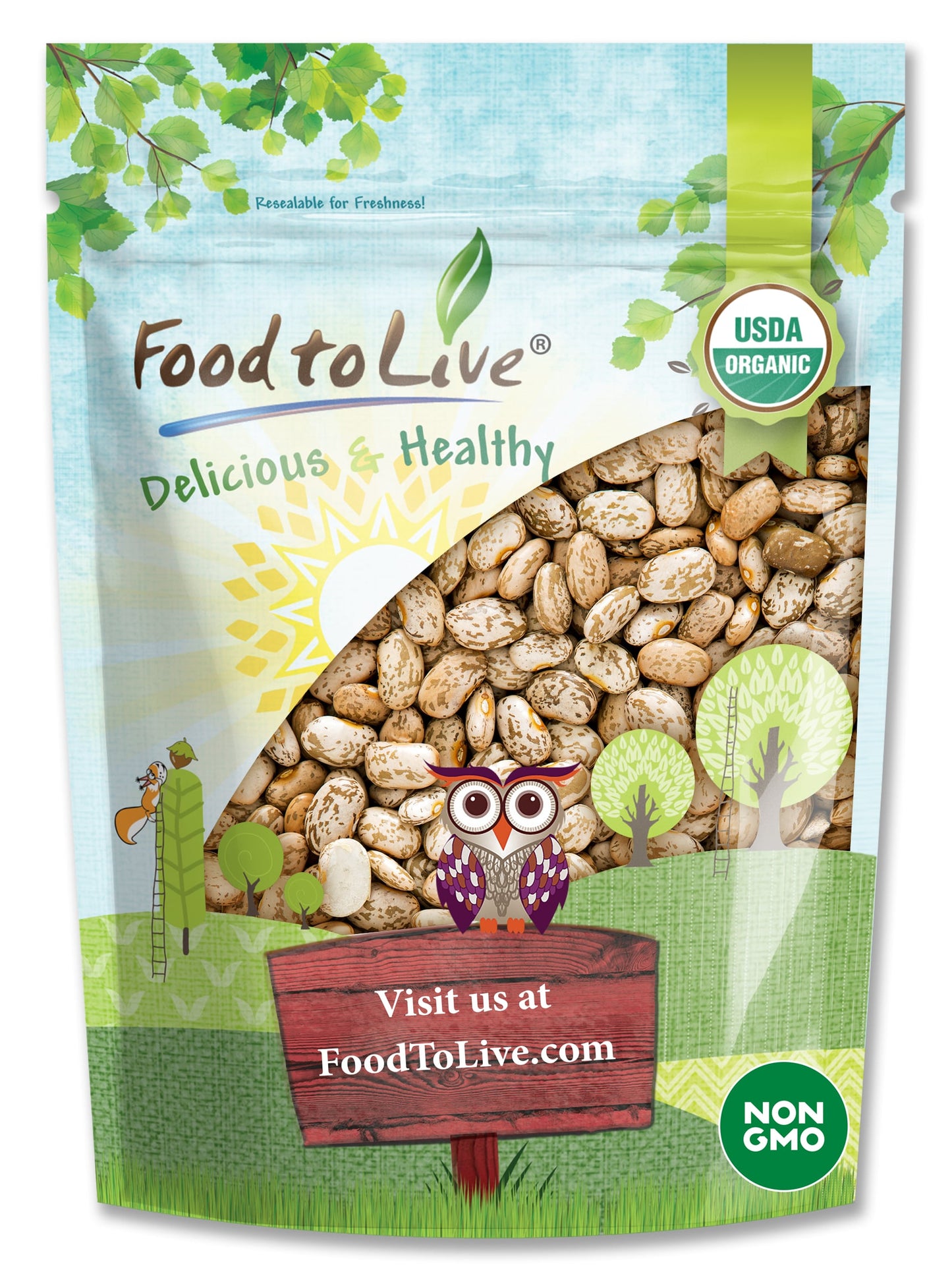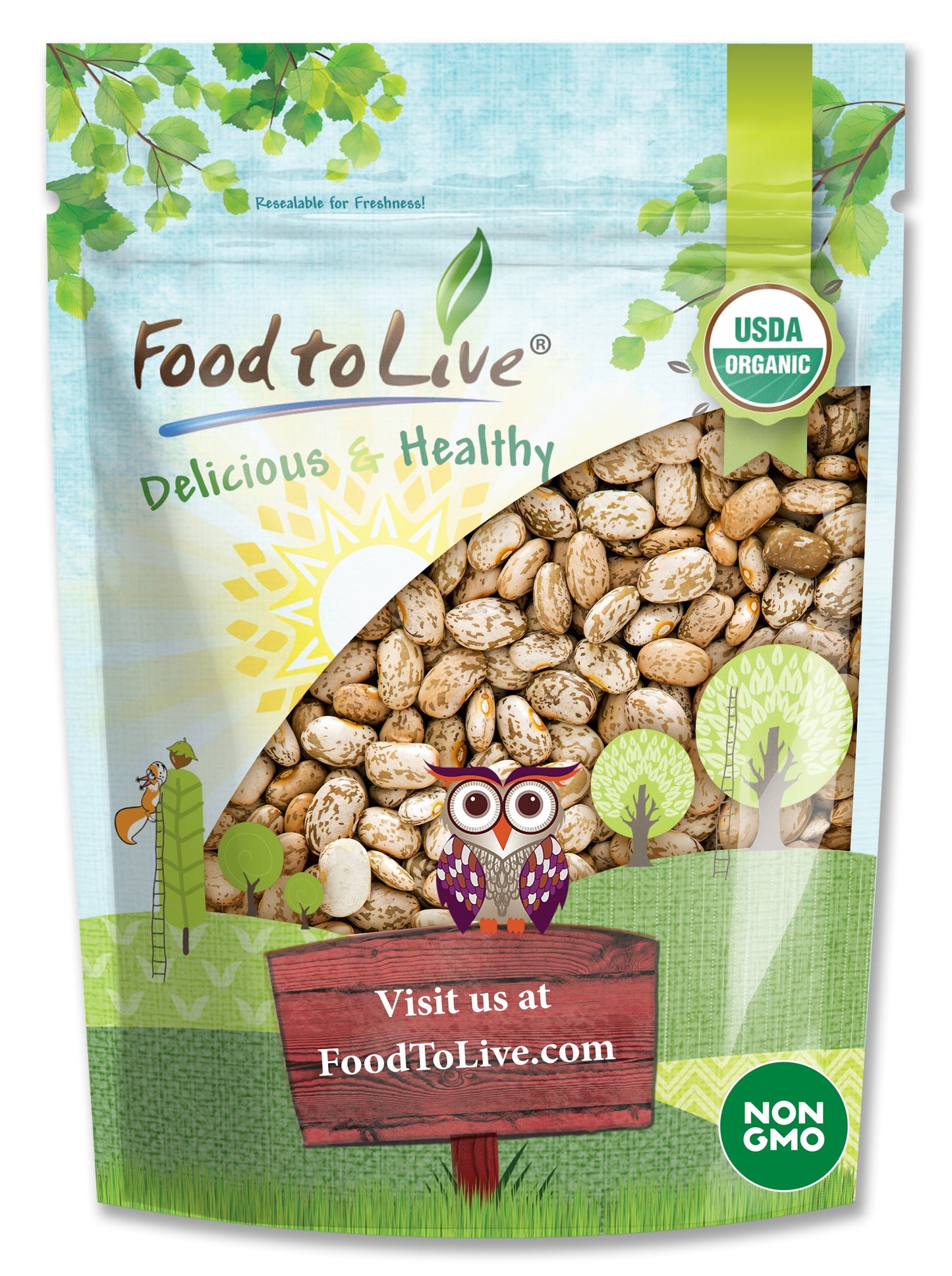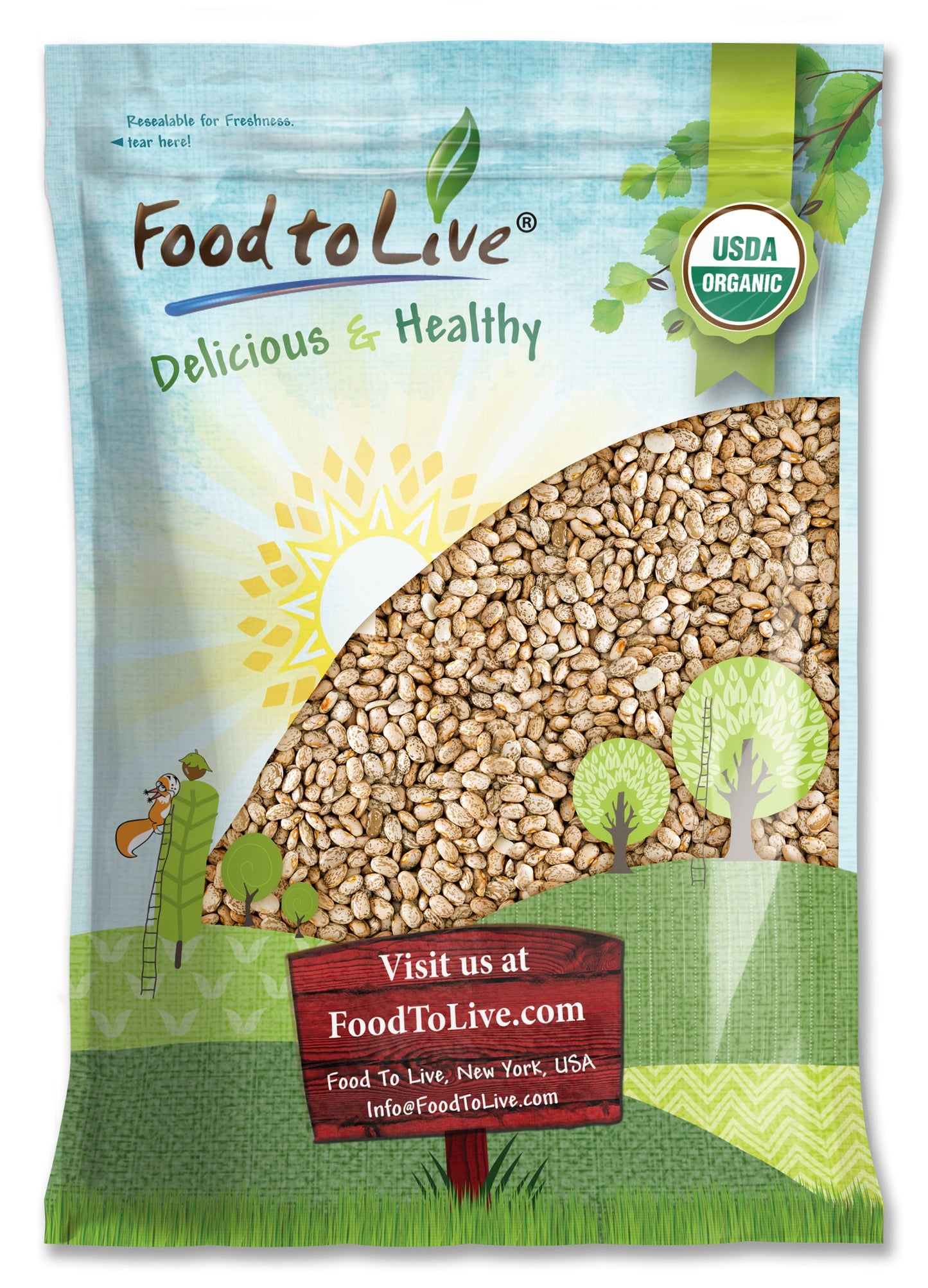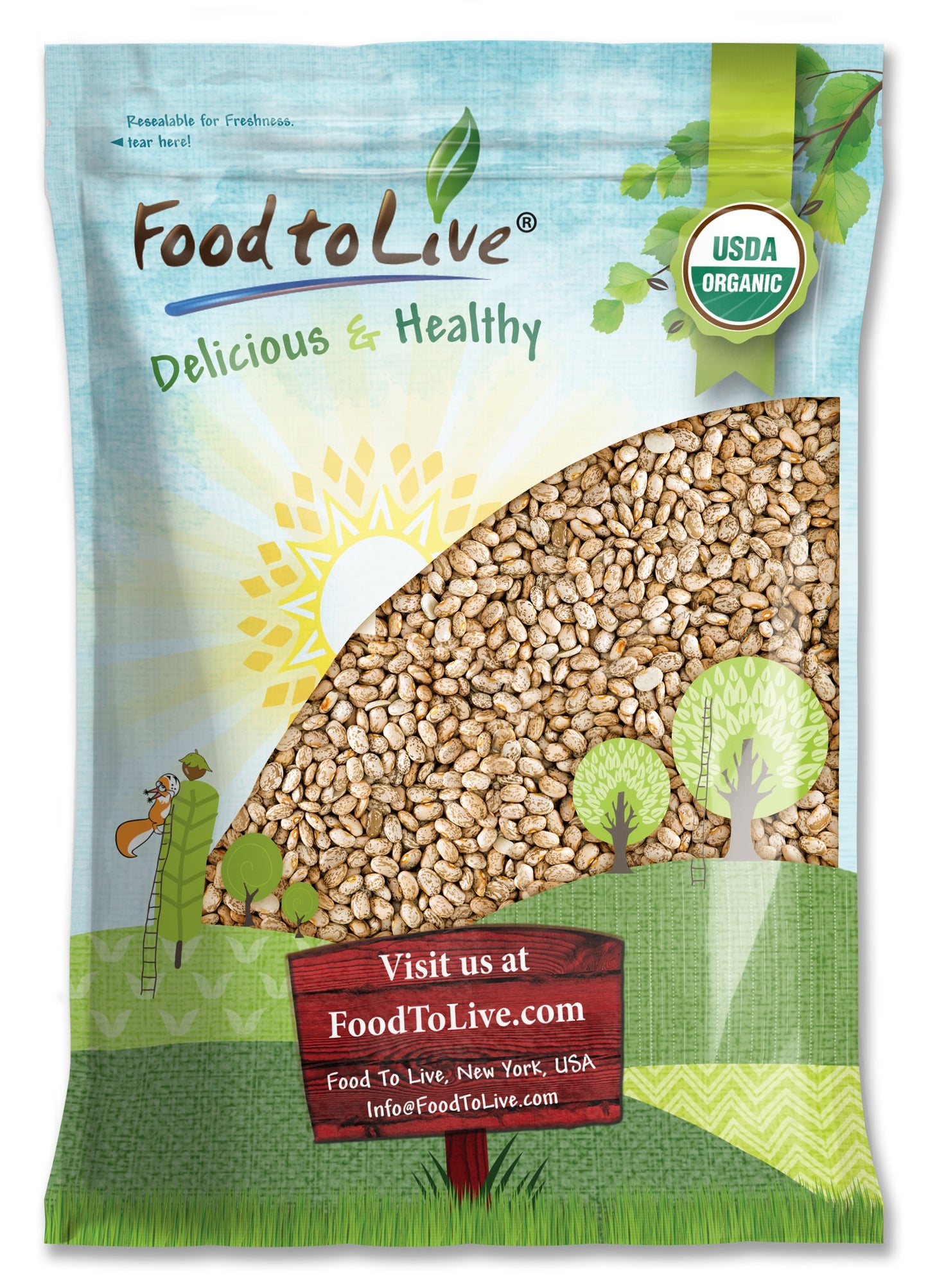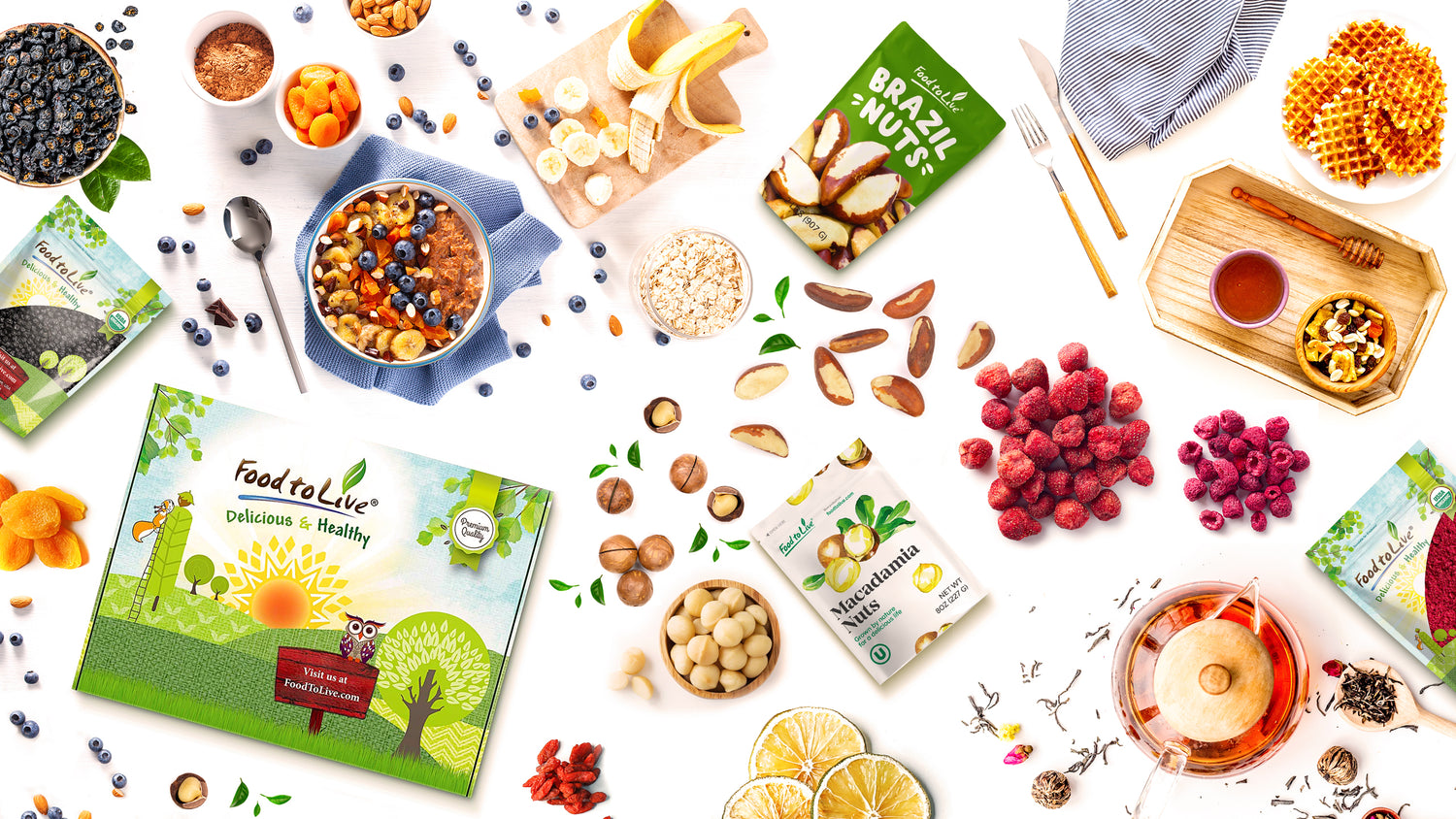 Food to Live was created to give people easy access to delicious and wholesome foods.
We offer a wide range of organic and raw foods that would be a great addition to any diet.
We choose products that can positively impact the body, such as dried fruits, nuts, seeds, grains, powders, flours, spices, and legumes.
Shop more products