Organic Steel Cut Oats — 100% Whole Grain Irish Oats, Non-GMO Cereal, Non-Irradiated, Vegan, Bulk, Product of the USA
Regular price
$0.00 USD
Sale price
$69.89 USD
Unit price
per
Sale
Sold out
Organic Steel Cut Oats

People have been cultivating oats for millennia. They say that this amazing grain originates from Europe, but today organic oats are grown all over the world. This whole grain is very nutritious and tasty, which means it's quite popular in the food production industry. Organic Steel Cut Oats from Food To Live are toxin and GMO-free.

Organic oats come in many forms. The most popular of them are instant and rolled oats. They cook very fast, but as their nutritional value is much lower compared to whole grains or steel cut oats.

Organic Steel Cut Oats from Food to Live is made from certified organic whole oat grains, after cleaning them by crushing into small pieces. In this way, Organic Steel Cut Oats are more convenient for cooking various dishes while retaining all the benefits of whole grains. In addition, starch which is part of Organic Steel Cut Oats not so quickly absorbed by your body as in the case of rolled oats, so dishes from Organic Steel Cut Oats are a great solution for people controlling their weight.

Organic Steel Cut Oats Value

Organic Steel Cut Oats are such a fantastic grain because they are highly nutritious. They are particularly valuable for vegans and vegetarians as 100 grams (about 3.5 ounces) of groats contain almost 6% of the recommended daily amount of calcium (based on a 2,000-calorie diet).

Other essential minerals you can get from Organic Steel Cut Oats are:

* Phosphorus
* Iron
* Copper
* Zinc

Organic Steel Cut Oats are rather filling and high in dietary fiber. One serving (¼ cup) of the grain provides a bit over 4 grams of fiber and 150 calories. This amount also gives you about 26 grams of carbs and less than a gram of fat and sugar.

Organic Steel Cut Oats definitely make one of the healthiest grain choices. As they taste great in savory and sweet dishes, it'll be easy to add them to your diet. If you are on a weight management plan, choosing Organic Steel Cut Oats for one of the daily grain servings will boost your energy. Complex carbs and fiber digest gradually, which means you'll feel full longer, preventing hunger pangs.

Are Organic Steel Cut Oats Gluten-Free?

You can find clearly marked organic gluten-free oats in stores today. However, the truth is that all oats are gluten-free by default. However, they are often processed at the same facilities as wheat. Therefore, they can be cross-contaminated during this.

The whole grain itself, though, doesn't contain this particular protein, unlike wheat, rye, and barley. Therefore, organic oats should be safe for everyone with this particular food sensitivity.

Organic oat flour is often used as a substitute in gluten-free baking as it 'works' better than buckwheat and bean flours.

Note that oats do contain a variety of proteins and people with extreme sensitivities might have an intolerance of some. These cases are very rare, but if you know your stomach is very weak, be careful when eating lots of any grains.

Note that consuming large quantities of Organic Steel Cut Oats can cause some digestive distress because they are very high in fiber. You can prevent this reaction by controlling your portions.

How to Cook Organic Steel Cut Oats?

The easiest recipe:

Pour 4 servings of water into the pan, add salt to your own taste and bring the water to a boil. Then add 1 serving of Organic Steel Cut Oats to in boiling water and mix the porridge well. Cook Organic Steel Cut Oats at low temperature stirring constantly for 30 minutes. Your Organic Steel Cut Oats oatmeal is ready! You can add fruits, nuts, cream, milk, various syrups to diversify your oatmeal breakfast.

Organic Steel Cut Oats: Storage Tips

Food To Live Organic Steel Cut Oats don't require special storage conditions. Keep them dry and safe in an airtight container. Store your oats away from direct sunlight and heat.

Refrigerating and freezing increases product's shelf life.
Shipping & Returns

Shipping Time: Most orders received before 3:00 PM EST will ship not later than the next business day, provided the product ordered is in stock. Most orders received after 3:00 PM EST will ship not later than the second business day. Orders are not processed or dispatched on Sunday. For more information check our Shipping & Return Policy
Storage

Store in a cool,dry place away from Moisture, Light, Oxygen
Share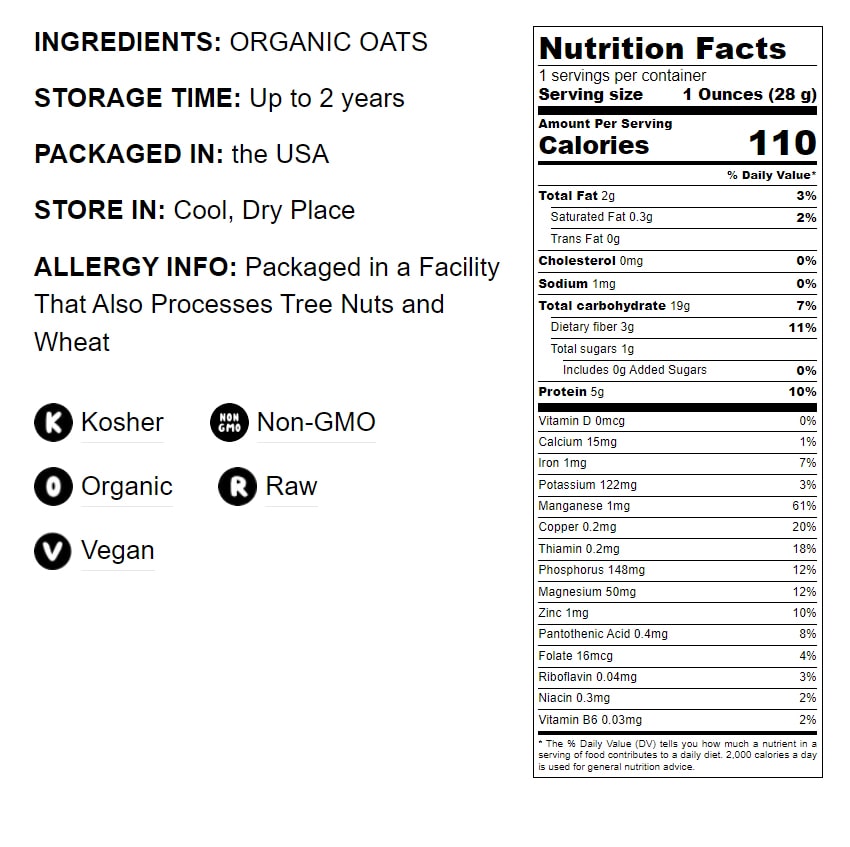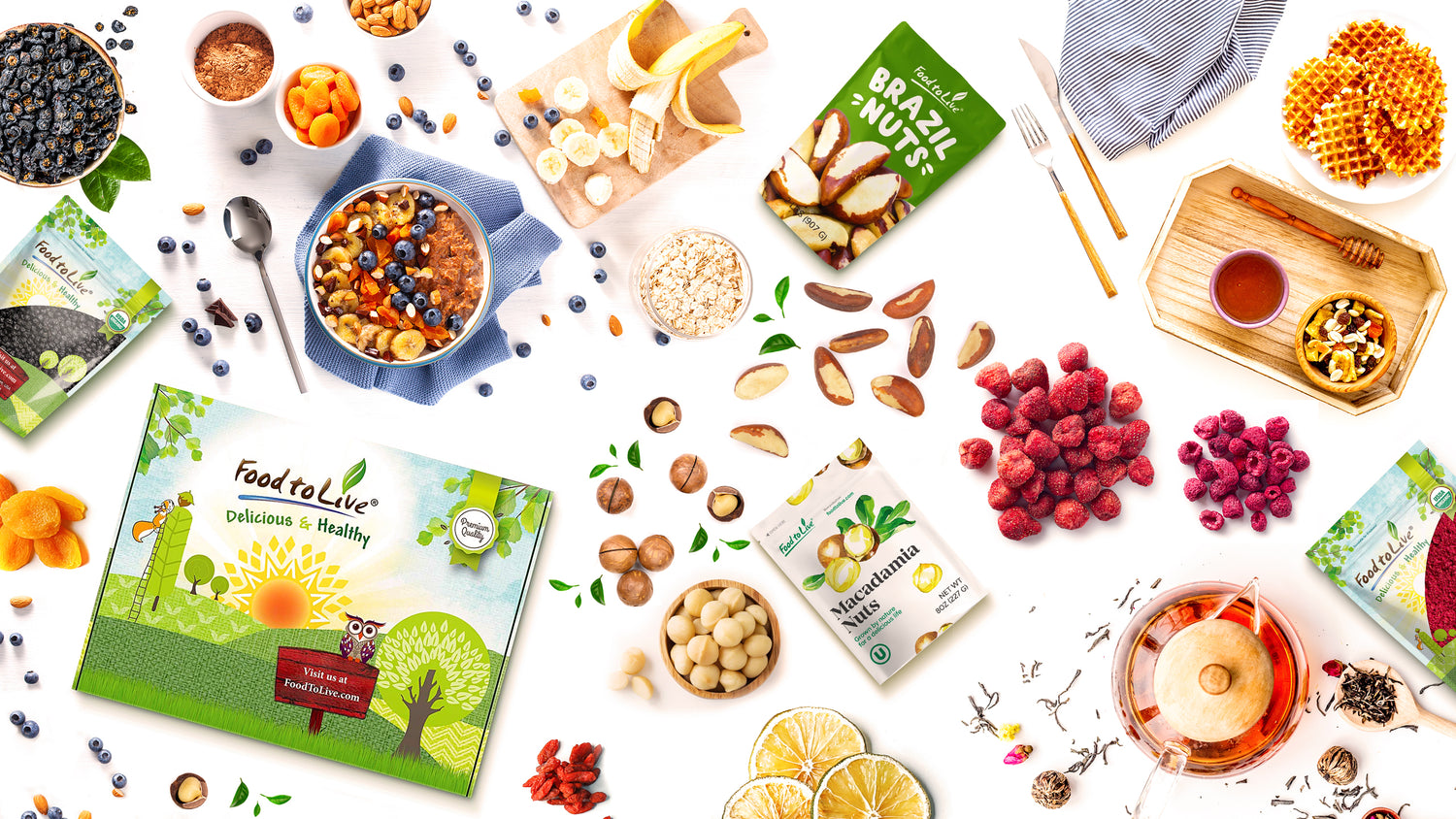 Food to Live was created to give people easy access to delicious and wholesome foods.
We offer a wide range of organic and raw foods that would be a great addition to any diet.
We choose products that can positively impact the body, such as dried fruits, nuts, seeds, grains, powders, flours, spices, and legumes.
Shop more products